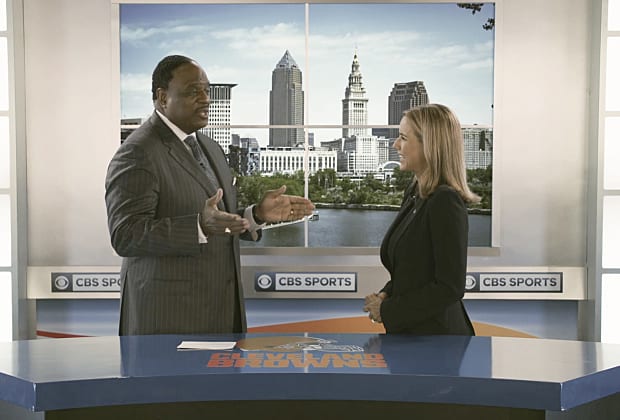 When a student gets a bad grade that they think they don't deserve, they can file an appeal. That is what Elizabeth is dealing with in tonight's episode of Madam Secretary. The Secretary of State gets a Dissent Memo from her entire Bureau of African Affairs. Oh dear.
The episode began with a political rally in Angola, South Africa. A woman is speaking to a large crowd about President Bastillo's regime and how it's time for some change. Then a bomb suddenly goes off, killing many and injuring the woman, who turns out to be the presidential candidate Kalanga.
Meanwhile, Henry and Jose track down a French archaeologist who deals with the Black Market. Apparently, she is in contact with Hizb al-Shahid, who took the original statues from St. Gabriel's Monastery. The two arranged for an agent to go undercover as the archaeologist to meet with Hizb al-Shahid. For a moment, I thought that the woman they were interrogating was the real scientist. On the other hand, the actress that portrays her might be doing double duty by taking on two characters playing the same person. The agent got kidnapped at the end of the episode. Wonder who tipped HS off that she's not who she says she is?
Back to the situation in South Africa, Elizabeth was able to use social media to expose President Bastillo's scheme of trying to steal the election. She enlisted help from Scott, founder of a messaging company called KronicDM to set up networks in Angola for free for twenty-four hours. The shocker of it all is that Kalanga is the half-sister of President Bastillo's daughter. Probably just as shocking as the fact that Jareth's family is wealthy.
Speaking of Jareth, I'm glad that things worked out for him and Stevie. They are the next Henry and Elizabeth. Without the complicated careers of course. I snickered at the part where Henry was straddling Elizabeth on the bed, and Stevie walked in on them. The former jumped apart like two teenagers caught making out. While I'm beyond happy for the young couple, I have a bone to pick. The scene where Jareth told Stevie to leave the tea bag in the cup baffles me. I thought that if you were to leave the tea bag in the cup too long, the tea would become bitter to drink. So who's right?
I'm also surprised, for lack of a better word, that Russell Jackson referenced Star Trek to Elizabeth when she told him about the situation in Angola. My eyes grew even wider when Elizabeth said, "Really? A Star Trek reference?" Are these two secret Trekkies by any chance? Or did they grow up watching the show? I'm just curious. It's also interesting to note how nervous Elizabeth is when being interviewed by sportscaster James Brown. I would be too if I have to come out of my comfort zone.
Photo via CBS