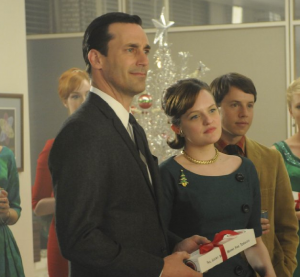 Tonight's episode of Mad Men was about the small moments. The episode really wasn't anything special plot-wise; it really just sort of fell into a niche and made itself comfortable. And that isn't a bad thing at all, but it certainly didn't carry the same air of change that "Public Relations" did. Instead, I found myself feeling just as comfortable at the new SCDP as I did at SC.
No, it was the smaller character moments that really made the episode. First, there was Harry Crane, who really played a small part in the episode, but drew some laughs when he grabbed a handful of cookies as the jar was being passed around. Then there was Roger scoffing at Lane's accent ("I really hate the way you say 'percent.'"). And, finally, there was Pryce himself, who was forced to abandon his tighter budget plans in order to throw a Christmas party to accommodate Lee Garner, Jr., wanting to be invited to a Christmas party (Garner's account, Lucky Strikes, was responsible for 68% of SCDP's income). When the domineering Garner received a gift with a "You didn't have to do this," Pryce peered over his shoulder and quietly murmured, "Yes, we did." It was those small moments that really made the episode, though the overall plot was solid.
As you saw above, this episode marked the return of the much-hated Lee Garner, Jr., who everyone probably remembers as the closeted homosexual who was responsible for the sacking of Sal during last year's episode "Wee Small Hours." Don and Roger later joke about Garner's similarity to Hitler, but when he's on screen, there's nothing funny about him. He's well-portrayed as a slimeball, and nothing would make me happier to see him get put in his place — even if it's through little moments like Pryce's "Yes, we did."
This episode also marked the return of the always strange Glen, or the little boy who had a creepy crush on Betty during season one. He's all grown up now, and will undoubtedly become a very bad influence for Sally, who is now the object of his affections. Not only does he casually reference "doing it" (He's like, 10!), he also calls his friend, burglarizes the Draper residence, and vandalizes it, all in the quest of gaining Sally's affections. The kid is unstable, but he definitely makes the entire Henry/Betty/Sally storyline much more palatable (but maybe that's because Betty was relegated to a minor role this episode).
And then there's Don, who is quickly becoming an alcoholic as well. His co-workers view him as "pathetic," and he even seduces his secretary (something he's always been against doing) in one night of drunkenness. He blows her off the next morning, but something tells me they'll be re-exploring that relationship fairly soon in some capacity.
But the question remains: Is the show we're watching the slow descent into self-destruction of Don Draper, or the long and dark redemptive arc of Don Draper? That's really the whole question, but this episode took us to even darker Draper territory than the masochistic sex of last week.
(Also, just as a side note, if you're wondering where you recognize Peggy's new boyfriend from, it's because he was Karl on LOST. Cool, right? Of course. But if he keeps up with these Swedish sex talks, we might all just be begging for him to be shot in the chest a la Karl.)
Overall, this episode was a par entry in the series. It wasn't special, or particularly memorable as far as Mad Men goes, but it was still one of the highest quality episodes on television this week. Is it in danger of falling into the same type of rut that season three did? Always. It'll take a couple more episodes to tell whether or not "Christmas Comes But Once a Year" was a good stepping stone or a mediocre filler. B-