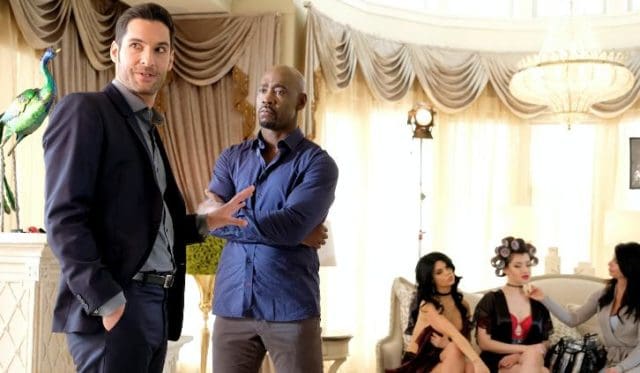 It may be a new year, but the Devil remains the same. On tonight's winter premiere of Lucifer, our resident King of Hell mixes business with pleasure. That and helping Amenadiel find his stolen necklace.
I like a good backstory, don't get me wrong, but this episode makes it look like a typical episode of the show rather than a flashback. The only difference is that it doesn't have our favorite crime-fighting duo chasing down leads and questioning suspects. I hoped to see how Lucifer and Maze got out of Hell and found themselves in the City of Angels. Seems a tad anticlimactic for the Devil just to pop back downstairs and retrieve his right-hand demoness.
The scenes with Lucifer enjoying himself on Earth is again, typical. It's not like the Devil has anything better to do while visiting the earthly plane. I mean, he didn't open LUX yet, so he's going to have to find something to pass the time. However, it was nice to see him play the piano in this episode.
The victim for this week is MMA (Mixed Martial Arts) fighter, Aiden Scott. Turns out that Gil the gym owner killed him for not wanting to tarnish his reputation by throwing a fight. The gym owner is also the one who shot Amenadiel at the beginning of the hour and took the angel's necklace. The promoter Tio Sorrento got the celestial treatment as well. Maze had her wicked way with him, and the latter sang like a canary. Well, in a manner of speaking.
I applaud Amenadiel for throwing away his pride and let Lucifer win their little fight by submission. If he were to keep on fighting, I'm sure that they would have both ended up downstairs for a while. I also applaud Officer Decker for sticking it to Charlotte Richards (pre-Mama Morningstar, of course) as the former investigates Aiden's case.
In the end, justice was served, and Lucifer cashes in his blank check from Amenadiel. The Devil wants to stay on Earth and got Maze to cut off his wings as part of his rebellion against God. Would have liked to see the actual cutting off of the wings a la CSI but again, I digress.
Final Thoughts:
Seeing Lucifer channelling his inner John Travolta with the white suit/black dress shirt combo. Priceless. It would have been good to play Stayin' Alive by the Bee Gees, but I digress. I also sweat-dropped when he went and got his beloved Corvette. "I can turn anything on." Oy vey. The sweat-dropping continued when he was about to pleasure himself watching Hot Tub High School starring one Chloe Decker. Then again, he is the Devil. Guy loves his pleasure in whatever shape or form.
The parts where Detective Decker is near Lucifer, but the two never saw each other were enjoyable. I half-wanted Lucifer to turn his head and see Detective Decker, but that would render their actual first meeting moot.
I wonder how Lucifer knew to fight like a human? It's not like he had to deal with tainted souls of wrestlers and boxers down in Hell.
Watching Amenadiel try to fight like a human is amusing. That and watching him chase a chicken and interact with Detective (then Officer) Decker at the precinct wearing the clothes he got at Lucifer's hotel room. Good job, show.
I felt sorry for Amenadiel when he had to film an adult-themed scene for an adult-themed film. Though technically, he had it coming when he told one of the producers that he wanted to speak with Misty Canyon about pillow talk.
Lucifer returns with all-new episodes in three weeks (Jan. 22). Photo via FOX
Lucifer Season 3 Episode 11 Review: "City of Angels?"
Summary
A flashback to 2011 when the Devil first came to Los Angeles. Amenadiel tries to retrieve his fallen brother to get him back to Hell. Detective Decker and Detective Espinoza are still married and they investigate the murder of an MMA fighter named Aiden Scott in this winter premiere of Lucifer.