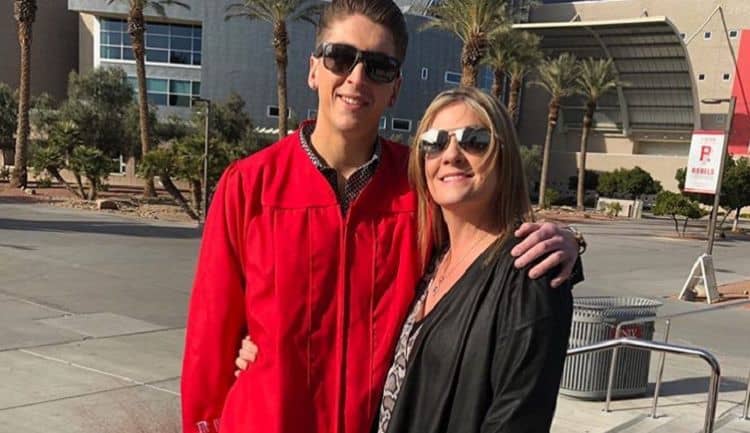 We've all heard the idea that there's a great woman behind every successful man. In Guy Fieri's case, it's definitely true. Although Guy gets most of the spotlight in the Fieri family, his wife, Lori, is equally as deserving. Guy and Lori have been married since 1995, and their relationship has continued remain strong. There's no denying the fact that Guy has worked hard to get where he is today, but would it have been possible without the love and support of his wife, Lori? Keep reading for 10 things you didn't know about Lori Fieri.
1. She's From New England
Lori's life now is a complete 180 from where it started. She came from very humble beginnings. She was born to a working class family from New England. Her mother was a maid and her father was a tool maker.
2. She And Guy Met At One Of His Restaurants
The first time Lori and Guy met, the circumstances were a bit awkward. Lori was visiting a friend who had just gotten fired from one of Guy's restaurants. When Lori and her friend went to the restaurant, Guy asked them to leave. Lori let him know that he couldn't just kick them out and they ultimately ended up staying. Once Guy and Lori began talking, he knew she was the one.
3. She Inspired Fieri To Change The Spelling Of His Name
When Guy Fieri was born, his last name was spelled Ferry. His grandfather, who immigrated from Italy, changed the spelling in order to make the name sound more American. When Fiera married Lori, he decided to change his last name back to its original spelling.
4. She Helps Guy Come Up With Crazy Ideas
Guy Fieri may be the face of his brand, but he and Lori are truly a team. Guy values her opinion and she has helped him come up with plenty of ideas over the years. She is always coming up with interesting ideas for new dishes and recipes Guy should try.
5. She's A Devoted Mother
Lori is the proud mother of two children: Hunter and Ryder Fieri. On Mother's Day, Hunter posted a nice photo on Instagram of he and Lori with a caption that read: "Happy Mother's Day to the Queen! Ma you are simply amazing! Thank you for all that you do for this family! I love you".
6. She Keeps Things Running Smoothly At Home
Lori may not work in the traditional sense, but she's certainly got plenty of work on her hands. She is the glue that keeps the Fieri household together. While Guy is out making sure that business needs are being met, Lori is at home making sure everything in the house is taken care of.
7. She Encouraged Guy To Audition For The Next Food Network Star
If it hadn't been for Lori, the world may never have been introduced to Guy Fieri. In 2006, Lori encouraged Guy to send in a video to audition for a spot on The Next Food Network Star. When Guy got an invitation to appear on the show, Lori was pregnant and Christmas was right around the corner so he contemplated passing up on the opportunity. However, Lori encouraged him to go any way. She recalls saying " 'Listen, this is the opportunity of a lifetime. If you don't try, you'll never know. You need to go.'"
8. She's Not Very Active On Social Media
Guy Fieri has over a million followers on Instagram, but Lori likes to keep a much lower profile when it comes to her online presence. Her Instagram page is private and she only has 81 followers and 9 total posts.
9. She Looks Up To Her Husband
Even after being together for 25 years, Lori is still crazy about Guy. She describes her husband as a "fantastic person" and says "At the end of the day, I look at him and I still genuinely like him. Starting from the time we wake up in the morning, he pretty much has me laughing."
10. She's Ready For Guy To Sport A New Hairstyle
Guy Fieri's spiky blonde hair has been a part of his identity since the beginning of his career on TV. However, Lori hasn't always been a fan of the look. Over the years, she's accepted that the frosted tips are here to stay, but sometimes teases him about going back to his darker hair.
Tell us what's wrong with this post? How could we improve it? :)
Let us improve this post!