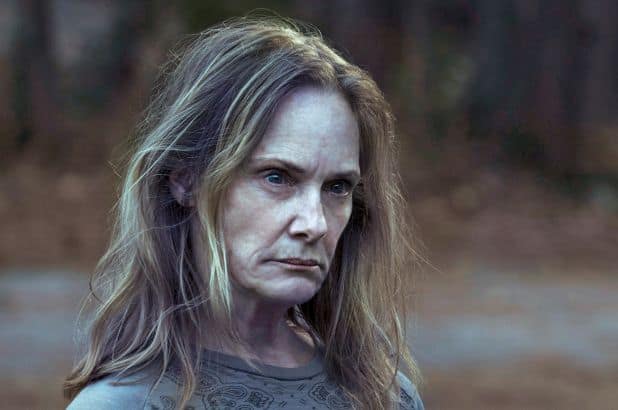 After more than three decades in the business, Lisa Emery finally got the opportunity of a lifetime. In 2017, she was cast as Darlene Snell in the Netflix series, Ozark. Despite her character's somewhat disturbing nature, Darlene has become one of the most intriguing characters on the show. There's something about Darlene that makes viewers want to see what she will do next. And it's all thanks to Lisa's excellent work. The almost 70-year-old actress is proof that it's never too late for a person's dreams to come true. Continue reading for 10 things you didn't know about Lisa Emery.
1. Darlene Isn't The First Twisted Character She's Played
A character like Darlene may be intimidating for some actors to take on. However, Lisa Emery already had experience playing a similar role. She told The New York Post, "I did a play called 'Iron' with a character who was terrifying. It took place in Northern England in a prison and [my character] had killed her husband with a hammer. She scared me more than Darlene, almost. They both had the same m.o."
2. She's From Pennsylvania
Lisa was born in Pittsburgh to a mother who was an aspiring actress. She said she was raised in the Philadelphia area due to her father's job in Valley Forge. Lisa relocated to Virginia to attend college at Hollins University in Roanoke, Virginia.
3. Her Son Is An Actor
Lisa Emery was married to actor, John Pais, from 1990 to 2003. The couple had two children together, one of whom is actor, Zane Pais. Zane has had a few small roles in productions like Room 104 and Margot at the Wedding. He hasn't gotten a major role yet, but if his acting skills are anything like his parents', that day will be coming soon.
4. She's Never Had A Career Strategy
When most actors start their career, they know exactly where they want to go and how to get there. But Lisa Emery isn't most actors. Although she has found success over the years, she was never exactly looking for it. She told Backstage, "I take it as it comes. Perhaps I'd regret it if I were less happy now. I live perfectly well and love what I do."
5. She Has More Than A Dozen Stage Credits
Like lots of other actors, Lisa got her start in theater and she's continued to do stage productions throughout her career. She has racked up more than a dozen stage credits and has appeared in productions both on and off Broadway.
6. The Script Is The Most Important Thing To Her
When Lisa is looking for stage roles, the script is always the deciding factor for her. She says, "If I'm rolling my eyes when I read the play. I know I'll be miserable even if I'm in a drought. But I'll do a play even if I think it needs a lot of work as long as the playwright is around and willing to work on it." Even though she admits that taking TV roles is all about the money, the script is her deciding factor for those as well.
7. She's Worried About Her Age Affecting Her Work
Aging in the entertainment industry can be a really scary thing – especially for actresses. Lisa shared that at times, she is nervous about how getting older will impact her work. However, so far she's still been able to get a steady stream of opportunities.
8. She Fell Into Acting By Accident
Even with an for a mother, Lisa wasn't one of those people who grew up knowing that she wanted to be an actress. She didn't truly develop an interest in wanting to act until she went away to college she she observed an acting class doing improv.
9. She Thinks Being A Team Player Is Key
There are lots of ways to be successful in the entertainment industry, and different people will give you different opinions. In Lisa's mind, being a team player is one of the most important qualities a person can have if they want to make it in the business.
10. She Wanted To Be A Painter
When Lisa went away to college, she majored in art her plan was to be a painter. However, she often found herself frustrated with her studies. After witnessing that acting class she decided that studying acting looked like a lot more fun.