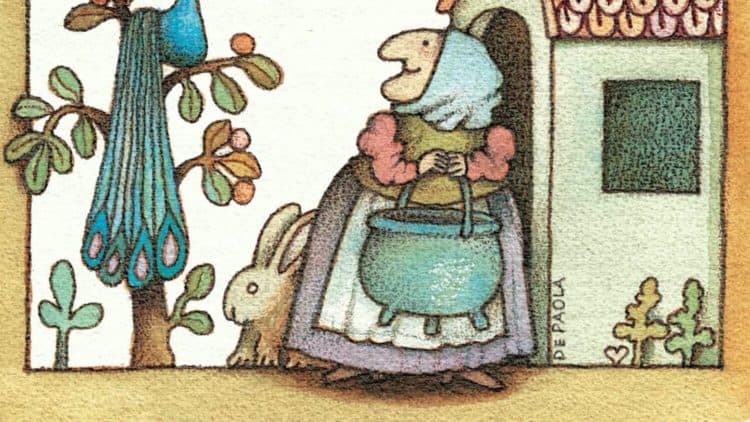 I'm willing to bet that many upon many people looking at the name Strega Nona wouldn't have the faintest clue who this character is or where she was derived from, but Lionsgate deciding to make her into a movie is still intriguing since those of us that know the story and its origin might already feel our wheels spinning. Just to give a little background on the character, Strega Nona translates to 'Grandma Witch' from Italian. In essence this character is a kindly old witch that performs beneficial magic within the confines of her village and is well-known to the people for her kind and gentle ways. This might sound like it's a bit out of the expected norm for a witch, but literature and movies have at least allowed us to see that there are two sides if not more to witchcraft, though some might not see it that way since Strega Nona was actually banned back in 2010 since it depicted the life of a witch and the use of magic as a good thing. This is a little hypocritical since even during the time period in which it was set there were plenty of people that still though highly of magic and to this day many people still teach their children of the magic qualities of many a different character. Strega Nona is no better or worse than many of them, which is why banning the book made no sense.
As Mike Fleming Jr. of Deadline and several others are commenting on however the popular children's tale that was published in the 70s is going to be picked up by Lionsgate and will become one of their next animated features. The story is fairly simple as Strega Nona's magical pot that continually fills with pasta is, as you can imagine, a recipe for disaster in the wrong hands. While she's away from home one day and leaves Big Anthony to tend things for her the big lummox decides he's hungry and desires some pasta. To some this might seem a bit of a stereotype, Italians and pasta after all, but given that it was the author, Tomie dePaola, that penned the story it seems perfectly okay once people are calmed down and told the origin of it. The only thing is that Tomie did in fact take this idea from a Germanic folk tale from the 19th century, in which a kindly old woman does indeed have a magical pot, but it produces porridge instead of pasta. Tomie has acknowledge this thankfully but personally I think I'd rather see the porridge version if only because it sounds a little more intriguing given what happens when the person left in charge of the old woman's home and pot, Big Anthony in Tomie's story and a little girl's mother in the original, allow things to get way out of hand. The trick of the pot is to speak the magic words just as the old woman says, otherwise nothing will happen. And of course when the little girl's mother and Big Anthony speak the words they get it half right, but can't seem to remember the other half.
In Tomie's story the village in which Big Anthony and Strega Nona live is swiftly filled and nearly buried in pasta, while in the original the village is smothered in porridge. Both cases require the people to eat their way out of the mess, though in Tomie's story it sounds as though the village wants to lynch Big Anthony until Strega Nona intervenes and states that the punishment must fit the crime. What this means is that since he was hungry, Big Anthony must eat the pasta that he helped create, which in the length of the story takes him all night and no longer, while in the original people are eating porridge for a week or more to get rid of it. Just to give you a better idea of it here's an explanation provided by Deadline as per Jessica Fisher of GeekTyrant:
Strega Nona–Grandma Witch–is the source for potions, cures, magic, and comfort in her Calabrian town. Her magical ever-full pasta pot is especially intriguing to hungry Big Anthony, who is employed to look after her house and tend her garden. One day, when Strega Nona goes over the mountain to visit Strega Amelia, Big Anthony recites the magic verse over the pasta pot, with disastrous results.
And here's part of the original as per The Mindful Gardner:
One day the girl entrusts the pot with her mother, giving her instructions before she goes. The mother gets a bit peckish and says 'Cook little pot, cook!' Only she forgets the second bit, and soon the porridge pot is overflowing, all over the table, onto the kitchen floor, out of the door and down the street!
So what do you think? Porridge or pasta?