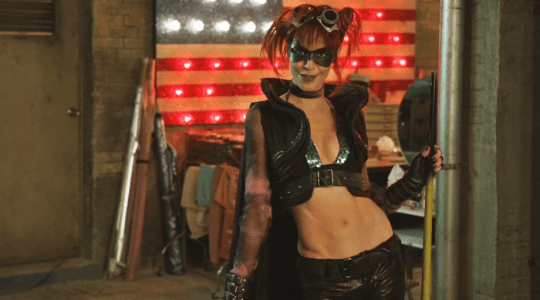 With her sparkling blue eyes and bright red hair Lindy Booth is one of those women that you can't help but look at in a way that speaks of true and non-perverted awe. She's a beautiful woman to be certain but she's also got a strange quality to her that says that she's not just the beautiful figure she presents herself as, but something much, much more. Thankfully her acting proves that point since she's been in a host of movies and TV shows either as a guest star or a main recurring character. It would seem that for a long time her pretty face and trim figure made her the perfect subject for roles in which she got to flaunt her good looks and just be the object of desire. But in truth she's had a lot of roles that have made use of her intellect and her wealth of acting talent. There have been those roles in which she's been subjected to the stereotype of just being gorgeous and not having much else there but in a lot of TV roles, and in several movie roles, she's been able to show just what she can do and why she's worth hiring for just about any production.
She hasn't done a whole lot lately aside from being on TV but there are always reasons for this since she could be looking at starting a new chapter in her life or simply taking it easy. Actors tend to get tired and worn out too so it's not too hard to assume that she might need to just focus on one thing at a time.
10. She guest-starred in NCIS as an assassin.
You've got to feel for Tim McGee on this one, he thought that he'd landed one of the prettiest women he'd ever seen in his life. It was rough to find out that she was just using him to get to an assassin that was stalking the current director of NCIS, Leon Vance. Lindy's character was about to threaten McGee with a gun when the assassin in question took one shot and put the redhead down, saving McGee in an inexplicable turn of events.
9. She had a role in Wrong Turn.
It wasn't a big role but it was something that proves she was there. When a bunch of college kids out to have a good time and cheer their friend up end up in a car accident in the middle of the woods no less, they did the one thing you never do in a horror movie, which is split up. The doctor that ran into them goes with the larger group of friends to find a payphone or something approximate to a gas station with a tow truck while two of the friends stay with the damaged car. Unfortunately before Lindy and her male costar could get as frisky as they wanted with no one around to watch they were attacked by the inbred hillbillies that played the main antagonists of the film. It got a little gruesome.
8. She was part of the cast in the Dawn of the Dead remake.
This is a part that saw her become essentially the brainless redhead that didn't have a whole lot to offer the group. She wasn't stupid to be honest but was traumatized since her father had to be killed before he could turn into a zombie and come after them all. After that she wasn't much of a presence save to pop up now and again. When she went after the dog thinking he was in danger however she kind of started a chain reaction that forced the survivors to abandon their mall residence and go in search of a safer place away from the horde of undead that was looking to kill them. After that she and the other survivors landed on an island that was already overrun and, well, it's assumed none of them survived.
7. Her TV roles far outstrip her film roles.
She seems to have favored TV over film more often. It tends to happen with a lot of actors that decide that one venue is better for them than the other. It's not necessarily a lack of talent but instead a different pace that people tend to prefer.
6. She has the most dazzling blue eyes.
Some actors have the most entrancing eyes you've ever seen. Alexandria Daddario is another woman that's hard to look away from, but Lindy's eyes are so blue that you could easily get lost in them.
5. She had a role on a Disney show at one time.
She played Riley Hill on the show The Famous Jett Jackson for a while. She eventually moved on though since it seems as though she doesn't stay put all that long before getting into another role.
4. Her career started in 1998.
Lindy's been around for a while obviously, roughly two decades and counting, so she's definitely a seasoned veteran of film and TV.
3. She's managed to keep her private life away from her professional one.
There's really not much to report on her personal life since unlike a lot of actors she doesn't flaunt everything she has to offer. That might be the wisest move for a lot of people that want their privacy.
2. Her net worth is around $1.2 million at this point.
She's not the richest actor in Hollywood but she is definitely one of the more talented. Keeping herself low profile doesn't do much for her bank account but it does manage to let her have a life.
1. There are no reports as to whether she's single, married, or otherwise.
Once again there's nothing in the reports about her that have said anything about a husband or even a boyfriend. If she is seeing someone though that's really her business, and it's her prerogative to keep it quiet.
After all, even actors need their quiet moments.