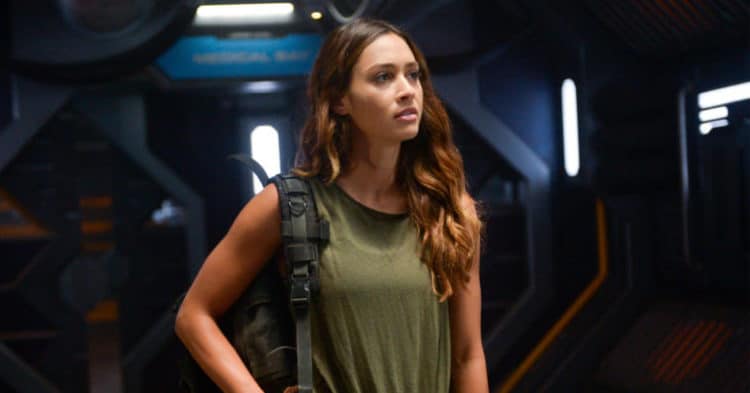 After nearly a decade in the industry, Lindsey Morgan has finally started to create a lane for herself. Her first big break came in in 2012 when she was cast in the series General Hospital. She when went on to land a main role in the popular show The 100 and it's been a nice ride ever since. Although The 100 came to an end in 2020, Lindsey has managed to keep the momentum going. She is one of the stars of the new CW series, Walker, and fans are excited to see Lindsey on their screens again. If you haven't had a chance to get familiar with Lindsey's work, now is the perfect time to see what she's all about. Here are 10 things you didn't know about Lindsey Morgan.
1. She's A Shy Person
When people think of professional entertainers, shyness isn't a characteristic that tends to come to mind. In reality, however, lots of entertainers have expressed that they're actually very shy people, and Lindsey Morgan is one of them. In fact, one of the things that initially drew Lindsey to acting was that it offered her an opportunity to break out of her shell.
2. She Attended The University Of Texas at Austin
Lindsey was raised in Texas and decided to stay in state for college. She enrolled at the University of Texas at Austin where her plan was to earn a bachelor's degree. Instead, she ended up falling in love with acting and she decided to leave school early to pursue her career. At the time, leaving college probably seemed like a very risky decision, but everything ended up working out nicely for Lindsey.
3. She's A Director
Acting has been Lindsey's primary focus throughout her career, but she has also taken her talents behind the scenes. She made her directorial debut in 2020 when she directed an episode of The 100. There's a good chance we'll see more directing from her as her career continues.
4. She Has A Huge Social Media Following
Like most millennials, Lindsey spends a lot of time on social media. She is a very active Instagram user and has over 1,600 posts on the platform. She has put a lot of time into building a strong presence and she has gotten more than 2 million followers along the way. Not only does Lindsey's content keep her fans in the loop with that she has going on, but she also shares the occasional post about her personal life.
5. She Enjoys Giving Back To Others
Lindsey is serious about using her platform to contribute to the greater good. She is passionate about helping others and has given back to the community on several occasions. She has worked with several charitable organizations including the California Fire Foundation.
6. She Loves To Box
Since Lindsey spends so much time in front of the camera, it's no secret that she wants to make sure she's always looking her best. As a result, exercise is a part of her regular routine. Lindsey doesn't just like going to the gym, however. She loves boxing and spends a lot of time working with a trainer.
7. She Was Nominated For An Emmy
Every actor looks forward to the day when they see their name included on the list of nominees for a major award. That time has already come for Lindsey. In 2013, she was nominated for a Daytime Emmy Award for Outstanding Younger Actress in a Drama Series for her role in General Hospital.
8. She Would Love To Play A Superhero
Lindsey is extremely thankful for all of the opportunities she's gotten so far in her career, but there's still one role that she has her sights set on. During an interview with The Italian Reve, Lindsey shared that she would love to play a superhero some day. I think it's safe to see that her fans would love to see this too.
9. She's A Brand Ambassador
Having lots of followers on social media isn't just a popularity contest. It can also lead to some very lucrative opportunities in real life. Thanks to her large following, Lindsey has been able to partner with several brands to help advertise their products and services.
10. She Was In An Episode Of How I Met Your Mother 
In addition to the work she's best-known for, Lindsey has also made minor appearances on several popular shows throughout the years. Prior to joining the cast of General Hospital, Lindsey was in an episode of How I Met Your Mother in 2012. She was also in an episode of Franklin & Bash.