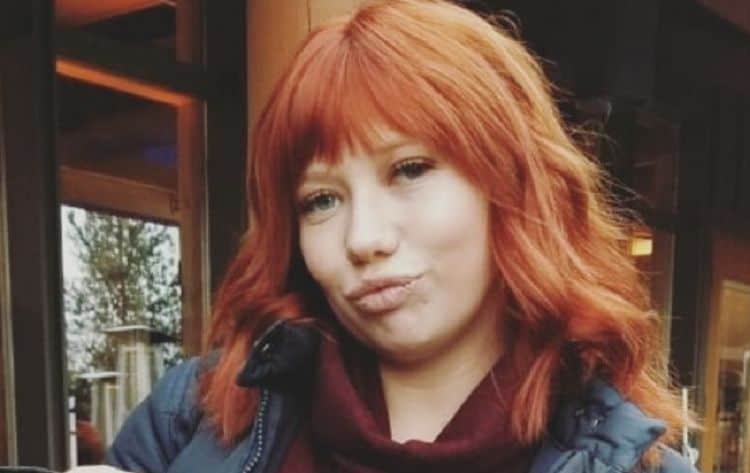 People like Katy Perry, Jordin Sparks and Carrie Underwood owe "American Idol" for their celebrity status. Amber Fiedler was hoping to join that list during the show's season 18, but she was eliminated before they even picked the top 20. The 23-year-old made an unusual entrance with her 38-week old baby bump and a story about why she did not yet have a name for her baby. The singer also doubles up as a theater actress and below are a few more facts about her.
1. She believes God wanted her to give her baby up for adoption
Christians have faith that God always wants the best for them and will guide them into making the right decision. With Amber being a Christian, she was scared of being a mother but even when she wanted to keep her baby; she was not at peace with the decision. Consequently, when someone told her about adoption being an option, Amber prayed for God to make a way if at all that is what He wanted. Two days later, a woman came up to her and her mother saying she was interested in adopting so they should let her know if they knew anyone willing to give their child up.
2. Her mother was a drug addict
Amber disclosed that she had a rough childhood growing up because her mother abused drugs, making it impossible for her to be a responsible parent. As a result, Amber's grandmother had to step in and raise her granddaughter. Fortunately, Amber's mother has been clean for the last four years, and although she cannot go back in time and make up for not raising her child, the two can now have a great relationship.
3. She did not want to audition for "American Idol."
They say doubt has killed many dreams than fear ever will but in the case of Amber, it was fear of what people would say holding her back. Before signing up for "American Idol", she did not know that she was pregnant. When it was time to audition, Amber did not want to, saying that she would always be referred to as the "pregnant girl" on the show. However, her mother encouraged her and Amber auditioned five times before it was time to meet the judges. According to Raise Magazine, she almost did not go through with it but then believed if she had gone that far, it is because God had a plan for her.
4. She preferred an open adoption
Growing up without a mother to give her the motherly love she needed affected Amber, and that is not something she wants her daughter to go through. Consequently, although Amber knew she did not have enough money to provide for her daughter's needs, love does not cost a thing. The singer therefore may have given up her little girl for adoption, but she will maintain a relationship with her since she signed up for an open adoption.
5. Her daughter's name pays tribute to her hair
People have been known to give their children weird names; for instance, Gwyneth Paltrow named her daughter "Apple" while Rachel Griffith named hers "Banjo." Well, even William Shakespeare asked what is in a name and Amber did not know what name she would give her daughter because she would not be keeping her. Luckily, she picked great adoptive parents who also wanted her daughter to have a connection with Amber through a name. As a result, Amber's daughter was named "Nora Rose" in tribute to Amber's red hair as well as her middle name, according to Texas Right to Life.
6. She believes her daughter saved her
When asked about how she wound up pregnant, Amber revealed that she had been going out drinking and getting caught up with the pleasures of life. However, after the discovery, she had to take a 180-degrees turn in her life. Therefore when she sang on the Hollywood stage, the only song that could describe how she felt about the baby coming in her world was "Rise Up" by Andra Day saying it was a dedication because she saved Amber.
7. She has the most loving adoptive parents for her daughter
As much as Amber opted for open adoption, not all foster parents are easy to handle; some will have strict schedules on when you can see the child, but hers are a godsend. The singer is even the one who had to tell them she did not have enough time to concentrate on her career and still get to see her daughter. Before Amber gave birth, the adoptive parents told her that if she was not ready to go through with the adoption, she could still have her daughter.
8. She has been misconstrued as an unloving mother
People can be heartless, and even though Amber did it all for Nora, they think that it is because Amber does not love her child. Since she was at peace with giving Nora up for adoption, Amber does not wonder if she made a mistake. Her critics thought she would be depressed after giving birth, but she has never been happier and would instead be depressed being a mother to Nora since at times she did not have even $20 in her purse.
9. She wishes her mother had put her up for adoption
Speaking from her experience growing up, Amber believes that Nora did not lose a mother but instead gained one. Similarly, she wishes that her mother had done her the same favor. While most people believe a child is best left with the birth parent, some biological parents are not responsible. Therefore Amber remembers that although her mother was physically present, she was not a parent to Amber and her brother hence they had to learn how to look out for themselves.
10. She was heartbroken after being eliminated
Amber believed that going for the auditions was according to God's plan for her, but it seems that it was meant to strengthen her not necessarily for her to win. She went back to sing after giving birth, and Bryan did not mince his words saying she had lost sight of the prize; he described the performance a little unbridled. It broke Amber's heart not to make it to the top 20 contestants because she had given it 100%, but it was not enough, as she told Idaho Statesman.
Tell us what's wrong with this post? How could we improve it? :)
Let us improve this post!