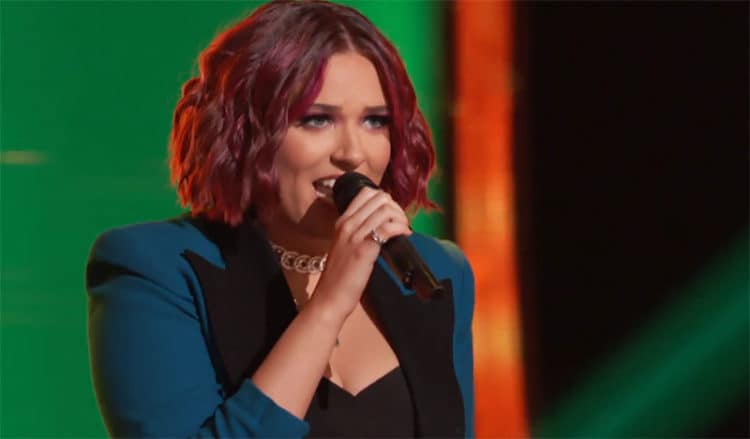 After years of building a strong foundation for her career, Lindsay Joan is hoping that 2021 will be the year that she's able to achieve her dreams. The first step, getting through the blind audition on The Voice, is one that she can happily check off of or to-do list. Her performance of "Nightmare" by Halsey, got Nick and Blake to spin around in their chairs. Although Kelly didn't hit her buzzer in time, she admitted that she wished she would have turned around. Lindsay made the decision to go with Team Nick and she couldn't be any more excited to continue her journey on the competition. Keep reading to learn 10 things you didn't know about Lindsay Joan from The Voice.
1. She's A California Native
Lindsay was born and raised in SouthernCaliforia and it was there where she discovered her love for the performing arts. She eventually made the decision to move to New York City so that she could be in a better position to pursue a career in musical theater.
2. She's A Songwriter
After her performance on The Voice we've all learned that Lindsay is a talented singer, but she doesn't just sing. Lindsay is also a songwriter and she loves being able to express herself and share stories through ler lyrics. Lindsay is a firm believer in the importance of being able to connect through music.
3. She's Been Singing Since She Was 5
Most 5-year-olds aren't interested in singing anything other than a nursery rhyme here and there, but Lindsay wasn't your 'average' 5-year-old. She started singing around that time and it quickly became obvious that she had a special talent for performing.
4. She's Very Active On Social Media
Participating on a show like The Voice almost always results in a big increase of followers. People who want to follow Linday will be happy to know that she's very active on social media. She has accounts on all of the major platforms and she posts lots of music related content. She hasn't reached influencer level numbers on any platforms just yet, but that will likely happen during her time on the show.
5. She Loves Donuts
Do you have a guilty pleasure food that you never get tired of eating? For Lindsay, that food is donuts. According to the bio on her website, Lindsay would be the "happiest woman alive" if she could eat donuts every day. Hopefully she treated herself to a donut (or two) after making it through her blind audition.
6. She Was Contacted To Audition For The Voice
Many of the contestants on The Voice made the decision to seek out the opportunity to audition for the show. In Lindsay's case, however, producers reached out to her to invite her to audition. This doesn't necessarily give her an advantage, but it proves that Lindsay was going a good job of creating a buzz for herself prior to the show.
7. She Gave A Presentation About Kelly Clarkson In School
One of the cool things about The Voice is that it gives up and coming singers the chance to perform in front of well-established artists. In many cases, the contestants are fans of the celebrity judges. Lindsay was such a big fan of Kelly Clarkson's that she did a presentation on her when she was in school. As you can imagine, being able to sing in front of Kelly was a very cool moment for Lindsay.
8. She Hopes To Inspire Others
Lindsay doesn't just want to entertain people with her music, she wants to uplift and inspire them as well. After all, music is one of the few things that has the power to bring people together regardless of where they come from. So far, I think it's safe to say that Lindsay and her journey are a true inspiration to others.
9. She's Been On Broadway
Being on The Voice is certainly not the only time Lindsay has performed on a very important stage. She was part of the Broadway national tour of Kinky Boots. The experience allowed Lindsay to grow as an artist and performer and has helped prepare her for The Voice.
10. She's Released Her Own Music
Singing cover songs is a great way for an artist to start creating a buzz around their name, but releasing original music can help truly establish an artist. Lindsay has already put out a couple of her own singles and she's been credited as a featured artist on other projects. We didn't find any information to suggest that she's currently working on a full length project.