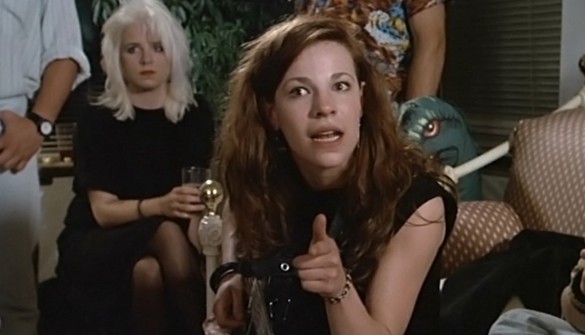 Lili Taylor is the type of actress who has been in at least one thing that everybody loves. Over the course of five decades, Lili has been gracing our screens with her tremendously talented presence. From movies to TV shows, she is capable of doing a little bit of everything, and she truly has the range to play any kind of character. Not only do fans love her work, but her skills have also been noticed by her peers in the industry. Throughout her career, she has been nominated for three Primetime Emmy Awards. What's most impressive about Lili's career though, is that she still has a lot more left to give. Keep reading for 10 things you didn't know about Lili Taylor.
1. She Spoke Out Against Harvey Weinstein
When allegations regarding Harvey Weinstein began to circulate a couple of years ago, there were some mixed responses. Some people could not believe that Harvey was the sexual predator many had accused him or being, while others weren't surprised. Although Lili Taylor never worked with Weinstein directly, she says she knew he was a "pig". She clarified that she didn't know he was "a rapist or serial abuser".
2. She's Been On Broadway
Lili certainly knows how to light up a screen when she steps in front of the camera, but she also knows how to do the exact same thing when she steps on a stage. She has done lots of theater work throughout her career and most notably, she was in the 2017 Broadway production of Marvin's Room.
3. She's Never Wanted To Be Anything Other Than An Actor
Most people go through phases when it comes to deciding what they want to do as a career. That wasn't the case for Lili, however. She is the type of actress who, even at a young age, could never picture herself doing anything different. Judging by the success she's had over the years, I think we can all agree that she made the right choice.
4. She's A DePaul Alum
Lili was born and raised in Illinois and decided that she didn't want to go too far away from home for college. She enrolled in The Theatre School at DePaul University where she earned her bachelor's degree. The program also boasts several other notable alumni including Amy Pietz.
5. She Has BiPolar Disorder
Although most people are aware that mental health is just as important as physical health, many people are still afraid to speak out about their mental health and any challenges the may be facing. Lily, on the other hand, has never shied away from telling her story in regards to mental health. She has been very open about the fact that she was diagnosed with bipolar disorder. Instead of medication, however, Lili has used her art and her creativity as a way to treat the illness.
6. She Doesn't Like To Get Caught Up In Celebrity Culture
Lili may technically be a celebrity, but she's always been notoriously private when it comes to her personal life. She is the type of celebrity who has never bought into celebrity culture and all of the obsessiveness that comes with it. She told Women's Health Magazine that she believes that people's obsession with celebrities is "an indicator of our lack of health as a culture."
7. She Used To Smoke More Than 30 Cigarettes A Day
We all have some habits that we aren't too proud of, but Lili used to have one that could have been deadly. During her interview with Women's Health Magazine she said, " I smoked over 30, 40, a day. I tried to quit for a long time…Eventually I did the [nicotine] patch and the gum. I really recommend the patch."
8. She Likes To Spend Time Outdoors To Relax
Lili has been fortunate to have an acting career that has been long and consistent, but a busy schedule can also mean dealing with lots of stress. When Lili is feeling the pressure of everything around her, she loves to go outside and enjoy a nice walk through Central Park.
9. She's A Wife And Mother
Talking about her private life has never really been Lili's thing, but we do know that she has been happily married for more than 20 years. She and her husband, Nick Flynn have one child together. Nick also works in the entertainment industry and is a playwright and poet.
10. She's A Board Member For The National Audubon Society
Bird watching is something that has always fascinated Lili. She grew up in a household where her mother loved nature and instilled the same thing in Lili. She has a trained eye when it comes to looking for birds and can spend hours outside watching them come and go. Lili's love for birds has resulted in her joining the board at the National Audubon Society.
Tell us what's wrong with this post? How could we improve it? :)
Let us improve this post!