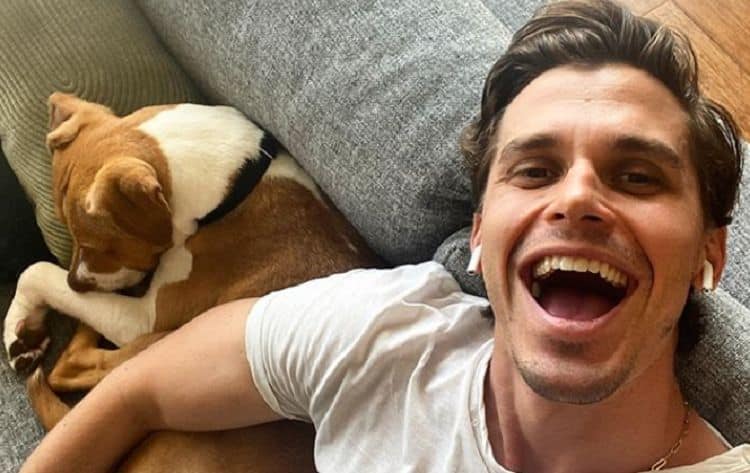 The last few years have been nothing short of a whirlwind for Queer Eye star, Antoni Porowski. Prior to his work on the show, Antoni had held a variety of job throughout the years. In addition to his work in the restaurant industry, Antoni was also an inspiring actor. Now, it looks like he has found the perfect opportunity to bring his favorite things together. Anyone who has ever seen an episode of Queer Eye would probably agree that there's something special about Antoni Porowski. Not only is Antoni a talented cook, but his calm and compassionate demeanor have won the hearts of millions of viewers across the world. Keep reading for 10 things you didn't know about Queer Eye's Antoni Porowski.
1. He Speaks 3 Languages
Antoni isn't just talented when it comes to food, he's also talented with it comes to learning languages. He is fluent in three languages: English, Polish, and French. His parents are from Poland and moved to Canada where English and French are the official languages.
2. He Was The Last Person To Be Chosen For The Cast
It's hard to imagine what Queer Eye would be like without Antoni's presence. Having him on the team seems like a clear no brainer. Ironically, though, he was actually the last person to be cast for the show. Producers say that once Antoni was added, there was a sense of completeness.
3. He Isn't Technically A Chef
Due to his role on the show, lots of people are under the impression that Antoni is a professional chef. However, that isn't the case. Antoni doesn't have any formal culinary training and has never worked as a professional chef. His official title on Queer Eye is 'food and wine expert'.
4. He Has Struggled With Addiction
Antoni has kept lots of details about his personal life to himself, but during season 2 of Queer Eye, he did reveal that he had struggled with addiction in the past. He didn't go into much detail about what his addiction entailed, but some speculate that he may have struggled with alcohol.
5. His Diet Is Mostly Plant Based
As you can probably tell by his role on the show, food is something that is very important to Antoni. He loves trying new things in the kitchen and creating unique recipes. Since it's clear that he enjoys a wide variety of foods, some may be surprised to know that he mostly follows a plant based diet. He told Forbes, "As somebody who has long been a dairy and butter lover, I have dairy in a lot of the recipes, which we actually figured out how to eliminate and swap for other ingredients."
6. He Describes His Sexuality As Fluid
Antoni is a proud member of the LGBT community, but he doesn't like to label himself. He describes himself as fluid and says "I feel like if I do refer to myself as gay, which would make it easier for people to understand sometimes, I feel like it dishonours women that I've been in love with."
7. He Believes In Going To Therapy
Therapy has always been a topic that many people are scared to discuss. However, Antoni has been going to therapy since he was a teenager and believes it can be a very helpful tool. He has struggled with anxiety for most of his life and has found that going to therapy has helped him learn different coping skills.
8. He's A Best Selling Author
Queer Eye isn't the only place where Antoni is putting his cooking skills to good use. He's also written a cook book called Antoni in the Kitchen which has made the New York Times' Best Selling list. The book includes a blend of recipes for all kinds of different occasions.
9. He Has ADHD
Antoni always dreamed of becoming an actor. However, he admits that he has ADHD which has made it difficult for him. Antoni has realized that regular exercise has became a great way for him to release energy. He says, "I'm a very hyper person, and I'm actually ADHD, so I have to stay simulated all the time. When I get it out of my system in the morning, I have more energy during the day, if that makes any sense."
10. He And Karamo Didn't Get Along During Season 1
The cast of Queer Eye seems to mesh well, but looks can be deceiving. During season 1, Antoni and Karamo had a major issue with each other. Karamo told People, "My castmate from Queer Eye, Antoni, people didn't know that we had an extreme amount of conflict…Our personalities got along, but then a third party got involved and once that third party got involved, he and I couldn't even talk to each other. We were too busy hearing rumors of what this third party was spreading about both of us." Fortunately, the two were able to reconcile and build a genuine friendship.