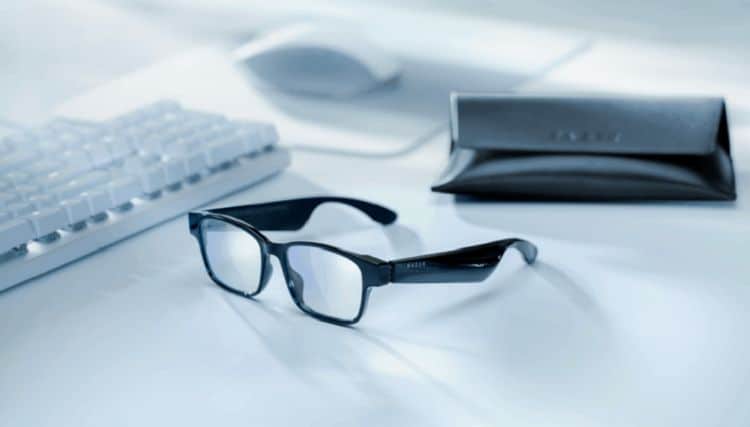 Razer makes gaming glasses with built-in speakers called the Razer "Anzu?" Yeah, you heard me right. Razer makes gaming glasses that have built-in speakers inside that allow you to listen to music, take calls, or do whatever else you need to do with an audio source. Hell, you can even game with them, but spoiler alert: I wouldn't recommend it. The Razer Anzu is Razer's high-end solution to protecting your eyes from harmful blue light, but are they worth $200? Well, Razer was kind enough to send a pair of the Anzu Smart Glasses my way, so that I could let you all know what I think of them and to tell you if they are a purchase that you can justify. While Razer did send these over at no cost, you can rest assured that you'll be getting a solid and honest review from me. So, are the Razer Anzu Smart Glasses actually worth it?
Features
The Razer Anzu Smart Glasses come jam-packed with a ton of features, like advanced eye protection with blue light lenses that filter by 35% to protect your eyes and reduce eyestrain, and also polarized replacement lenses that allow you to wear these as sunglasses with 99% UVA/UVB protection. They also include low latency audio, an open-ear design, they're touch enabled and voice assistant compatible, water-resistant, and have more than 5 hours of battery life. The Razer Anzu Smart Glasses also come in a few different designs including a Small/Medium and Large version of the rectangle design, and a Small/Medium and Large version of the round design. I went with the Small/Medium version of the rectangle design since I'm not really a big fan of the round design.
Comfort
Let's talk about how it feels to wear these glasses; the Razer Anzu Smart Glasses are oddly comfortable to wear. I say that this is odd, because Razer claims that these glasses have "built-in speakers hidden in its frame." This is just straight up not true, because these glasses are bulky. I mean, it's very distinctly obvious where the speakers are, there's nothing "hidden" about them. With that being said, they actually are very comfortable (at least from how long I've had them), I mean, you're not going to be wearing these all day, and with a time limit on the tunes due to battery life, you'll be taking enough breaks from them before they get too uncomfortable.
Battery Life
I've had the Razer Anzu Smart Glasses for about a week now and I wear them a couple of times a day for anywhere from 20-40 minutes and I still have yet to need to charge them. I'm actually really happy about this, not because I thought the battery was going to run out immediately, but because I really don't want to deal with charging these glasses. The charger is an incredibly strange proprietary cable with a magnetic attachment that goes on each temple, even though it's not terribly difficult to connect the charger, I'm still confused as to why Razer didn't just go with a standard Micro USB or USB-C charger. Either way, I'm not a huge fan of the charger, but you shouldn't really have to use it all that much.
Lenses
The Razer Anzu Smart Glasses include some replacement polarized lenses that allow you to use them as sunglasses rather than blue light (don't try to use the polarized lenses while gaming, because you can't see your screen anymore) protection and I really don't like changing out the lenses; I feel like I'm going to snap the glasses in half or shatter the lenses when I have to replace them. I wish that the polarized lenses would have just been a magnetic clip-on, I feel like that would have made a lot more sense rather than replacing the lenses entirely. If you're looking to swap these lenses often, you'll need to prepare to clean them all a lot since you need to handle these lenses pretty much everywhere if you're looking to replace them.
Sound
Now, we've reached what is probably the most important aspect of these glasses: sound. How do the Razer Anzu Smart Glasses sound? Well, it depends on what you're looking for; if you're looking for a fantastic gaming headset to hear crisp, clean, and immersive audio, then these are absolutely not going to be for you. If you're looking for something to take hands-free calls discretely, these are also not going to be for you (Call audio sounds terrible and I'm sure the microphone isn't anything to write home about either.) The only use that I've found these glasses to really be "okay" is when I'm listening to music on my phone. When listening to music, I do find that the audio is noticeably muffled, but honestly, it's really not that big of a deal if you're not a dedicated audiophile.
Unfortunately, while the Razer Anzu Smart Glasses do feel comfortable and have a decent battery life, they do fall incredibly short in the audio category (not to mention the touch controls are also not the best), and for a $200 pair of glasses that are marketed to provide great sounding audio, I can't recommend them if you're looking for a pair of smart glasses, or even if you're just looking for a pair of blue light glasses; there are much better and much cheaper options out there, like the Glassy Eyewear gaming glasses, that are less than $100! I've been surprisingly impressed with Razer products recently, but unfortunately they just didn't hit the mark with these glasses.
Tell us what's wrong with this post? How could we improve it? :)
Let us improve this post!