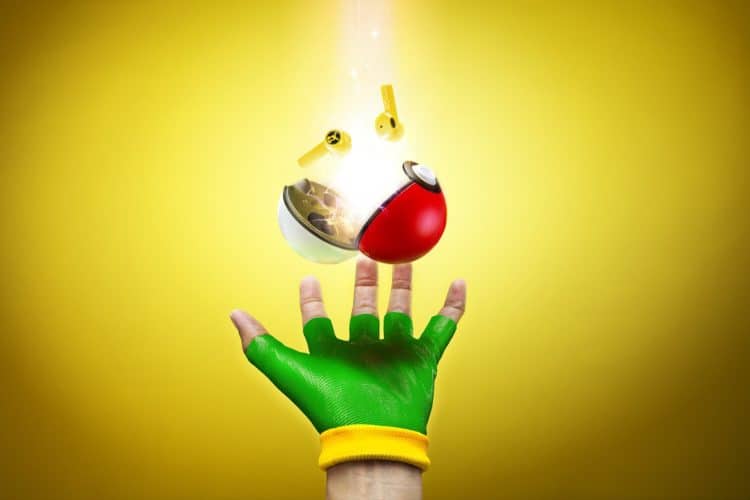 Did you know that Razer had a partnership with The Pokemon Company and an entire line of Pokemon branded Razer products? Neither did I until about a week ago, when I stumbled upon the Razer Pikachu Limited Edition True Wireless Earbuds on an Instagram ad and proceeded to do some research to find out if they're legit. It turns out that they are real and officially licensed, however, the only thing is that if you're looking to purchase them directly from Razer and you live outside of Asia, you're going to have a pretty hard time, since the Pokemon and Razer collaboration including the Pikachu earbuds, DeathAdder and mousepad, and Razer Ornata Pikachu themed keyboard, are only available in Asia. A bit of a bummer for those fans of both Razer and Pokemon, however, I was able to get my hands on the Pikachu earbuds courtesy of Razer, to let you know what I think of them and if you're really missing out on anything special, So are the Asia exclusive Pikachu Razer Hammerhead earbuds any good?
Specs
Headphone Frequency Response: 20Hz – 20 kHz
Headphone Impedance: 32 ± 15% Ω
Headphone Input Power: 8mW
Headphone Drivers: 13mm
Headphone Connector: Bluetooth
Weight: 45g
Microphone Pick-Up Pattern: Omnidirectional
Microphone Signal-to-Noise Ratio: ≥ 55 dB
Microphone Sensitivity (@1KHZ): -42 ± 3 dB (1 kHz)
Compatibility

Devices with Bluetooth connections
Smartphone app available for Android 8.0 Oreo and iOS 11 (or higher)
What's in the Box?
You get a few things in the box when your Razer Pikachu earbuds arrive, including:
Razer Pikachu Earbuds
Charging Case
Charging Cable
Silicone Earbud Sleeves
Wrist Strap
How do you use them?
In order to use your Razer Pikachu earbuds, you are going to actually have to charge the earbuds themselves straight out of the box. While the Pokeball charging case did have power when mine arrived, the instruction manual does actually tell you to wait until the earbuds are fully charged, after which you can subsequently charge the case and earbuds independently. I'm not really sure why this is, because most wireless earbuds are good to go right out of the box, but it didn't really take very long to fully charge the earbuds. After you charge them, keep the earbuds inside the charging case and open the lid to enter pairing mode. An audio prompt of Pikachu's classic audio cue will play when you open the case (and for a few other actions, including when you activate your smartphone's assistant). Make sure that Bluetooth is enabled on your mobile device and select the earbuds on your device (you may want to rename the earbuds, because the language is defaulted to Chinese). Now, you're good to go! After your first pairing, your earbuds will automatically try to connect to your device when you open the lid of the charging case, or when the earbuds are powered on. When you're using these earbuds, you should probably have your device pretty close to you, because the range on these are not that great. I experienced some major disconnecting not even 20 feet away, whereas my AirPods are able to go pretty much around the entire house and even into the garage.
Comfort
When it comes to comfort, I actually find these earbuds to be the most comfortable true wireless earbuds that I've ever worn. For a comparison, I've used exclusively Apple AirPods for about a year now, and I've found that their fit is nowhere near as snug as the Razer Pikachu earbuds. While they do have the same general shape as AirPods, there is a bit of an extrusion from the base of the bud, which I feel contribute to this better fit. Even after trying my hardest to get them to come loose they didn't budge. If you're a big runner, these should be great for exercise as they fit with very little to no movement and they're water resistant.
Sound
Outside of being comfortable, the biggest factor in whether or not earbuds are worth it is the sound that they produce. These earbuds get loud. Like….loud. However, loud doesn't always equate to better. The Razer Pikachu earbuds actually do sound pretty good, I think I would agree with Unbox Therapy in stating that they're on an AirPods level of sound quality – not hugely bassy, and some songs can sound a bit tinny, but they highlight treble well. I am a very big fan of the fact that they do get loud, as I find that AirPods rarely get loud enough for my liking, and these do seem to cancel out noise pretty well.
Pokeball Charging Case
My biggest complaint – and this seems universal – is the charging case. The charging case for these earbuds is shaped like a Pokeball that you place each earbud inside of to charge them, but while it is a fun novelty, that's all it is. There is not a single bit of practicality that goes with this Pokeball charging case, it's big, it's bulky, and it wouldn't fit in anyone's pocket comfortably. I've also found that it's a bit of a pain actually trying to get the earbuds out of the case after I've put them in. It's cool, it's a really fun novelty, but kind of defeats the purpose of the convenience of true wireless earbuds.
Overall, I am actually happy with the Razer Pikachu earbuds, and if you're a fan of Pokemon, can find a way to get your hands on them, and you feel like you can rock bright yellow earbuds, I would say go for it as long as you aren't actually going to try and force the charging case to be portable. It's not going to happen. If you live outside of Asia and would like a much more realistic option, you can get the basic Razer Hammerhead True Wireless Earbuds with a useful charging case for $64.99 directly from Razer.Razer.
Tell us what's wrong with this post? How could we improve it? :)
Let us improve this post!