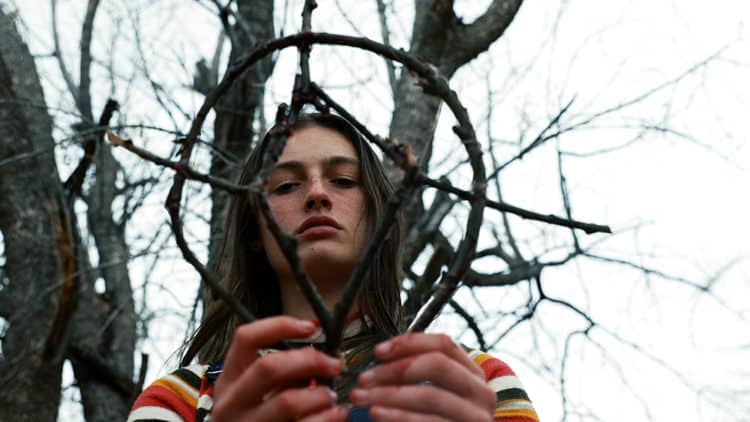 Shudder hasn't been shy about unloading some of the most horrific movies in the past year or so and it's fair to say that they're going to keep moving forward as Hellbender already looks like one of the more disturbing movies that will be released to streaming in 2022. The movie was shown back in August 2021 at the Fantasia International Film Festival where it was thoroughly enjoyed. After watching the trailer one can't help but think that a lot of folks are going to be cringing in a big way when they get wind of this movie and then decide to watch it next month. So far it would appear that the story is straightforward enough to figure out, as the main character is a young woman that hasn't known much of anything other than what her mother has taught her, considering that she's been raised in seclusion. When she makes her way down the mountain however and befriends a young woman and her friend's things start to happen as she appears to be dared to swallow a worm, and ends up suffering a consequence that's probably worse than anything anyone can remember from an elementary school dare gone wrong.
The use of occultism and witchcraft is kind of obvious in this movie, but it also feels as though the main character is bound to turn on her mother at one point, though it's hard to say at the moment since there's not much more being given out. So far it looks as though this movie is going to be one of those that is bound to be a bit confusing and perhaps even utilize various angles that might be more intriguing than the average blockbuster. From the visuals being given it feels as though Hellbender will be a movie about those that practice witchcraft primarily, but there will be a heavy lean into something else that's a little more disturbing than the average witch movie.
Something kind of indicates that this movie is going to be one of those that people will talk about for a while and then abandon until it's time to talk about it again. The story appears to be the type that will make a lot of other movies based around and on witches appear to be little more than mild attempts at something that is far more sinister and unknown. But there's also an idea that it will be a little over the top in the way the CGI appears to take things to the edge and then push them over. I could be nitpicking already about a movie that a lot of people are planning on watching, but the general idea in this business is that people have seen just about everything that they can imagine at this point, and are always on the lookout for anything and everything that can be said for, against, and just about one movie or another. With Hellbender it does feel as though the CGI might end up being brief enough that it won't need to be perfect, but like always, we're going to have to wait and see what happens when the movie is finally released on Shudder.
As far as the witchcraft it does feel as though this movie might offer up something a little different, but the issue is that there's so much that's already been done that trying to put faith in anything isn't tough, it's simply not as fruitful as it used to be. But watching this trailer did manage to make it possible to think that this movie could take things to a level that might create enough of a buzz to maintain interest for a while. After watching so many movies, TV shows, and seeing one idea after another rolled out to try and reinvent one idea or another, it's become tough to get into anything at this time since too many movies tend to copy each other and seek the same objective, which is terrifying the audience while entertaining them. Hellbender already looks like it's taking a great number of elements that have been useful in many other movies, and it's fair to think that the outcome is going to be close to the same.
This is still a movie that's going to be worth watching since it does look enticing, but at the same time it feels best to be leery of the whole thing and withhold any expectations until it's time to watch the story unfold. Considering that this movie took 11 years to make, as it's been revealed, it's a hope that it will be tough to look away from, but as I've already said, it's best to leave expectations at the door to get a better feel for the movie and what it might have to offer.