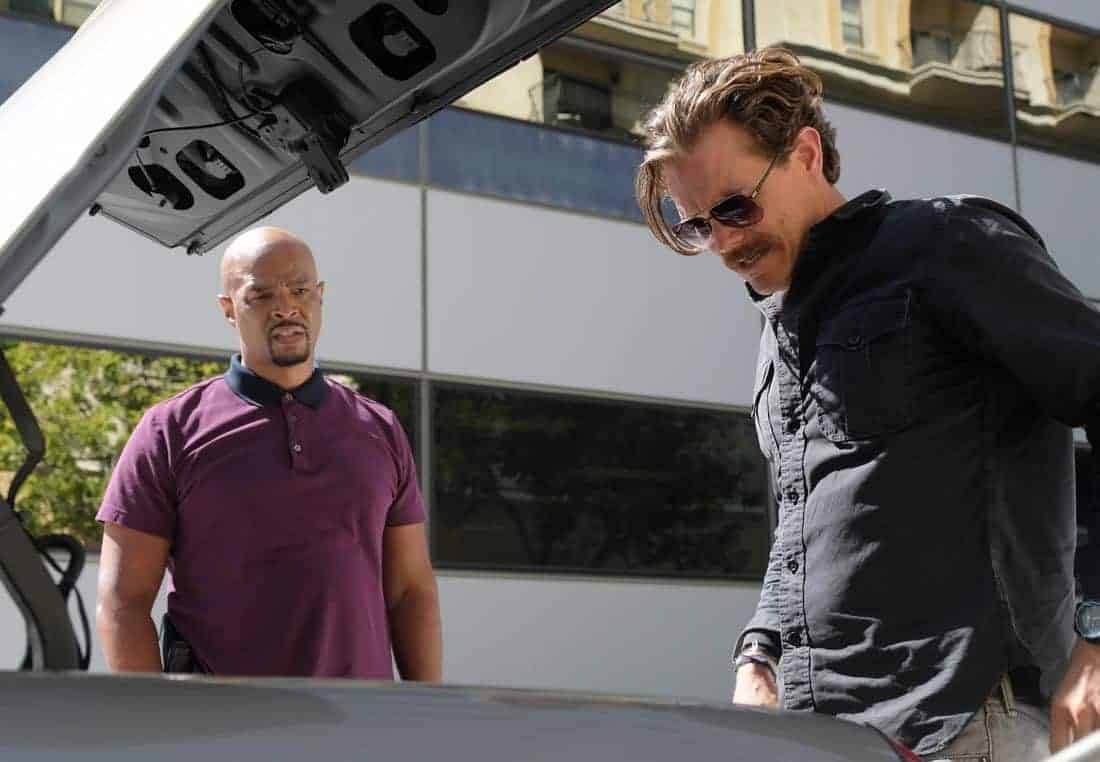 The Season Two Premiere of Lethal Weapon picks up two weeks after the Season One finale.
Detective Roger Murtaugh is down in Mexico looking for his partner Martin Riggs, who is out for revenge against Tito Flores, the man who murdered his wife and unborn child.
While on the Phone with his wife Trish, a body falls on the roof of Murtaugh's car. He tells her that he has to call her back because he thinks he found Riggs. Meanwhile, up in a hotel room, Riggs is preparing to kill Tito Flores. Tito tells him that he will not make it out of the hotel alive and Riggs says that's the plan and that he and Tito are going out together.
When Murtaugh gets to the hotel room floor he sees the bodies of Flores's men who Riggs killed, he reaches the room just as Riggs is about to kill Flores. He tells him that he needs to put the gun down and that they need to do things the right way and bring Flores in so he can stand trial.
When Riggs doesn't listen, in a last-ditch effort to keep him from killing Flores, Murtaugh tells Riggs he loves him which makes him put the gun down. (I love the fact that there is a little bit of funny banter back and forth between Riggs and Murtaugh in the midst of a very serious situation.) While they are talking Flores's men come after them causing them to get into a shootout that ends with Tito's men being killed by a grenade.
Riggs and Murtaugh quickly leave the hotel and put Tito in the truck to take him back to Los Angeles but things don't go exactly as planned. Riggs accidentally shuts the trunk on Murtaugh's finger (another funny moment) causing them to have to go to the hospital so he can have his finger reattached.
At the same time back in Los Angeles, Captain Avery Is being questioned by the Internal Affairs panel about what Riggs and Murtaugh are doing down in Mexico, he says that they are fishing. Once Riggs and Murtaugh get back to the station they send Captain Avery a note telling him they have Tito Flores, but when they go outside to get him they find Tito shot twice in the head. This causes them to be questioned by the panel and ultimately end up suspended.
While walking out of the building with Riggs, Murtaugh realizes he might have told the nurse about Tito being in the trunk while he was on Morphine and says they should start trying to figure out who killed him by talking to her first.
Riggs says they are on leave, and when Murtaugh suggests breaking the rules Riggs says not this time and that he is done being a cop (It was nice to see a bit of a role reversal between Riggs and Murtaugh in this scene.).
When Roger goes home he is upset because he thinks R J and Rianne are throwing a party without him or Trish knowing. He quickly finds out he is wrong when Trish greets him and tells him she let the kids have the party at their house so she can watch them. Then he gets upset because RJ picked a college without him and Rianne got a belly button ring without him knowing.
Trish is upset with him because every time she tried calling him while he was in Mexico he was at a spa or a bar and he didn't bother to call her when he lost his finger. In the meantime, Riggs is throwing away the case files from his wife's death when Dr. Cahill comes to see him and gives him back the suicide note he wrote to her before he left for Mexico. She tells him the world is a better place with him in it.
Murtaugh goes to the Urgent Care to talk with the nurse who treated him. At first, she doesn't let him in because she thinks he killed Tito Flores but when Murtaugh tells her that people are there to kill her and asks her who she told, she says she told her brother because he is a Border Patrol Agent. After Roger demands for her to open the door she finally lets him in.
Once Roger hides her in a closet, he then hides and takes one of Flores men by surprise and stabs him in the foot with a scalpel. When Roger goes to grab the guy's gun he gets guns pulled on him by Tito's men but gets help from Riggs who shoots the men from outside before they can kill Murtaugh.
Roger calls Bailey to have her put out a BOLO for the nurse's brother, Gordon Barnes but she doesn't have to because he shows up at the station and confesses to Tito Flores Murder. Riggs goes into talk to him and asks him how it felt to kill Flores but when Gordon can't give him an answer Riggs realizes Gordon did not kill Tito at all.
Meanwhile back at his house, Roger buys everyone their favorite food as a way to apologize for the way he acted. His apology dinner gets interrupted by Riggs who comes to tell him that Gordon did not kill Flores.
The next day Captain Avery goes to the Internal Affairs Panel with the confession of Gordon Barnes and says Riggs and Murtaugh deserve a commendation for taking down the Cartel. The Internal Affairs Panel doesn't agree because Raul Mendez, Tito's second in command took over right away, Bailey comes to give Captain Avery the note that Gordon Barnes did not kill Flores.
After Murtaugh talks to Captain Avery about what Riggs told him. Murtaugh and Riggs go to the jail to talk to Gordon but when Gordon says he only shot Tito in the head once they know for sure Gordon did not kill him.
Gordon eventually admits he didn't kill Tito but that Raul Mendez did and he threatened to kill his Sister if Gordon did not confess, but Gordon recorded the phone call with Raul as insurance.
Murtaugh and Riggs go down to evidence lockup where Riggs gets grenades and a grenade launcher to take with them down to Mexico when they go after Raul. When they get down to Mexico Riggs interrupts Tito's funeral and has guns pulled on him but no one can shoot him because he is strapped with grenades. Riggs says everyone who is not apart of the cartel can leave.
At the same time, Murtaugh is on the phone with Trish telling her everything that is going on when someone comes in and attacks him and they get into a fight. This delays Riggs plan to expose Raul by using the recording Gordon gave them by a few minutes. When it is finally is played a shootout starts and Raul convinces Riggs to help him get out alive by agreeing to give him everything he needs to take down the cartel.
They get out of the church by jumping through a window and Riggs blows up the rest of the Cartel's cars with the grenade launcher as he, Murtaugh and Raul drive away. Back in Los Angels Riggs and Murtaugh get reinstated, Cahill tells Riggs to meet her at eight a.m. for a counseling session since he is back on the force, and he goes to his wife Miranda's grave. Murtaugh and Trish throw a party and Trish tells Roger It's ok not to tell her everything and sometimes a little mystery is a good thing.
Overall, I think this was a fantastic Episode that found the ability to pepper funny moments amongst an emotionally heavy main storyline.
Tell us what's wrong with this post? How could we improve it? :)
Let us improve this post!