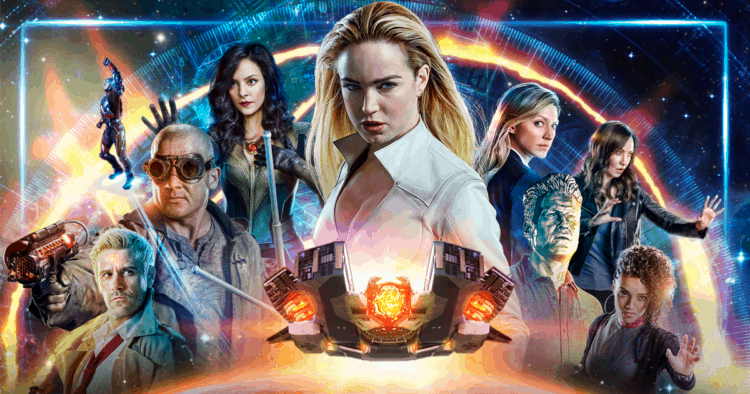 Fans of Legends of Tomorrow are buzzing with theories about what's coming down the pipes. If you're new to the show and haven't caught up yet consider this your massive spoiler warning for Legends of Tomorrow and all the DC comic based shows! Everything here deals with season four and beyond for the Legends, but other shows have different timelines. If you've been following the DC universe lately, dozens of our favorite superheroes and villains have made appearances, and there's been more than a little crossover action. We're all for it since they theoretically come from the same universe and this would be likely to happen anyhow. Even that is debated since there are different versions of the universe. The result is that there are some pretty fantastic fan theories out there. We've curated our five favorite universe bending fan theories for your enjoyment.
5. New Villain, Old Villain
Constantine joining the Legends has been a topic of great interest for fans. Some love it, and others couldn't hate it more. Either way, it's taken the show in a more mystic direction, and further from the science at its roots. As an NBC show, Constantine didn't take off, but they ported the antihero to the Legends, and he's fit in well despite his initial hesitation, after all, he already had a trenchcoat. Sure, Mick hates him, but Mick hates pretty much everyone, so we're over it. Some fans are concerned with hellspawn, but this theory says you can leave that behind. Constantine's villains are coming, just not those.
We already know Constantine is being hunted, and he seems to know who the season four villain who is hunting him is. ScreenRant's John Orquiola is convinced that John's threat on the mirror in The Virgin Gary episode and FairyGodmother in the Witch Hunt episode gave the vital clues. In The Virgin Gary, when John Constantine gets the threat, the face in the mirror is distinctly African in appearance. FairyGodmother refused his offer in Witch Hunt by saying that she'd rather face Hell than 'him,' so that further narrows it. If the clues are to be believed, that means the next Constantine villain is almost certainly either Papa Midnight or Manny the Angel. Our money is on Papa Midnight, but not for any good reason. He's just a great villain we want to see more of.
4. Time Travel Team Troubles
Right now in the so-named Arrowverse, which includes the Legends, Green Arrow, Supergirl, Constantine, The Flash, and numerous others, there are at least two time-traveling superhero teams. As the theory from Stephanie Holland says, this is a match that's just waiting to happen. Will the Legends notice that another crew is in their time-space as it were? We don't know, but we'd undoubtedly watch a crossover. The Legion of Superheroes was last seen heading into the time stream. They were bound for the future, so they may have run afoul of the future(s) that are the primary focus of our beloved Legends of Tomorrow. They wouldn't be the first superhero team the Legends have encountered, but they'd be the first time traveling team.
The Legends might welcome them with open arms, but it seems a little more likely that they might have an issue with someone treading on their time toes. Especially when those someones get to keep all the credit and goodwill that the Legends are forbidden because they were chosen for their lack of impact.
3. Childish Pranks
Another of the many fan theories on the season four villain-to-be comes from Eirik Gumeny at CBR and Reddit user Itzie4. They believe that a different well-known villain is secretly running the whole show. Klarion the Cat Boy is a bit like Loki was when he was younger. He's a powerful magic wielding blue youth with a penchant for chaotic malice and infantile retribution. None of that would stop him from giving John and any takers a serious run for their money since his powers are frankly frightening in scope. When we say infantile, we actually mean that this kitty loving adolescent has a fondness for turning people into the younger versions of themselves. While we know that wouldn't be much of an issue for Rip, that certainly won't save the Legends this time around if it should come to another kiddo-confrontation. Though the episode in question, Legends of To Meow Meow, didn't feature Klarion, we still think the concept behind it was solid. Here's our spin on that theory: He'd be a great villain to sneak in and turn everything on its head. Heck, he might even have turned time all topsy turvy just to make the Legends think it was their fault.
2. Flash Back
Wally West hasn't been getting much time on the show lately. It doesn't matter whether this is for budgetary reasons, script reasons or something to do with the actor or *his relationship with the studio. Fans love Wally, and more than a few have been arguing that he needs to cross over to the Waverider. So much so in fact that theories are cropping up about how and when it will happen. We aren't sure if there's any truth to these, or if it's just fan based optimism and hope, but Corey Plante of Inverse thought it was worthy of a second look. Kid Flash did make an appearance to help out at one point, after all, so Corey argues that it's possible. (*We haven't heard anything about that, it's just a thought based on the fact that it happens all the time. Remember what happened to the Transformers live-action movies when Megan Fox split or was fired.)
1. The B-Team and the Next Big Problem (Season 5 and Beyond)
Now for something completely unexpected. We have a theory of our own that incorporates two other fan theories about some possibly dead heroes and one very dead immortal villain. Vandal Savage will be back. We were inspired first by a fan question on Quora: Tyler Morton asked how Vandal could be in the Arrowverse after his death. The answer was sensible and covered how he regenerates, even from dust, if not killed properly. This made us think about his death, and all the time he had to plan for it. How much of that dust does he need to stash before his earliest death to grow back like an evil starfish?
Our second source of inspiration comes from the fan theory on Ranker that these Legends are actually Rip's second attempt and due to the quote he gave "I've seen Men of Steel die & Dark Knight's fall," the original team was Wonder Woman, Batman, and Superman, who are all now dead, at least by Rips reckoning of time. When you put those thoughts together, you have to wonder about some other 'facts.' Rip solidified the time around when his wife an child were killed, and other 'possible futures,' for one thing. For another, the DC universe encompasses the idea that an alternate universe version of a person can be in this universe. There aren't a whole lot of villains with enough pull to put together a team that could kill Superman, Wonder Woman, and Batman. That loss would fundamentally change the entire DC universe.
So, we humbly propose this: What if Vandal Savage, who can travel in time, conquered the earth more than once, and who had advanced weapons and technology for centuries isn't really gone? What if he figured out how to be in a fourth location while the other three of him were killed, be it future, past, or one of those mysterious places outside the time stream? Vandal is the perfect immortal for the job, and we think he isn't done on the show just yet.
We think that Rip and Vandal haven't had their final showdown. For the legends to truly save the world, and not be a part of the history of saving it, they need to rescue the heroes who do get the credit. We think the show is heading for an ultimate battle beyond anything most fans could have dreamed.
Final Thoughts
What do you think of some of our favorite crazy fan theories? Time travel is a bit wonky to begin with. The DC universe is filled with strange crossover activity and enough alternate universes to make a plot chart look like the Gordian Knot. We were glad to hear season five is approved, and even more delighted to hear a rumor that Rip might be back, we don't think he'll be alone. Hopefully, the Legends will find a few new friends along the way to join them too, and we wouldn't mind if Papa Midnight and Klarion join in the fun.