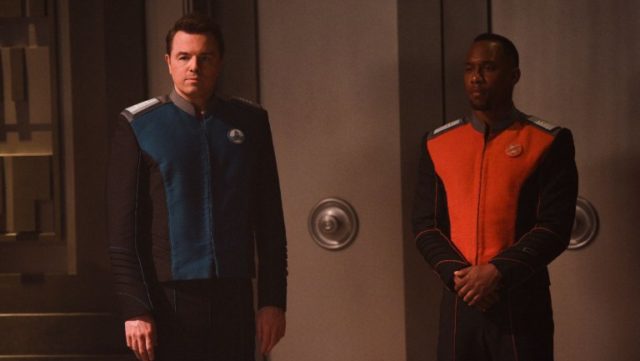 Many actors take an unusual route into the entertainment industry and J Lee is a perfect example of this. Having started out as a receptionist for 'Family Guy', he is now the star of a new sci-fi comedy-drama series called 'The Orville'. So, how did he achieve such a big transition in his career path?
Lee graduated from Indiana University's Jacob's School of Music in 2005. Having grown up St. Louis, he decided it was the right time to pursue his dreams and headed to Los Angeles with just $200 in his pocket. His aim was to make it into the entertainment industry. Not long after he had arrived in Los Angeles, he landed a job as a receptionist. He was to work on the production office front desk for the hit animated comedy 'Family Guy'. It was here that he met and became friends with the man responsible for kick-starting his career in television.
It was producer Seth MacFarlane who became friendly with Lee when taking a break from meetings. The pair would sit and chat and this led to them forming a friendship. MacFarlane started inviting Lee on nights out to karaoke bars along with many of Family Guy's veteran writing staff. Speaking of his nights out, Lee said in an interview that he didn't think it was a big deal that they had invited him out and wasn't aware that it was unusual for the production staff to socialize with the receptionist.
Although he was enjoying his job as a receptionist, he still had dreams of performing. He was also enjoying his regular paycheck but knew that he would have to take action to achieve his dreams. He was soon recruited to provide the voice of a black leprechaun in 'American Dad!'. He went on to provide further voices for 'American Dad!', 'Family Guy', and 'The Cleveland Show'.
As MacFarlane is involved in all of these series, it may seem that Lee jumped straight from being a receptionist into his role in the MacFarlane produced sci-fi comedy-drama but this is not the case. He actually left his job as a receptionist in 2007 after making the decision to work full-time on his own material. He split his time between acting and auditioning for acting roles. During this time, he created a one-man show and wrote many television and film scripts. As he was still friends with MacFarlane, he got in touch with him to ask how 'The Cleveland Show' was doing and ended up writing two seasons of the show. Lee's script '2 Black Dudes' was also executive produced by Fox's creator of 'Family Guy'.
It was only then that 'The Orville' came along. This is a big leap for Lee as although he has vast experience in writing, this is the first credited acting role he has landed. In the series, which is heavily based on 'Star Trek', he is set to play Lieutenant John LaMarr. To prepare for the role, he asked the advice of his friend Ahmed Best who is famous for providing the voice of Star Wars character, Jar Jar Binks. The advice he received was to have fun and not worry about what other people are thinking.
If you want to see J Lee in his new role and 'The Orville' sounds like your kind of TV series, then tune into the shows on Fox every Thursday.
Save
Tell us what's wrong with this post? How could we improve it? :)
Let us improve this post!