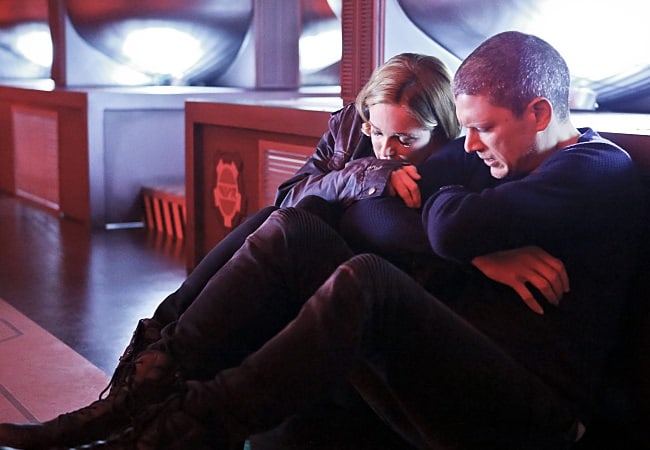 This week's episode of Legends of Tomorrow truly heats up (no pun intended, because of Heatwave) as half the gang gets kidnapped by Time Pirates and it's up to the other half to save their fellow allies, but things get complicated when Mick Rory's beef with Captain Cold from last week's episode, gets worse.
Out of all the episodes we have seen so far, "Marooned" was definitely one of the more intense episodes we have had so far as you felt some legit danger. Especially because we know that this is an anthology show, it's always possible that one member will die in every 2nd or 3rd episode. While no one exactly died (although that ending between Heat and Cold can be discussed), I liked not knowing if everyone would make it out of "Marooned". While the Time Pirates (he said with a big grin on his face), didn't really do much for me – mostly because they weren't very intimidating, it was neat to see some of the other players stepping up without the complete team. Even though Stein has had a lot of focus in these past episodes, seeing Victor Garber basically get to lead the mission of saving Rip and the others was fun.
"Marooned" also dealt a lot with relationships both new and old ones. I didn't really see it first, but I'm digging what they are doing between White Canary and Captain Cold (I guess their name would be #CaptainCanary? I can get behind that). Their time together when they were trapped in the cold room was powerful, but also so intriguing because these two couldn't be more different, yet they have a lot of similarities. Whether or not their close relationship will go into a romantic direction: remains to be seen. If they do, I can only see it as temporary until the end of this season. A romance that does come to life is between Atom and Hawkgirl which surprised me because didn't she make it very clear last week that she wasn't ready to jump into another relationship? Regardless, I'm down for this relationship too and see where it will go in coming episodes.
The one thing that kept going through my mind when seeing how this show deals with relationships (whether they are romantic or not), is how much I wish Arrow would have a similar balance for that where a relationship doesn't take over the whole show, like it has on Arrow. Speaking of things that Arrow could do better with these days: flashbacks. "Marooned" did give us a lot of flashbacks to Rip's relationship with his wife Miranda and how their romance came to be. I will admit that it wasn't one of my favorite parts of the episode, but it gave us more insight into Rip as a character and explains the rough edges that he comes with. While we didn't get flashbacks for this exposition, we finally learn how Cold and Heat met each other as well as why they are so close. I wish they had shot a little brief flashback for that because this is a relationship that you want to see as much as possible of, especially how they befriended one another.
The problems got bigger when Heat decided to switch sides and join the Time Pirates and that's where I was terrified that his decision would cost his own life. Luckily, once the Legends are all united again, they take down the Time Pirates and Mick's plan to go against them fails. However, the team decides that they can't continue the journey with him still on the Waverider and Cold assures them that he will deal with Heat. The only part I didn't understand was whether or not he took him back to 2016 or some other year. I wasn't sure whether that was supposed to be in the forest in Central City that Cold and Barry shared a huge scene in, in last season of The Flash. It would only make sense that he brought Heat back to 2016 to finish the problem and I got to say that it was heartbreaking seeing these two baddies truly break off their bromance. While it looked like Cold killed Heat, it's obviously not what happened as we don't see a body and he could have easily been pretending to shoot at Heat, just in case the Legends were watching him.
The thing that this show has to remember with these rogues is that these are also big players of The Flash and The Rogues so you can't really kill them off or at least not this easily because I'm pretty sure that at some point, we will see Barry having to deal with these two again. So I'm confident that Heat is still alive and well, but that we may see him for either a few episodes or for the rest of the season. It will be interesting to see whether or not Cold will give us a hint or two in the upcoming episodes what Mick's status is now. Overall, this was a very solid episode, with maybe not the most interesting threat of the week so far, but it did give us some amazing moments between several combinations of characters.
Legends of Tomorrow airs on Thursday nights, 8/7c on The CW.
[Photo: Bettina Strauss/The CW]
Summary
Heatwave's conflict with Captain Cold plays a huge role in this week's Legends of Tomorrow as Rip and the Legends run into Time Pirates.