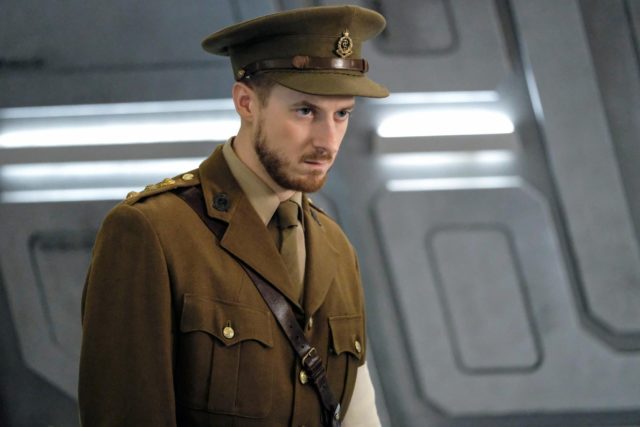 "In order to save the world, we have to erase ourselves.". This quote pretty much sums up tonight's season two finale of Legends of Tomorrow. The team races against reality itself to alter the world that Eobard created.
The whole traveling back to 1916 to retrieve the Spear of Destiny thing was perilous. Then again, desperate times call for desperate measures. Too bad no one heeded Rip's warning about interacting with their past selves. At least it worked out in the end. Time storms aside, of course. Good luck fixing reality this time, Team Legends! Oh, and sorry you all won't get to go to Aruba like some of you wanted!
I was proud of Doomworld Nate telling 1916 Nate to tell Amaya how he feels about her. The former already lost her once; he's not about to lose her again. It was also pretty selfless on the Doomworld Legends' part as they sacrificed themselves to protect their past selves. Even though they were, in Ray's words, an Aberration.
The part where Eobard went back in time to collect an army of his past selves, however, confused me. Sure, it was intimidating and outnumbered the Legends, but couldn't his actions have tampered with time from all the running back and forth? Why didn't Black Flash pop up sooner to erase Eobard from existence? Why did he have to wait until the very end when Sara used the Spear to set things right?
Another selfless act from Team Legends is returning Snart and Damien Darhk to their respective timelines. Snart goes back to the night when Eobard recruits him to join the Legion of Doom and Darhk goes back to Miami. Both men's memories of what happened had been erased. The scene where Mick tells Snart that he becomes a better man after joining the Legends made me clap for him; it showed how much Heatwave has grown as a character. His acknowledgment of the fact that he has a team and not a partner proves just that.
Speaking of Sara, I loved the scene where she talked with Laurel via the Spear. The latter got through to her sister that she is stronger than the darkness that's inside of her. It's great to see how Sara has changed over the years. She conquered her bloodlust and took charge of a team that desperately needed a leader. If Laurel were alive, she would be very, very proud of her, as would their father.
A humorous moment in this finale is when Ray found his power suit and started talking to it like a long-lost lover. I was in the same mindset as Jax was when he told Ray that he's got issues. Ray, I get that you miss your precious suit, but do you have to go as far as to kiss it?
This episode also spells the exit of former Captain of the Waverider, Rip Hunter. He has come to the realization that the team is in good hands with Sara in charge. That and he has nothing left to teach her. Though it is sad to see Rip leave the team, I sure hope that he will return to help the team out should they need him. Besides, we all need a little Rip Hunter in our lives. That, and he has to get together with Gideon somehow.
Photo via The CW
Legends of Tomorrow Season 2 Episode 17 Review: "Aruba"
Summary
Team Legends fight against reality itself as they try to set things right in this awesome season two finale of Legends of Tomorrow.