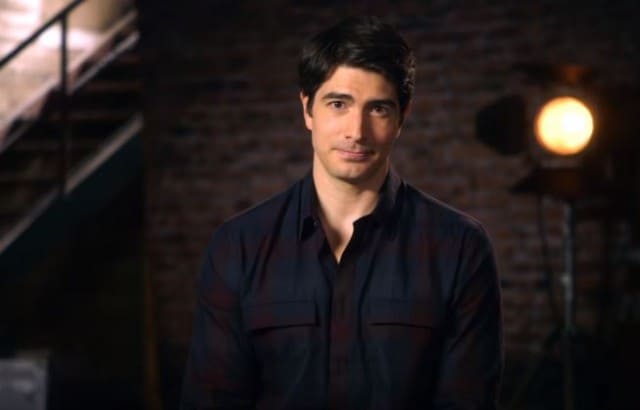 The casts of both The Flash and iZombie have already chosen sides in the battle between Batman and Superman, and now the Legends of Tomorrow cast is getting in on the fun with their picks for which superhero will be victorious in Batman v Superman, which hits theaters in just over a week on Friday, March 25.
So which hero did each actor pick? More than a few of them took Batman's side, including Caity Lotz (which makes sense, since, you know, Sara Lance did use to be a member of the League of Assassins), Franz Drameh, and Caira Renee. Meanwhile, Arthur Darvill couldn't make up his mind, but he certainly seemed just as excited as the rest of us are to see the film.
"I have no idea," Rip Hunter's portrayer said. "But I can't wait to find out."
However, Superman did have some supporters, as Dominic Purcell sided with his good friend Henry Cavill (if only Heat Wave and Superman could share the screen). And of course, Brandon Routh was on Team Superman, probably because he has a little bit of a history with the Man of Steel.
"Really?" Routh joked. "Are we really asking ourselves this question again? We haven't realized that the only answer is Superman."
Legends of Tomorrow returns on Thursday, March 31, with an all-new episode titled "Left Behind." Check out The CW's official description for the episode, along with the cast's Batman v Superman video, below:
SARA RETURNS TO THE LEAGUE OF ASSASSINS — Ray (Brandon Routh), Sara (Caity Lotz) and Kendra (Ciara Renée) are shocked after they watch the Waverider fly off without them, leaving them stranded in the '50s. After waiting months for their teammates to come back, the three realize they must move on with their lives. Ray and Kendra bond as a couple but Sara decides to return to the League of Assassins and Ra's al Ghul (guest star Matt Nable). John Showalter directed the episode written by Beth Schwartz & Grainne Godfree
Who do you think will win the battle between Batman and Superman? Comment below and let us know.
[Photo via YouTube]