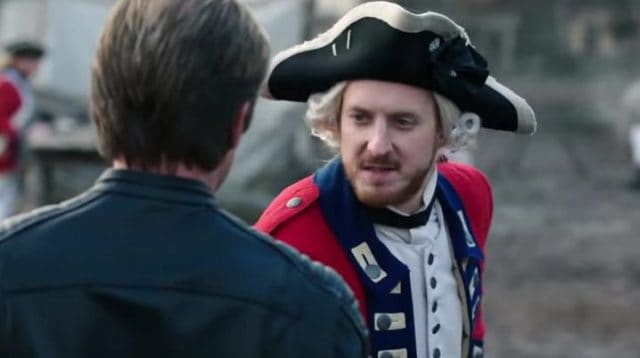 In this week's episode of Legends of Tomorrow it was revealed that that the Reverse-Flash needs the Spear of Destiny in order to rewrite his history and stop the Black Flash from catching up with him. According to Comic Book Movie: The Legion of Doom was able to stop the speedster for now, and next Tuesday will feature them squaring off with the Legends as the mind scrambled Rip Hunter finds himself caught right in the middle of them.
Next week it seems as though the group is going to have to travel all the way back to 1776 to protect none other than George Washington. As you can imagine, things don't exactly go as planned. The Legends are forced into roles they aren't prepared for and things might just get a little dicey. A new enemy in the form of Waverider comes along which will put the Legends up to a major test. Check out the promo below:
The official synopsis reads:
When The Legends find a new Time Aberration they learn they must travel to the winter of 1776 to protect George Washington and the American Revolutionary War. Unfortunately, things don't go as planned, forcing Sara (Caity Lotz) to send out Nate (Nick Zano) and Amaya (Maisie-Richardson-Sellers) to help. Meanwhile, Jax (Franz Drameh) and Stein (Victor Garber) who are busy protecting the incapacitated Waverider from their new enemy, are forced to step into roles that they don't think they are prepared for. Brandon Routh, Dominic Purcell and Arthur Darvill also star, Alice Troughton directed the episode written by Grainne Godfree & Matthew Maala.