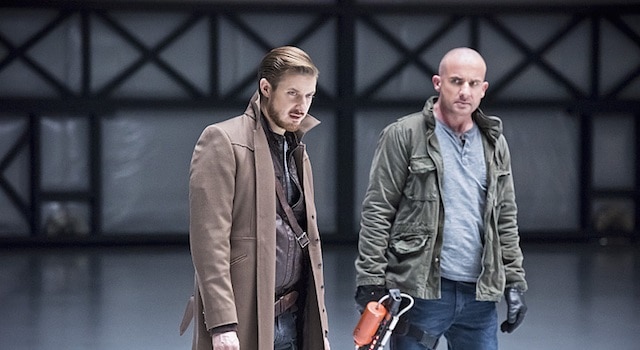 This week's episode of Legends of Tomorrow was a huge one for our group as The Pilgrim, an agent of the Time Masters, was attempting to take them out by going after their past selves, which made "Last Refuge" the most time travel-y episode of the season, so far.
Before I start, I'll just point this out now rather than later: while the show-runners have pointed out that this show is making its own rules with time travel, which is fine, I do find it odd how little consequences there were by all the things that went down this week. Basically, what happened was that in order to stop the Pilgrim, they had to take their younger selves out of the chosen timeline that she went to. There was a clever rule though: Pilgrim only had one chance to kill each member because too many attempts would cause damage to the timeline. The rule also applied to our heroes as they only had one chance to save each member from said timeline. Otherwise, they could have just used the Waverider over and over again till they succeeded, which would just take away any stakes which you need to have when you are telling a time travel story.
Despite all of that, this was one of my favorite episodes because it was genuinely fun to see younger versions of all these characters. It was really odd (in a good way) to see Sara from a time before she went on that boat with Oliver and became who she is today. The last time we saw her like that was in flashbacks of Season 2 which feels like a lifetime ago. It was also neat to see Quentin who may be only character on any of these shows to have actually been given a good wig for the flashbacks. Although, I'll admit that it is emotionally tough seeing anything of the Lance family now, since the events of "Eleven-Fifty Nine" a few weeks ago. It was also a sad reminder that Quentin's life would become hell sometime after that. But that wasn't the only emotional aspect through all of this as we see some really good scenes for characters like Rory and Jax.
As a big fan of The Flash, I have wanted to see the backgrounds of both Snart and Rory since we never got to see a lot of them when they were back on that show. We learn more about how Rory became obsessed with fire and what he did to his own family. I don't know what it was, but Purcell's performance in that scene gave another layer to Heatwave that we haven't really seen. I love that he is such a wildcard, but that he can also adjust when needed. While Jax didn't see his baby self, he got to meet his father who died two weeks after his birth. Even though it was really tragic, this was good character development for Jax as we learned more about his background. However, Jax warning his dad about what happens to him two weeks later, made me curious if it will come to play a role towards the end of the season where we learn that he now lives in 2016 or if he is fated to die that way regardless.
Rip has been the show's mixed character for me so far from episode to episode, but "Last Refuge" was one of his stronger episodes as his past was also revealed. I did find it clever that his real name was Michael, which I pretty much take as a nod to Michael Jon Carter a.k.a. Booster Gold who is his father in the comics. I'm glad that Rip's adoptive mother never turned on the group because that would have been too much. Just having the Pilgrim was enough as she was able to cause tons of problems on her own, especially at the end. While this show does really neat action scenes, this time I could appreciate it more when we saw all of them attack her at the same time as the camera did a 360. It felt like reading great pages of comics where you see each attack in the panels. Young Rip, however, sneaking up on her and stabbing her, was outstanding.
While I didn't touch on it a lot, I was glad that Ray and Kendra got even closer in this episode after she told him about last week's episode. I got concerned that it would just end with a break-up, but instead, she agrees to marry him! This should be pointed out more often, but this is truly one of the most mature relationships that we have in this DC TV Universe. Although I'm sure Vandal will be the one to show up at the wedding at the part where we get to "speak now or forever hold your peace ".
Overall, while I do hope to see some form of effect by what they did in this episode, "Last Refuge" was one of the strongest episodes we have had this season and definitely one of my favorite time travel stories so far.
Legends of Tomorrow airs on Thursday nights at 8/7c on The CW.
[Photo: Dean Buscher/The CW]
Summary
The Legends face their toughest opponent yet as the Pilgrim goes after their past selves in this week's episode of Legends of Tomorrow.