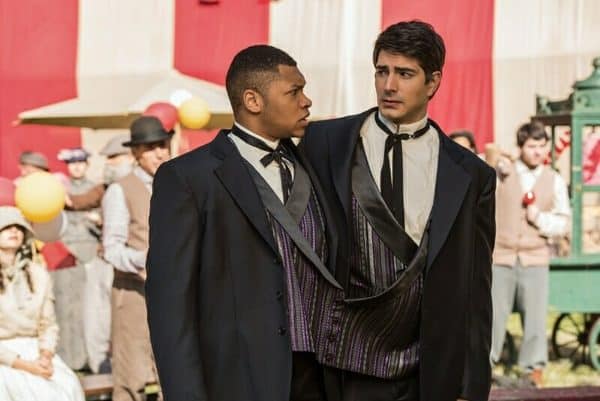 Team Legends may have bitten off more than they could chew on tonight's episode of Legends of Tomorrow. They head to 1870 to track down an anachronism, a saber-tooth tiger and contain it. The catch? The tiger is a part of P.T. Barnum (guest star Billy Zane)'s circus of unique beings.
It was nice having Amaya back on the team again. Her confession about being afraid of losing control of her powers is an intriguing aspect. It's quite similar to the Hulk and Raven of the Teen Titans where both have to contain the animalistic force within. At least Nate was able to calm her down before she killed P.T. Much like how Detective Decker calmed down Lucifer before the latter dished out punishment to the baddies.
Things were also cleared up between Nate and Amaya with regards to their relationship. Amaya left to keep time and Nate safe. She also wanted to see her granddaughter Mari, the next Vixen, live. Talk about sacrificing ones' happiness for the greater good. Maybe the Nate/Amaya thing could be rekindled now that she is back on Team Legends?
The episode kept a balance between drama and comedy. I laughed when Nate couldn't steel up and the part where Sara held a gun to Gary's head as the latter talked to Agent Sharpe. Though there were moments where I couldn't help but cringe at. Especially the scene at the bar when Nate drunkenly blurted out that Jax is a "fire god," Ray can shrink, and Amaya can summon the power of any animal she wants. Barnum then captured all of them and presented them as part of his circus. Way to go, Nate!
As the episode ended, I was both anxious and confused. I'm concerned because another evil force is about to arrive and confused as to who the hooded figure and this Kuasa character is. I hope the Legends will be ready to face this evil when they cross paths.
Side Notes:
When Professor Stein said he would not set foot on the Titanic and whoever built the ship should be shot made me chuckle. It's amusing because Victor Garber starred in the classic film alongside Billy Zane. Must have been quite the reunion.
Ray, you made a shrink ray. Just go with it. I know it's a little degrading but still, go with it.
Can't believe that Mick is afraid of clowns. Hope he hasn't seen It.
Kudos to Professor Stein for dressing up as a clown to distract the crowd.
Nice Man of Steel reference. Though it applies to Nate, the guy is not the actual Man of Steel. That title belongs to Superman.
Tiny saber-tooth tiger? Cuteness overload!
Agreed with Amaya's comment about humans being predators to animals. That and to other humans.
The catfight between Sara and Agent Sharpe was very kick-ass. The scene where they wore each other out and took a breather was highly amusing. For a split second, I thought that Sara would kiss Agent Sharpe during the fight.
Photo via The CW
Legends of Tomorrow Season 3 Episode 2 Review: "Freak Show"
Summary
The Legends join the circus as they try to fix an anachronism. Amaya also returns to the team and confesses a big secret on this week's Legends of Tomorrow.