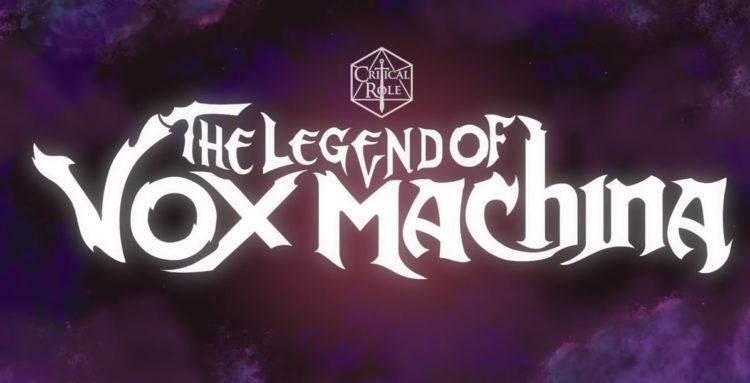 If you'd asked who would have ever thought Dungeons and Dragons would go this far then you might have been asking the wrong people if you got anything but an affirmative that it can go as far as it wants. At this point the feature The Legend of Vox Machina is already on a roll, no pun intended, as the creators of Critical Role, a weekly web series that hosts a group of voice actors that play D&D together have started up a new Kickstarter campaign for the series. You might not believe it, but the campaign has already seen its goal met four different times in the first day, raising more than $3 million at this point so as to help the series become a reality.
Made up of a bevy of voice actors that have a good deal of experience between them, Critical Role has managed to expand their influence from the table top to animation for the first time ever. The series will actually follow their first ever D&D campaign and it would appear that fans have been more than a little excited to see it come to life. Initially the group was only asking for around $750,000 to fund their project, but the overwhelming response by the fans made that number go up and up within less than a day as the number of people that want to see this come to life is something that simply has to be seen to believe. While the series isn't bound to come out until Fall of 2020 there are still plenty of people that want to see it done in a big way and are bound to keep following and seek out the incentives and bonuses that Critical Role will be offering as a way to pay them back for their loyalty.
Let's be honest, when a lot of people think about D&D they tend to think 'devil worship' or 'nerds rolling dice on a table', but throughout the years the world of D&D has grown and the number of people that have tried it have grown in number as well. While some folks might try it once and never do it again they might at least retain some sense of how much fun it can be since the idea of role-playing in a game such as this is something that just appeals to a lot of people that want to hang out, have fun, and get lost in a fantasy adventure where they get to control their every action. It's not like a video game where the programming prevents a player from doing anything that sits outside the norm or acceptable behavior for a character, D&D is quite honestly a game that allows a player to take control of their character and do whatever they want.
There are rules to be perfectly honest, and any action a character takes will be met with a consequence or reward as dictated by the DM, or Dungeon Master. As in real life you make choices and you either pay for them or reap the reward that comes. The only difference, besides the fantasy part, is that in real life if you decide to get in a fight with someone you have to pay the real-life consequences, such as being beaten and bloodied and possibly going to jail. In D&D the law of the land is what the DM makes it to be, and the only real rule is to survive the game. But that's what makes the game so fun in the first place, as a person can't just go traipsing about as they will, they need to actually think about what they're doing and what actions they want their character to take. The moment you lose focus and just start doing your own thing is typically the moment that your character ends up finding themselves alone and up against an enemy that they can't hope to defeat. But otherwise the game is a real chance to just sit and have fun with a group of people that are there to experience a game that is pure imagination and yet gives one a sense of accomplishment when they do well.
The fact that it's gone this far is something special since a lot of people might have never thought that D&D could possibly make its way from the table. But if you recall, some of us might be able to, D&D was featured as a comic book and a cartoon back in the day and there have even been a few movies based upon the idea of it. While nothing has really come of it since every attempt has struck out so far, this new series might be something interesting since it's another attempt at something that a lot of people don't understand, but fans are eager to see.