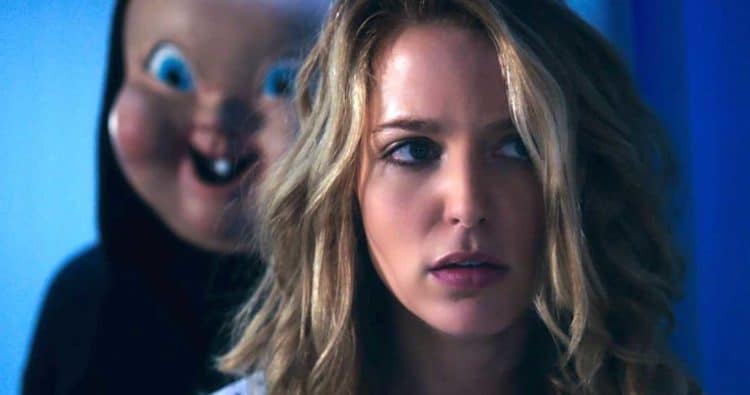 Happy Death Day was initially another movie in which a time loop was used to show the many different aspects of living out the same day over and over and over in an attempt to show how it could change a person and, of course, to show the futility of trying to do something so many different ways when the outcome was always just as clear. The second movie however had the effect of dragging yet another individual into the loop, and then others by association as the loop widened and grew continuously unstable since the people caught within it were continuously mucking things up left and right with this newfound knowledge. One thing is pretty obvious, there's no real idea of just how many people would have been affected by this continuously unfolding design given that once a person seems to have knowledge of it, things can change quite rapidly. Tree is just the first person we were introduced to that fell under the sway of this strange loop.
I'm going to go ahead and agree with Mike Sprague from MovieWeb that the idea of a Happy Death Day 3 is just too silly to get behind since honestly the sequel really put the idea on its heels and made it backpedal in a big way trying to explain itself to the fans. The idea of unfolding a time loop and watching as it continues to affect one person after another until everyone eventually has the potential to become a suspect is interesting in a macabre sort of way, but it's also easy to overreach. The whole idea of Happy Death Day was great for one movie, but once the loop was broken it was time to simply accept it and move on to be honest, though some people might want to argue and say that of course we can have another movie, and another, and another, since the time loops seems to be able to just keep on going. The idea of slipping into another dimension however and messing things up with your mere presence is enough to make a person's head hurt since the existential nature of it is a bit too intelligent for this movie.
The first movie was pretty entertaining, it was like a college slasher version of Groundhog Day honestly since Tree was a horrible person when we first met her and eventually she came to understand just what she was doing to people and why it was wrong. But after these revelations she still kept dying no matter how good she turned out, which meant she had another task to take care of before she could rest. Even then it wasn't a guaranteed thing since each time she came back to the beginning of the loop she seemed a little weaker, a little more disoriented, and no closer to finding out who her killer was. What really took the cake, the cupcake that was, was the fact that even after doing all she could to be the best person possible she was still killed a final time when it was discovered that a baked treat from her roommate was what killed her the final time, leading her to finally realize that her roommate had it in for her. That was an interesting if somewhat juvenile twist since the drama that fueled the poisoned cupcake was something you might shake your head at in any other college movie, but in this one was somehow fitting.
The one bit of good news that is hopefully accurate is something that John Squires of Bloody Disgusting has divulged, and that's the idea that Blumhouse has no real intention of making this movie. Some people might slump their shoulders and wonder just why this would be, but so far it sounds as though the movie is more of a rumor than a reality. Now if Netflix wanted to pony up the dough and make it, which isn't an impossibility given what they've done in recent years, it might be a possibility. Until then though it does sound like this movie won't be anything other than a rumor for some time to come. Those that watched the second movie might be doing a happy dance right now since another turn with the time loop and another round of the babyface killer might be kind of a tragic end to a tale that was decent in the first run and rather messy in the second.
Being honest, Happy Death Day was not the worst idea for a horror movie that's ever been brought to the public, but thinking it could span past one movie was a bit of a stretch, especially considering that Tree was really the only character that a lot of people were inclined to focus on when it came to the movie.
Tell us what's wrong with this post? How could we improve it? :)
Let us improve this post!