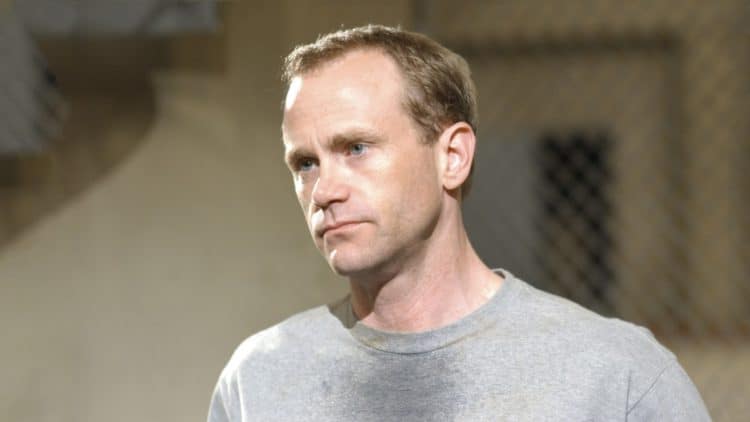 Lee Tergesen is an American actor who is best known for his role in the HBO drama "Oz" as Tobias Beecher. He's also appeared in a variety of other television series, and his face is familiar to audiences. Lee has a big following of fans who like to keep up with what's new in his career and they're also happy to hear about the things going on in his personal life. We looked into his career history and checked up on him and learned these 10 things about Lee that you probably didn't know.
1. Lee Tergesen is 54 years old
The actor was born on the 8th of July in 1965. This makes him 54 years old as of July of 2019. He's been bringing us entertainment for decades with his frequent appearances in a variety of television series as a guest star, as well as those in which he appeared in recurring roles. He has a face that is familiar to most American viewers. The city of his birth is Boston Massachusetts.
2. He worked at a diner before fame
Everybody has to start somewhere and when Tergesen was younger, he had to work at any job he could get to pay the bills. He was employed as a waiter at the Empire Diner from 1986 through 1989. He admitted that he wasn't a great waiter, but he did have a great sense of humor. He met the future creator of "Oz", Tom Fontana while he was working there, so he did make some important connections.
3. He received formal training as an actor
Lee grew up in the Boston area and he attended Valley Regional High School and graduated from the school which was located in Deep River. He was a little misplaced for his chosen career path, so he relocated to New York to pursue his passion for acting. He enrolled in a two-year program at the American Musical and Dramatic Academy and graduated from the institution with formal training in the performing arts as a dramatic actor.
4. He's an experienced stage actor
While Teregesen was living in New York, he landed several roles in plays. He shared that he did a lot of this kind of stage acting, but he didn't make much money by doing it. He couldn't make a good living at it even after graduating as a trained actor. Lee realized that he would need to make some serious changes to make his chosen profession something that he could do full-time and support himself in the process. He moved to Los Angeles, California, initially just there to help his friend Fontana get moved into his new home. He met a casting director who offered him a part in the film "Point Break." This was his first real break in the acting business.
5. He' an award-winning actor
Lee Tergesen has been involved in a lot of films and television series and as a competent actor, he's also earned some serious recognition. In 1997 he was nominated for a Best Drama Series award by the Online Film and Television Association for "Homicide: Life in the Streets" and in the category of Best Ensemble in a Cable Series award for "Oz" in 1998. In 2002, he won teh Bordeaux International Festive of Women in Cinema award for his role in "Bark!" nabbing a Golden Wave for Best Actor award. This was followed by a win for "Bury My Heart at Wounded Knee" in 2001, another in 2008 for "Generation Kill," and in 2017, He won an Award of Excellence for Actor Supporting, and an Award of Merit for Supporting Actor for "Norman Pinski Come Home."
6. He has been married three times
Lee Tergesen married his first wife Tanya Lewis in June of 1994. The marriage only lasted for three years adn the couple split in 1997 with the marriage ending in divorce. His second wife was Leslie Howitt. They were married in august of 2001, and as with his first marriage, the union lasted for just three years. They parted ways and divorced in 2004. His third marriage must be a charm. He married fYuko Otomo on February 2, 2011, and the couple is still together, having made it well past the 3-year mark. They were married in Japan and have a daughter Lily together. Lily was born on December 5, 2012.
7. Lee has family in the entertainment business
Lee Tergesen isn't the only member of his family in the entertainment business. His brother Chris Tergesen is also a professional in the industry. Chris is a music editor and a music supervisor. At the time of his birth, Lee's family was living in Ivoryton, Connecticut and he and Chris are of Swedish and Norwegian descent. They were raised in the Boston area. Chris is married to actress Toni Lewis, star of "Homicide."
8. Tergesen has a history of work in commercials
As though his film and television series spots have not been enough to keep him insanely busy, he also did quite a few gigs for television commercials. Budweiser used his "I love you man!" line from "Wayne's World" in several of its beer commercials. He also served as the voice over for several Advil commercials from 2003 through 2004. Lee was also the voice-over for Ally Bank's ad campaign titled "People Sense from 2011 through 2012.
9. He was injured on a set
Lee has a permanent injury from an incident that occurred while he was filming a scene for "Oz." The incident happened in 1997. He was banging his hands on the prison bars while playing the role of Tobias Beecher on the show and he got a little too carried away. This was an accidental self-inflicted injury from the impact on the bars that left him with absolutely no feeling in one of his index fingers.
10. You can keep up with Lee Tergesen on social media
Lee is good about posting on his social media site. His Twitter account has been active since December of 2009. He's only following 56 others but he has a following of 2,529 as of the last check-in. You can find him at lee tergesen @leelo65 on the site.