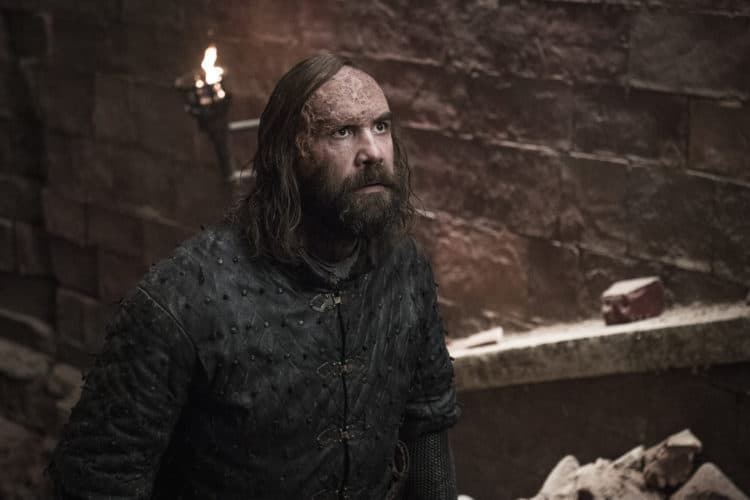 A lot of these articles seem to focus on men and women that are of average stature and don't really seem all that imposing. Rory McCann however is not one of those people since he's the kind of guy that might be very friendly and even easy to get along with, but from the outset he looks rather imposing and even brutish if he's not dressed up nicely. From all reports however he's pretty laid back and enjoys living life at his own pace. This is the kind of guy that really seems like he might be cut out more for the part of the big, lumbering berserker which could leave him open to typecasting as it's been seen in many projects. The saving grace here however is that he plays his parts so well and often proves that he's anything but oafish, showing a keen intellect and cruel cunning with some of his characters that offsets his size and bearish looks. In other words he's a smart guy, and he knows how to bring his characters to life in the best way.
Here are a few things that some folks might not know about him.
10. He's a very tall man.
Standing at 6'6″ Rory is well beyond the average size for a man and it's this imposing size that makes him perfect for some of the roles he's taken on. For bigger folks there really aren't a whole lot of parts that don't involve being bruisers or enforcers of some sort, but if they can play them up with the right amount of fervor then it's possible to forget that this is what they do so much of during their career, and he's great at it.
9. He was in Hot Fuzz.
Michael is a good example of how a guy with Rory's physical dimensions can be used in a very stereotypical fashion. The guy is huge, imposing, and more to the point he's kind of simple-minded and is used like a blunt instrument in order to do the bidding of the townsfolk.
8. He started acting at age 29.
A lot of times you hear about people starting when they're kids, or teenagers, or even young adults. Rory took his time it would seem and perhaps made sure that show business was where he really wanted to be before taking on the task of making his way into Hollywood.
7. He started out working simple jobs.
He was a painter, a carpenter, and even a landscaper before he got into acting so the guy is no stranger to hard work and knows how to dig in and really get things done. Seriously, no pun intended.
Sandor Clegan, better known as the Hound, is one of the most awesome and somehow underplayed characters in Game of Thrones. He's the surly type that doesn't really like people but grudgingly respects at least a few. A lot of people are hoping against hope that we get to see him fight his zombified brother, the Mountain, in the upcoming season.
5. He lives a pretty simplified life.
He lives outdoors on a boat, he moves from place to place as he sees fit, and he doesn't have any attachments that would keep him in one spot. Rory pretty much does as he pleases and keeps a very happy life.
4. He was in XXX: Return of Xander Cage.
This movie wasn't given all that great of a rating but it was kind of interesting to say the least. Rory played a character that was all about adrenaline but didn't seem to quite fit the mold when it came to Xander's crew. He did bring a sense of devil-may-care attitude though.
3. He stays single for a reason.
Rory hasn't dated for the simple reason that he feels that a lot of those in Hollywood are a bit nuts at times and the drama that goes on isn't worth it. But he also stays on his own since he believes that having a wife and a family wouldn't allow him to move around as much as he likes. It's sound reasoning to be honest.
2. He was an extra on Willow.
This was where he ended up when he was first starting out, but unfortunately he couldn't stop laughing during the takes so he was let go. It would have been a big feather in his cap had he managed to stay on, but hey, things happen.
1. He was injured in a climbing accident.
When you take on hobbies that are considered at least mildly to extremely dangerous things can happen now and again and at one point he did have a pretty serious accident during which he broke several bones.
It's fun to see him on screen now and again since there's no telling just what kind of character he's going to play.
Tell us what's wrong with this post? How could we improve it? :)
Let us improve this post!