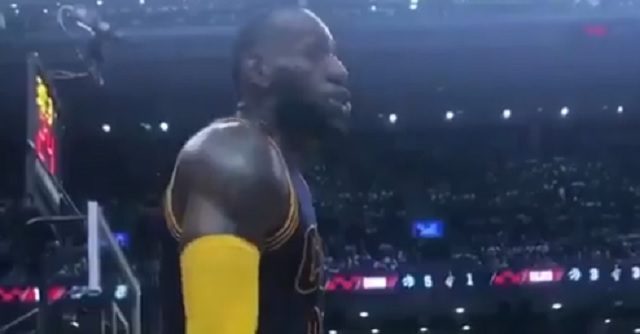 While the Cleveland Cavaliers still have major defensive weaknesses they are clearly rounding into Championship form at the right time. Their performance against the Toronto Raptors was indicative of the caliber of this team and yet again Lebron James in the post season. It's worth noting that since Klay Thompson's "this is a man's league" comment during last year's finals, the Cavaliers haven't lost a playoff game. And in that stretch James has been otherworldly averaging around 35, 9, and 7.
On Sunday the Cavs swept the Toronto Raptors on the Raptors home court. James, who was obviously having fun at the time, stopped on the sidelines to address a Raptors fan who was trying to give him a heckling treatment. Turns out that James flipped it right on this guy when he said, "You mad or nah? You should be mad about the shoes you picked today."
Nice to know that James always makes time for his adoring fans. The guys filming this couldn't help but to laugh. They were probably just excited that James acknowledged them in the first place.
LeBron to Raptors fan: "You mad or nah? You should be mad about the shoes you picked today." pic.twitter.com/j8AmBLNOqn

— BLACK ADAM SCHEFTER (@B1ackSchefter) May 9, 2017
H/T Brobible