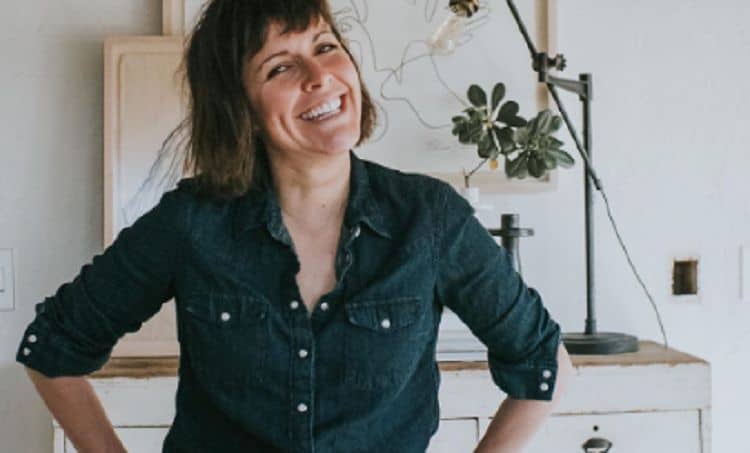 Leanne Ford is best known for her interior design projects and her appearances on her HGTV show "Restored by the Fords." She's an amazing woman who knows her stuff when it comes to the renovation of old buildings. Fans who are intrigued by her work will appreciate learning more about the trendy and savvy professional designer. Here are 10 things that you probably didn't know about Leanne Ford.
1. Interior design was not her first choice
Leanne first started her professional career as a creative director in fashion and a stylist. She split her time between Los Angeles and New York City. She spent 15 years of her life doing this. She didn't discover her passion for interior design until she happened upon an old schoolhouse in Pittsburgh, from the 1907 era. Leanne felt a strong urge to renovate the building. This was the first project that she had undertaken, at least of this magnitude. Although she tried to hire carpenters and contractors to give her a hand with the project, there was nobody available or willing to help. It was a complicated proposition, but she was determined. When she asked her brother Steve Ford for help, this was the turning point.
2. Leanne is a determined lady
We learned that Leanne is a very determined person and when she makes up her mind to do something there is little that can dissuade her. Proof of this is that every contractor she approached to help with her first project told her why it couldn't be done. They were not interested in attempting a job that would likely result in failure. She was stubborn about it and refused to give up. She proved them all wrong.
3. She didn't have enough money for her first project
Being new to the renovation business, Leanne didn't realize how much it was going to cost. We learned that she convince workers to help her and Steve out and even though there wasn't enough money to pay them, she compensated those who would go for it with tequila and beer.
4. Leanne was featured in a major publication
Leanne Ford's work has been highlighted in a major magazine. Country Living magazine highlighted her work and this was a positive form of advertisement. After the piece on her ran she received multiple requests for her services. This was one of the best forms of advertisement possible. Leanne has also been recognized in other magazines including teh New York times, Domino, Architectural Digest, and others.
5. She's happily married
Leanne Ford is a married lady. Her husband is Erik Allen Ford. The couple was married in November of 2017. They just recently had a child together Their son, Ever Allen Ford was born on March 18, 2019. Leanne is a lot busier now that she's the mother of a child who is less than a year old. The marriage wasn't long in the planning stage. It was something that took place on a spur of the moment and it was an even that included just close friends and family.
6. Her husband is the founder of Buck Mason
Erik is the founder and owner of the men's clothing brand which is headquartered in Los Angeles, California. This is where the couple makes their home. Before she and Erik became a couple she had done some work on his rental in Echo Park.
7. Leanne was married before
Erik Ford is Leanne's second husband. She was married to Brad Schaffer previously. The couple wed on the 3rd of July in 2010, in Granville, Ohio. The marriage didn't work out and the couple went their separate ways. The marriage did not produce any children. The reason for the breakup of her first marriage is not publicly known.
8. It took a long time to create their HGTV show
Leanne shared that it took a long time for producers of "Restored By The Fords" to move past the concept or idea stage to actually becoming a reality. She and her brother were approached by the High Noon production company years before the show was filmed and then picked up by the HGTV network. It was a very long process.
9. Leanne and Steve love their work
What makes "Restored By The Fords" such a great show is that brother and sister are both involved and pursuing their passion for restoration. This is something very special and it's great to see two siblings working together in a professional capacity. Leanne stated that they both love the work that they do and they enjoy the processes involved in the restoration. It's wonderful that they get to spend time together doing something productive and rewarding. The work gives them both creative license for expressing their artistic sides.
10. Leanne and Steve each have their own businesses separately
Leanne and her brother Steven have a lucrative business renovating homes together. He is a contractor and she is an interior decorator but they both tackle some of the toughest and most complicated renovation jobs. The two seem to love a challenge and they're good at what they do. Aside from the work that they do together, each of the siblings has their own business apart from one another. Leanne stays busy running her interior design business, commuting back and forth between Los Angeles, where she lives with her husband and son, to Sewickley. Steve has more than one business that he owns and operates. In addition to being a contractor and running the business with Leanne, he also owns two clothing stores. The names are Surf Pittsburg and Decade. Being business savvy entrepreneurs seems to run in Leanne's family and she and Steven are prime examples of this. They really are a lot alike when it comes to their enterprising personalities and their business acumen. They're good examples for the rest of us to follow when it comes to family relations.have a lucrative business