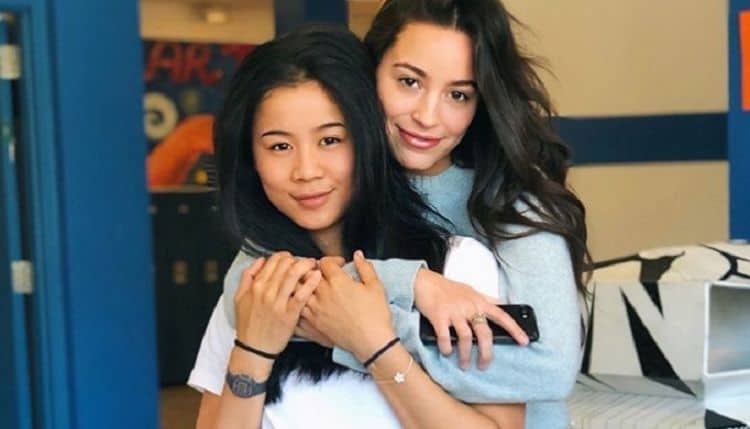 With the new series "Nancy Drew" that premiered on October 9, 2019, being likened to "Riverdale," the cast is getting lots of attention. One character in the show as George Fan, a role played by Leah Lewis who made her debut with the movie "Lullaby." The 22-year-old has been in many series including "Station 19" and "Half of It" since then. She was born in China but now is an American citizen. Get to learn more about the budding actress through these few facts.
1. She is adopted
Leah Lewis is among the many celebrities who grew up in a foster home. She was adopted from an orphanage in Shanghai, China, when she was six months old. Her case is similar to Nicole Polizzi, who was also adopted when she was six months. Nicole Polizzi was born in Santiago, but her foster parents raised her in New Jersey, Marlboro. Leah Lewis, on the other hand, was born in China, but she grew up in Florida. Other celebrities who are also adopted include Jamie Fox, Bill Clinton, Marilyn Monroe and Steve Jobs among many more. Leah has a younger sister who was also adopted from the same orphanage.
2. She attended the CGTV program
According to CGTV, Leah went through the CGTV program and applied the knowledge gained to book several jobs. The most memorable role that the program remembers Leah booked was for a commercial for the conservation of energy. By then, Leah was 15, and although they wanted a Caucasian girl, Leah's talent could not be overlooked. They, therefore, created a role and booked her for the commercial and recruited her for a few days. CGTV prides itself as a topnotch film, television and entertainment program that bridges the gap between talent and industry. The program has attracted many people who only sing its praises on Facebook. Parents say it helps build confidence and discipline in their children. They also add that it opens doors for future careers in the entertainment industry.
3. She is friends with Maddison Jaizani in real life
Fans may think that Maddison and Leah came to know each other while on the set of "Nancy Drew", but they could not be more wrong. Leah and Maddison have been friends for long, and the friendship goes beyond the screen. According to Popsugar, the two ladies show their love on Instagram captioning their photos with sweet words. Leah referred to her friend as her sunshine butter bear.
4. Her charity work
Once you are successful, it is noble to follow the principle of paying forward in which Leah seems to follow religiously. Many celebrities make it their life's mission to support different causes that are close to their heart. For instance, since Joe Minoso's mother succumbed to cancer, the actor partners with any charity that seeks to fight the fatal disease. Leah, on the other hand, uses her voice to assist those in need. Details of the organizations she supports are not disclosed, but she sings to raise money for charities.
5. Who represents her?
Four agencies represent Leah, among which is the Paradigm Talent Agency. The agency flaunts several offices across America and boasts of being a full-service entertainment firm with a dynamic roster of content creators and artist. Other agencies that represent are Play Talent, Morris Yorn and Strong Management.
6. She and Nick Hargrove are old friends
Nick Hargrove appeared in "Charmed" as Parker Caine, a half-demon who falls in love with Maggie Vera yet was supposed to create chaos in the lives of the sisters. Leah also was cast in the series as Angela Wu, but that was not where they knew each other from; the two had been friends long before then. Although it is not clear when precisely they became friends, the actors have maintained their friendship for quite some time.
7. She leads a private life
Leah is what people call a closed book. To date, no details of her love life have surfaced, yet being the gorgeous and talented girl that she is she must have captured a few hearts. Moreover, the names of parents or siblings are withheld; even details of where she went to school are not disclosed.
8. She is not popular on social media
Celebrities like Selena Gomez, Kylie Jenner, Ariana Grande and Kendall Jenner have hundreds of millions of followers, yet they are in their twenties. Even one teenager, Danielle Cohn, has over 11 million followers on Instagram yet all she does is lip-sync in front of her camera phone. Leah Lewis does more than that on YouTube, but her subscribers are only over 1000. On Facebook barely 600 fans like her page while on Twitter, which she joined in 2010, she has 3.8K followers. Her Instagram account has the most followers amounting to 20k. The low number of fans is despite her being active and making regular posts.
9. She auditioned for "The Voice" season 4
When Leah was only 15, she gathered up the courage to stand up before the judges and try her luck to become the first Asian star of the show. Carson Daly could not hide his surprise and asked Leah if people are not equally surprised to hear her sing bluegrass music. Leah went ahead to perform Carrie Underwood's "Blown Away", and her voice had the judges captivated. Unfortunately, as they waited for her to hit the climactic note, Leah failed to do so, and Adam threw himself back in the seat with disappointment. She did not land herself any coach, but now that she has vocally grown, Leah could try her luck another time.
10. She is a talented musician
Leah is musically gifted, and she does not mind sharing her talent with the rest of the world through her YouTube Channel. She is yet to get many subscribers probably because she barely opens up about her life, and we know how much people love to get details. All the same, so far her channel where Leah goes by the name "Le Lewis," has managed to get 1.01K subscribers. Maybe now that her star is shining, fans will subscribe to her YouTube channel. She has done many covers of songs like Adele's "Hello" where she also introduced her new guitar that she named James.