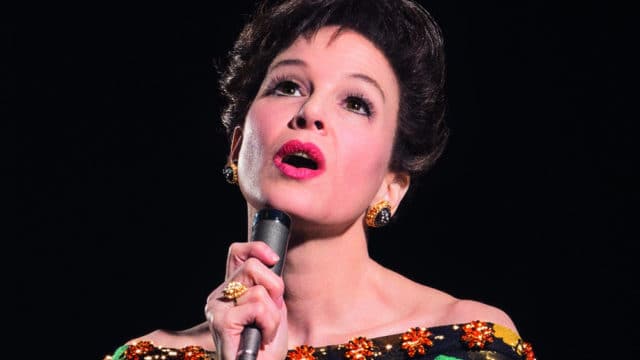 Renee Zellweger is taking on a very serious challenge in playing the role of Judy Garland in Judy, an upcoming biopic about the famed but tragic star. This first look at the biopic that will feature the iconic actress and singer will take a look at the 1960's when Judy arrived in London to perform in a run of sell-out concerts. There's no real word if it will go any further back than this but it has been said that the movie will go into her relationships with her family, friends, fans, and anyone that got to know her a bit.
Judy Garland's is a tragic tale no matter which source you go to since it was widely known that she developed a drug problem later in her life and as a child star did not have the most opportune time behind the scenes. She had to go on a strict diet that would be deemed entirely unhealthy in this day and age and was also required to keep her feminine look while also maintaining an illusion of youth for so long but using several different methods that upon reading seem unbearably cruel. Her life was not perfect no matter how many people idolized her and loved to see her act or hear her sing. Inside she was a continuous wreck apparently and by the time of her passing was far beyond anything that could have helped her pull out of such a lifestyle. In many ways Garland is the example of what happens when a child star's life is no longer their own and they have everyone else making decisions for them.
How much can be taken as gospel from the many stories is still up for debate but many of them agree that Garland was absolutely miserable and made to be that way quite often. Her status as a star wasn't something that her handlers were willing to gamble on and so she became a prisoner to her own lifestyle that wouldn't be allowed to break free until later on, when things had progressed so far that there was no way back. Zellweger has taken on hard roles in the past but this one seems like it could make or break her for good depending on how she plays it out. Quite honestly she can be a great actress and she can put in a performance that's worth watching but there are times when she seems to slip and deliver something that's rather subpar or is in some way not worthy of the type of mention that she usually deserves. It does happen to even the best of actors but she's proven that she's the kind of actor that can bounce back from a lot of things in order to get something done and done right. But this is still going to be a challenge.
There are a lot of people that still recall Garland and how she was near the end. While the film shouldn't be about them it will still be watched with a careful eye since Judy Garland was and is still a legend among film fans.