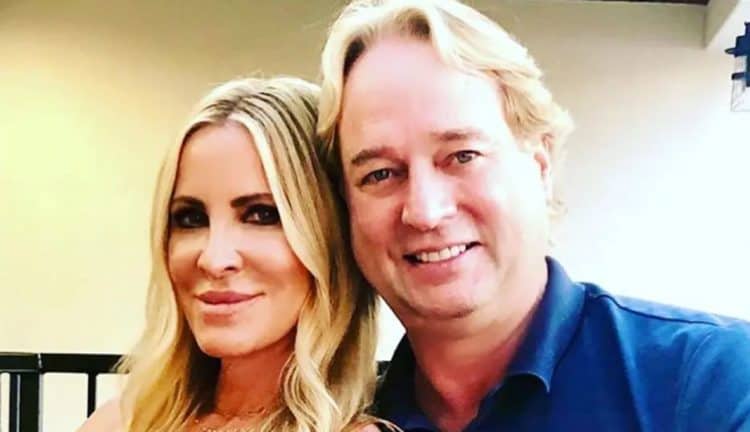 Although this may seem hard to believe, it's been nearly 15 years since The Real Housewives of Orange County aired its first episode. In that time, several cast members have come and gone, but many of them haven't been forgotten. One former cast member who has remained on many viewers' minds is Lauri Warning Peterson. Laurie was one part of the original cast and stayed with the show until season five. She made an appearance as a guest during season seven, but otherwise she has been absent from reality TV. Although she has chosen to live her life away from the cameras, Lauri is still doing her thing. Keep reading for 10 things you didn't know about Laurie Waring Peterson.
1. She's Mad A Few TV Appearances Since The RHOC Days
Lauri's days as a real housewife may be over, but that doesn't mean that her relationship with Bravo has ended. In the years since leaving the show, she's mad several appearances on Bravo's Watch What Happens: Live. For those who were wondering, it doesn't look like she has any plans of ever returning to RHOC.
2. Her Son Was Charged With Attempted Murder
Fans who watched RHOC while Lauri was a cast member may remember that her son, Josh, was dealing with some serious issues. In addition to struggling with addiction, he had also gotten into some serious legal trouble. In 2016, Josh was charged with attempted murder as the result of a shooting in Costa Mesa. He eventually took a plea deal in early 2020.
3. She Left The Show Due To Her Son's Legal Issues
Some people may be wondering why Lauri left the show, but the answer is actually pretty simple. Once her son started dealing with his legal issues, she wanted to be able to devote time to helping him in any way she could. She also wanted to give herself and her family some privacy, which we all know is impossible to have when you're on reality TV.
4. She Used To Be A Model
The Real Housewives of Orange County may have been Lauri's first time on TV, but it certainly wasn't her first time in front of the camera. During her younger years, she was a model although it's unclear if this is something she ever did at the professional level.
5. Being On Reality TV Helped Boost Her Confidence
Even though her reality TV career was somewhat short lived, it was still a life changing experience for her. She told The Orange County Register that being on the show "opened so many doors and opportunities. I was once a very shy person that absolutely hated public speaking. It's giving me the confidence to go out and speak."
6. She's On Her Third Marriage
Lauri hasn't always had the best luck when it comes to her romantic relationships. When her journey on RHOC began, she was a single mother who had gone through a divorce. During her time on the show, she got the wedding of her dreams when she married her third (and current) husband, George Peterson.
7. She Plans To Release A Book
There are still a lot of things that Lauri hopes to accomplish, and one of them is writing a book. During her interview with The Orange County Register she said, " I'm working on a book. It's really exciting for me. It's something I've had in my head for 10 years. My reality is so much more complex than what the show captured. I have a lot to say, and the viewers are going to be really shocked." However, it doesn't look like the book has ever been released.
8. She's A Grandmother
In 2012, Lauri became a grandmother when her son, Josh, and his wife had a daughter named Kennady. Since Josh and his wife were both dealing with personal issues, Lauri and her husband decided to adopt Kennady and raise her as their own. Kennady is now 7-years-old and appears to be thriving.
9. She Loves Dogs
Not only is Lauri a mother and a grandmother, she is also a dog mom. She is a true dog lover and has two beautiful dogs named Zeus and Moose. In addition to making regular appearances on Lauri's Instagram profile, Zeus and Moose also have their own account.
10. She's A Dance Mom
Lauri probably never imagined that at 60-years-old, she still be running around to children's activities – but she wouldn't have it any other way. Kennady is involved in competitive dance which makes Lauri a bonafide member of the dance mom's club. Lauri is very supportive of Kennady's dancing and attends all of her performances.