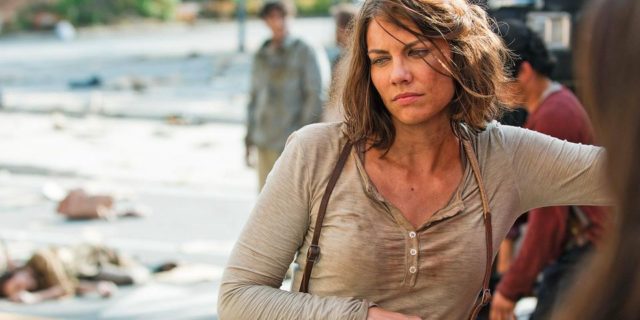 In the finale of Season 8 of The Walking Dead, Lauren Cohan's character Maggie was set up for a plot that promised to bear fruit in the next season. For those who need a refresher, Maggie was outraged at Rick's choice to spare Negan because of how Negan had killed her husband Glenn in front of her, with the result that she was planning otherwise along with Rick and Michonne. However, there was a fair amount of uncertainty over whether the set up would pay off or not because there have been concerns about whether Cohan would be able to make it to the set of The Walking Dead or not, which seem to have been settled for the time being.
What Can We Expect From the Near Future?
In short, what happened was that Cohan had signed up for a crime drama called Whiskey Cavalier, which has received a pilot order from ABC at this point of time. This is a problem because the shooting for Season 9 of The Walking Dead starts up at the end of April and the start of May, while the shooting for Season 1 of Whiskey Cavalier starts up no more than a few months from that point on. Moreover, the whole thing is made more complicated by the fact that no one knows whether Season 1 will go forward or not, which is relevant because of how it affects Cohan's schedule.
So far, it has been confirmed that Cohan will indeed appear in Season 9 of The Walking Dead, meaning that the worst of the speculation is not true. However, what remains unknown is whether she will be appearing throughout the season or whether she will be appearing in no more than a part of it. As stated, if Whiskey Cavalier gets the go-ahead for a full-fledged season, it seems probable that Cohan will be limited to appearing in the start of Season 9 of The Walking Dead because scheduling conflicts mean that she won't be available for the rest of its shooting time. However, if the crime drama fails to get its go-ahead, that might change.
Summed up, interested individuals have no need to fear that Maggie's set up in the finale of Season 8 of The Walking Dead won't have a proper pay-off because by this point in time, it has been confirmed beyond a doubt that she will indeed be appearing in the next season. However, there is still no real way to tell whether she will be appearing for the full season or not because there is still a good chance that she will be written out in some manner. After all, too much depends on the outcome of the pilot for Whiskey Cavalier, meaning that not even the people behind those TV shows know for sure at the moment. Still, the decision on whether Whiskey Cavalier gets its go-ahead or not isn't that far off into the future, meaning that interested individuals should be able to expect further information at a not too far-off point in the future.