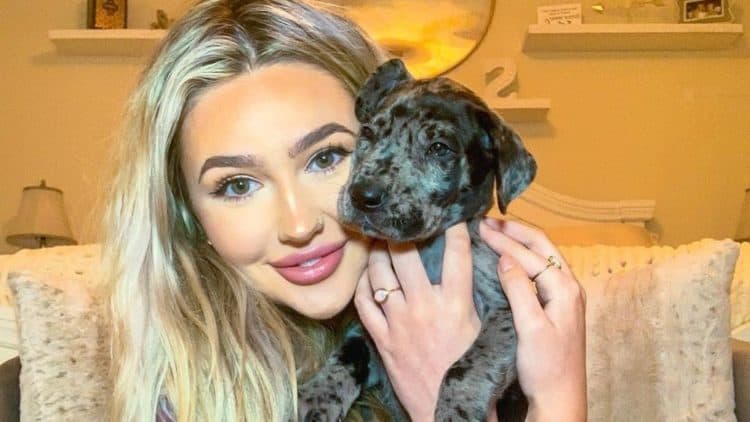 Laurel Goldman was introduced to reality TV fans in 2020 when she became a cast member on season two of Love Island USA. Like the rest of the young hopefuls on the show, Laurel was hoping to leave the island with a man and some money. Although she didn't win, she made it pretty far and began dating cast mate Carrington Rodriguez. The couple seemed like a great match, but they eventually decided to go their separate ways. Her experience on Love Island didn't end up having the fairy tale ending she was lookin for, but Laurel has officially found love again and it looks like its here to stay. She recently revealed that she is in a relationship and her fans are excited to be included on her journey with her new man. Keep reading to learn 10 things you didn't know about Laurel Goldman.
1. She's An Auburn Alum
Laurel was born and raised in Alabama and she decided that she wanted to stay in her home state for college. She attended Auburn University where she graduated in 2020 with a bachelor's degree in business management. Laurel also minored in human resources.
2. She Never Wants To Move Out Of Alabama
Now that Laurel has had a taste of what it's like to be in the entertainment industry, many people would probably guess that moving to Los Angeles would be her next step. Laurel, however, doesn't plan on doing any such thing. In a Q&A video she shared that she loves Alabama and has no plans to ever live anywhere else.
3. She Has An Account On Cameo
Being on Love Island resulted in Laurel building a large fan base that includes people from all over the world. If you or someone you know is a fan of Laurel's, you'll be excited to know that you can get customized shoutout straight from her. Laurel sells personalized video messages through Cameo for $25. Fans also have the option to chat with her directly for $7.99.
4. She's A YouTuber
Laurel's time in front of the reality TV cameras may be done, but that doesn't mean she's done with cameras entirely. Laurel started a YouTube channel in 2017, but she didn't really start posting consistently until 2020. She currently has more than 4,000 subscribers and her videos have gotten a total of over 121,000 views.
5. She Enjoys Traveling
Laurel is an adventurous person and she's always open to trying new things and having different experiences. In fact, that's part of the reason why she ended up on Love Island. She loves to travel and see as much of the world as she can. Some of the places she's been to include France, Mexico, and Greece.
6. She's A Brand Ambassador
These days being on a reality TV show almost always means that social media influencer status is soon to follow. That has certainly been the case for Laurel. Since being on the show, her Instagram following has grown to include nearly 160,000 people. This has given her the opportunity to collaborate with companies to help promote their products. She is currently a brand ambassador for Smile Sciences.
7. She's A Business Woman
Laurel has been putting her business management degree to good use. Even before graduating from college, she started a lash business with one of her good friends. Laurel's mom, Cindy Jenkins, told a local CBS station, "I think it was their senior year of college. They started off in an apartment and then they eventually grew it. Now they're in a studio, and they've hired two girls to help them out, because they are so busy now."
8. She's A Dog Mom
Laurel recently became a proud pet parent to an adorable great dane puppy named Bleu Merle. She's already created an Instagram account for him so everyone can follow along with his journey. Bleu has been on Instagram for less than a month and he already has more than 1,000 followers.
9. She Loves Spreading Positive Vibes
If there's one thing the world could use more of, it's positivity and kindness. This is something Laurel wants to be a part of spreading. Laurel likes to use her platform as a way to spread positive and she has a highlight section on her Instagram profile dedicated to sharing inspirational quotes.
10. She Enjoys Connecting With Her Fans
The last year or so has definitely been a whirlwind for Laurel. She went from living a 'regular' life to being thrust into the spotlight of a reality TV show. The road has had its ups and downs, but she is thankful for all of the people who have been supporting her along the way. She looks forward to any chance she gets to connect with her fans and she loves sharing parts of her life with them.