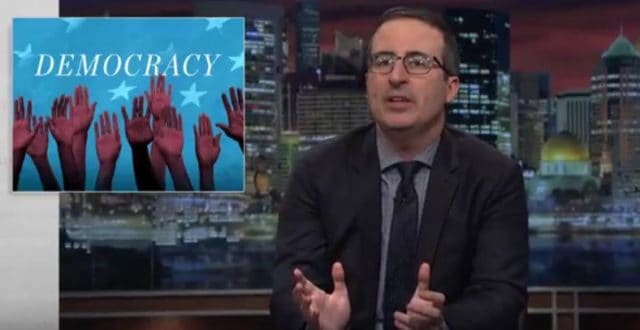 I decided this a long time ago but I haven't shared it publicly. Frankly I don't even know if this is a good thing or a bad thing but I think I've officially decided that my most legitimate news sources for politics are going to come from The Late Show, Seth Meyers, The Daily Show, Samantha Bee, and Last Week Tonight with John Oliver. See a trend here? It's called "Late Night" and to me these guys and gals are far and away our best chances at "real news."
Late night is the only outlet's that managed to successfully report what's actually happening in politics while being able to speak honestly about how ridiculously everything is. "Real" news outlets don't have the luxury of doing so. That in itself makes the news more "fake" simply because the absurdity of many stories isn't even being explored. In another great series of reports, John Oliver tackled democracy last night.
The show specifically dove into voting and how it's being reshaped in this country. Lawmakers often reshape voting districts to shift the balance of political power. That's unfair to voters, even those of us with questionable judgment.
Check out Oliver's entire segment below:
Tell us what's wrong with this post? How could we improve it? :)
Let us improve this post!