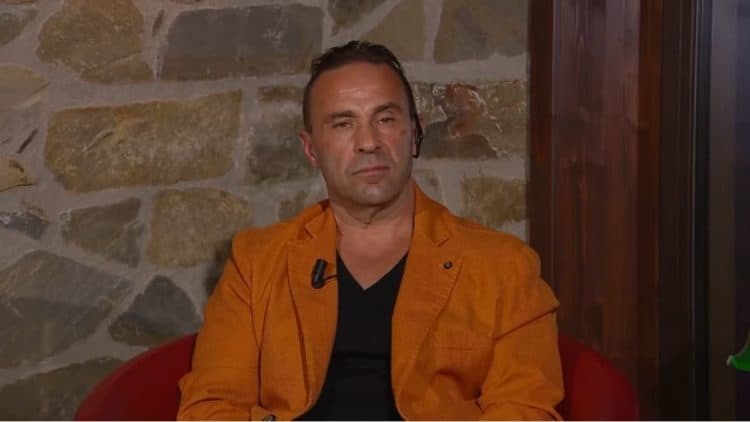 Joe Giudice rose to reality TV fame when his now ex-wife, Teresa Giudice, was cast on the series The Real Housewives of New Jersey. Initially, they seemed like your typical wealthy family, but unfortunately there were some serious legal troubles brewing underneath the surface. In the summer of 2013, both Teresa and Joe were charged conspiracy to commit mail fraud, bank fraud, wire fraud, and several other crimes. Joe was also charged separately with allegations that he used documents belonging to his brother to obtain a driver's license in 2010. In 2014, both Joe and Teresa pled guilty and were sentenced to prison. Teresa was given 15 months while Joe received 41.
Since being released from prison in March of 2019 and his divorce from Teresa, Joe has been somewhat under the radar. Of course, OG RHONJ fans have been curious about how things have panned out for Joe now that he's served his time. Continue reading to keep the scoop on what happened to Joe Giudice after his prison term.
What Has Joe Been Up To?
Joe's legal situation was especially complicated because he wasn't born in the United States. Joe never became a citizen although he had lived in the US for almost his entire life. At the time of his sentencing, it was made clear that he could potentially be deported after his release. After serving his time, he was transferred to an ICE facility where he was held while his future in the US was determined. Joe was ultimately deported back to his home country of Italy. His appeals to return to the US have been denied.
The decision to deport Joe was definitely a blow to the Giudice family, especially his four daughters. Shortly after getting to Italy, Teresa and the girls went to visit him, and his daughters returned for another visit on their own a few months later. While the family has done their best to keep things as 'normal' as possible, the COVID-19 pandemic quickly put a damper on those plans.
During an interview with Wendy Williams, Joe said, "We talk every day. Milania was just gonna call me now. I was watching them play soccer yesterday through the phone. So, good thing for the phones. It's better to be there in person, but what are you gonna do? Right now, I wouldn't be able to come there anyway." Fortunately, Joe was recently able to reunite with his daughters who were finally able to take a trip to visit him. Still, he hopes to one day be able to return to the US so that he can visit his family as often as he'd like.
Joe's Business Ventures
Joe's finances are one of the main things lots of people have wondered about since he's been out of prison. After all, the majority of his legal issues were related to finances and sometimes it can be hard for a person to land on their feet. Luckily for Joe, things in Italy seem to be going well for him. According to E! Online, Joe has started working with a company to important handmade leathers and chairs. He also said, "My other business is Zalo USA. It's basically a woman's massager. I wouldn't call it my sex shop because it's not, we don't sell any of those other things. It's basically just high-end massagers that are made by an Italian French designer."
Has Joe Moved On?
When news broke that Teresa and Joe were thinking about going their separate ways, lots of people were surprised. Despite the ups and downs the couple faced, it seemed like they had finally gotten to a place where they might be able to make things work. That didn't end up being the case though, and their divorce was finalized in the fall of 2020. Initially, sources closed to the couple told news outlets that both Joe and Teresa weren't looking to get back into dating, but it looks like Joe has changed his mind.
Over the last few months, Joe has been dating a lawyer in Italy. So far, it seems like Joe and his new boo are taking things slowly but their future could be promising. In an interview with E! Joe shared that things are going well and that his new girlfriend is actually a 'fan' of Teresa's.
Even though things may not have gone the way Joe wanted, it looks like things are working out well for him and he's making the most of the situation he's been given and RHONJ fans are happy to see him happy.