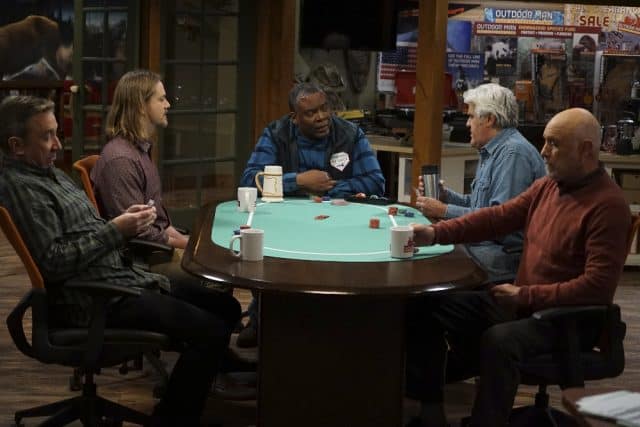 Sometimes, when Last Man Standing stories are short on depth, they fall flat. But "Explorers" didn't do that. While I don't think that exploring the relationships of Vanessa and her girls and Mike and Ed were really groundbreaking in any way, they seemed to make up for the lack of depth with a little additional humor. Although, I certainly understand how colonoscopy humor may not apply to everyone, but this reviewer quite enjoyed it.
This week on Last Man Standing: Mike is cleansing for a colonoscopy, so the other old guys at Outdoor Man decide to do the same. Mike is accepted to submit an artifact to a museum, when Ed blurts that the same honor is a lifelong dream of his. Meanwhile, Vanessa crashes the girls attempt at reliving their teenage years through slumber party.
I really liked this episode for a different reason than usual: it was really funny. It's always funny, but "Explorers" seemed to speak to the fart joke lover in me. I'm not quite old enough to relate to the guys needing colonoscopies, and I'm not quite female enough to relate to the slumber party story (though I suppose my brothers and I had similar experiences, but my dad would never be able to stay up to crash them). Anyway, lucky for me, there were plenty of jokes targeted straight at my age group. And yes, I'm 14.
However, I especially appreciate exploring the Mike and Ed relationship again, because I was just watching reruns on Hallmark and thinking that Mike and Ed haven't shared much screen time in the more recent days of the show. But the Mike and Ed relationship is at the core of the show. They're the outdoor men. The chemistry between Allen and Elizondo, even if it's just a few "zingers", is what drew people to the show in the first place. Good news, folks. The chemistry is still there.
I occasionally tire of Vanessa awkwardly and obliviously intruding on her daughters' lives, but this one actually came with an important lesson learned. In the middle of wanting to participate, Vanessa realized that her favorite part of their slumber parties growing up was going to bed and hearing her daughters continue to bond. Though it started out repetitive, it ended up sweet.
Here are a few thoughts/funny moments:
Some of my favorite colonoscopy jokes included "Less of a cleanse, more of a purge" and "Dysentery loves company".
Mandy never having heard of Martin Short, Steve Martin or Tom Hanks is what's wrong with this generation in a nutshell.
"I think your party is going to be worse than mine!"
The official Jell-O flavor of betrayal: Grape.
I realized that a lot of Joe's one liners would fit extremely well into a Tonight Show monologue.
"You're aging like everyone else except John Stamos"
I whittled these down to just my favorites, but it's clear that "Explorers" was jam-packed with laughs. Last Man Standing is a wonderful show that is able to explore deep, important issues and still have good, sometimes juvenile fun. Though "Explorers" leaned toward the latter, I still enjoyed it.
What did you guys think? Did you enjoy the episode? Let us know!
Last Man Standing airs Fridays at 8/7c on ABC
Last Man Standing Season 6 Episode 13 Review: "Explorers"
Summary
Mike and Ed get competitive and Vanessa crashes the girls slumber party in this week's hilarious Last Man Standing.