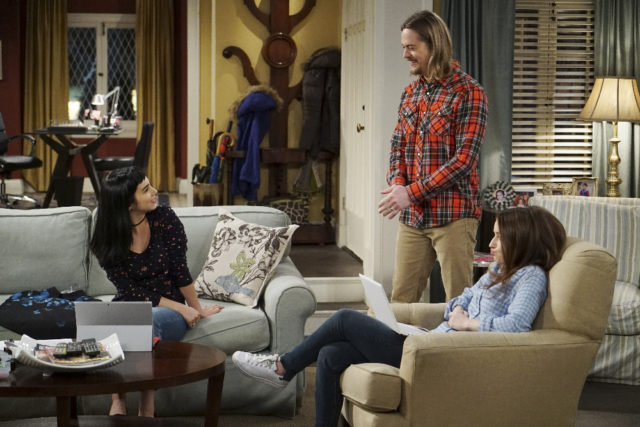 It's smart for shows to play to their strengths. On network TV, doing 22 episodes a year can exhaust shows creatively. Last Man Standing has a wonderful ability to take long-gestating concepts from the background of their show and put it in the forefront for an episode. "House of Tutor" was a great example of not only putting the cornerstone of entrepreneurship to the forefront of the show, but also kept the characters developing and moving forward.
This week on Last Man Standing: Vanessa's tutoring has spiraled out of control, so she creates a business out of it, and enlists Mike and Ryan to help her with different things. Unsurprisingly, Mike and Ryan butt heads over Vanessa's business. Meanwhile, Kyle is impressed with the Baxter entrepreneurial spirit and wants to create a business of his own, but Eve rejects his (largely ridiculous) ideas, causing Kyle to question his place in the family.
I wasn't sure what to write about this episode at first. But, Last Man Standing continues to impress me with the stories they pull out that are relevant and realistic, especially within the world they've created. Entrepreneurship is a concept that has been a cornerstone of the show since Day 1, but has only had a few episodes centered around the hard work and creativity it takes to accomplish. But in half an hour, the hard work and dedication that real entrepreneurs face every day came to the forefront in a well-told story.
Aside from that, Last Man Standing does a wonderful job progressing its characters forward. Vanessa moved straight into the business world after tutoring pro-bono for some time, and even giving Kyle some (perhaps unfounded, but still real) doubts about his place in the Baxter family. Reaffirming Mandy and Kyle's relationship, and developing a new element to Vanessa's character speak to some of the best traits and reasons for the show's longevity.
Here are a few other thoughts:
My new favorite euphemism for money is "do re mi"
I can't help but relate to Ed, especially when he "threw that one kid in the trout pond"
"What did you do wrong? What did I do right?"- Questions you should always ask when your wife makes your favorite dinner unprovoked
I'm pretty sure boomerang arrows is a million dollar idea.
As Biggie said it better "Mo' Money, Mo' Problems". I love it when old white guys quote rap songs to make their points.
"You just realized that other people's kids are horrible?"
"I was asked to stay out of it, so, goodnight!"
Yes, Kyle and Mandy may have different entrepreneurial skills, but they are a match made in dumbbell heaven. Their characters are a great match.
I was impressed with Last Man Standing's ability to create an episode with meat out of very little. After 6 years, they continue to impress me with their character development, simple stories, and of course, they make me laugh.
What did you guys think? Did you enjoy the episode? Let us know!
Last Man Standing airs Fridays at 8/7c on ABC
Tell us what's wrong with this post? How could we improve it? :)
Let us improve this post!