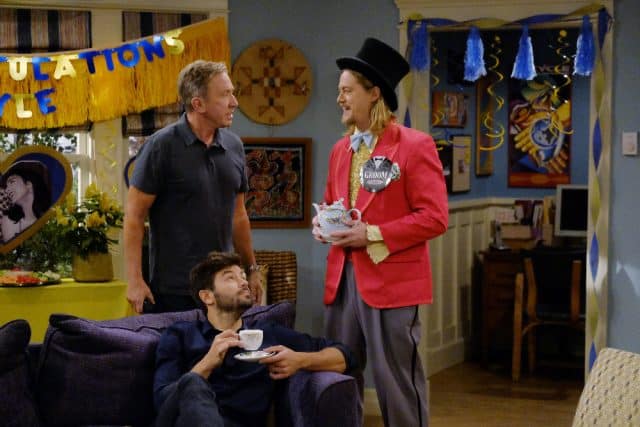 Last Man Standing is a good show because it's funny, and it also explores real-world situations and relationships. Granted, I don't think that situations in real life play out exactly the same way, but I do think it makes some good points in the stories it tells.
This week on Last Man Standing: Mike intends to have the guys over to watch the game, but Kyle and Mandy's unisex wedding shower is that day. To try and get out of it, Mike plants the idea of separate showers, so Ryan agrees to host Kyle's shower at his home. Ed watches the game at the Baxters, and needs "assistance" from the girls. Mike, Chuck, Joe (Guest Star Jay Leno), Kyle, and Ryan play "shower games".
I know what you're thinking from reading the synopsis, and yes, it was a fun episode. Putting all of those manly men into Kyle's shower was a genius move. Creating something that makes the men of "Outdoor Man" uncomfortable creates some of the best comedic moments for the show. Shower games was one of the best. You might have expected resistance from the men, but the best part was Joe and Chuck outright enjoying it.
Of course, the deeper meaning behind all of it is what really contributes to the longevity of the show. Sure, they used a lot of their main and guest cast in a fun way. The real meat behind the episode, though, is the evolving relationship between Kyle and Mike. Kyle has been around since the beginning, and Mike has never really treated him with respect. Although an affection has developed for him, Mike still pushes him around a little bit (okay, a lot). The use of existing son-in-law Ryan to foster that respect between the two was a great choice. Since this show started as Mike and his girls, and exploring their relationships, it's nice to see them explore the male relationships on the show, too.
As always, here are some of my favorite quotes/moments from the episode:
"Guy and girl getting married. Don't see that much anymore."- Joe
"Ryan was an animal. He took out a whole pack of 8 year olds, including the birthday boy." "I waited for his mom to come comfort him and that's when I dropped her!"- Ryan and Kyle's laser tag adventures is a show I would watch.
"Really? Ryan has a good idea?" – Vanessa
"I can only handle one crazy person today."- Vanessa
"They're the colors of my grandma's eyes."- Kyle, the boy whose grandma had blue and yellow eyes
"Turns out the only thing more fun than watching football is watching Mike Baxter NOT watch football."- Chuck
"Why can't we have a butler AND watch the game?"- Joe
It's always great to see Jay Leno return to the show, and it was also great to see Eve back after her mysterious premiere absence.
In re-reading my funny moments, one of my favorite things about the show is when Mike delivers so few of the punch lines. This episode really spread around the funny, and that's a great thing. They've got a talented cast and it's good to see them being put to good use. All in all a very fine episode.
What did you guys think? Did you enjoy the episode? Let us know in the comments!
Last Man Standing airs Fridays at 8/7c on ABC
Last Man Standing Season 6 Episode 2 Review: "Gameday Forecast: Showers"
Summary
Ryan throws a separate wedding shower for Kyle, but Mike overtakes it watching the football game, on this week's hilarious Last Man Standing.