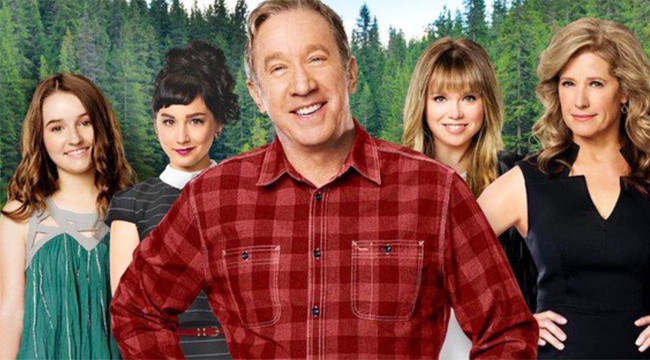 Last Man Standing is what might seem like another chance for Tim Allen to dominate a network. Well it kind of worked, a lot of people do watch the show and it is very enjoyable, especially if you have daughters and are wondering if they'll ever end up like the young ladies on the show. But throughout its run the program has had its fair share of issues as it was cancelled once due to reasons that are said to be business-related but could have been due to something else. The point of the show however is that Mike Baxter is a successful man that has a house full of women and is constantly outnumbered yet somehow manages to get by and help them with their various issues. Kristen is the eldest and was pregnant as a teenager and was deserted by the child's father and had to move back in, while Mandy is the young woman that is completely narcissistic and somehow without a brain in her head has managed to create her business, while Eve is the tomboy of the bunch that is closest to her father than the other two and aspires to be just like him. It's a show that teaches you almost nothing but you go away learning something anyway.
Here are some things you might not have known about the show.
10. You should know this, but the character of Kristen was changed at one point.
This one was kind of obvious since in the first season the actress used for Kristen looks nothing like the one that came in the following season. It's far more obvious than the Becky switch that went on during Roseanne.
9. There are several nods to Home Improvement in the show.
Richard Karn and Jonathan Taylor Thomas have both showed up on the series and have played out recurring roles that have seen them step in and out occasionally. Plus there was a moment when Tim and Jonathan stopped and acted as though they should know one another, an obvious ploy but a funny one all the same. Plus, Karn alluded to Tim's character having three sons, another nod to the old show.
8. The original actress that played Kristen was actually younger than the actress that played Mandy.
There was around a year and a half age difference between them but on the show Kristen is at least a few years older than Mandy. She's also the sister that acts the most independent while still living at home with her parents.
7. Tim Allen's own personal views tend to come out a lot in the show.
Tim was given a lot of creative freedom with this show and it could be due in part to the fact that Home Improvement was so successful but it could be that he's just that invested in the show and wants to be able to call the shots now and again.
6. There's a Toy Story poster in Ed's basement.
You would really need to watch a few episodes to see this since you don't get to see Ed's home all that much. But if you were to notice there are three posters hanging up in his viewing room and Toy Story is featured in the middle where it can be easily seen.
5. Comedian Bill Engvall has found his way onto the show three times.
He plays the role of a pastor and even more insightful is the fact that Nancy Travis, who plays Vanessa, starred in another show with him at one time. In some ways the show almost seems to be a waypoint for other actors from other shows to pop in now and again.
4. The character of Mike's dad is only 12 years older than him in real life.
This seems to be a trend since it's seen often in the movies and in TV that actors who aren't that far apart in age will be cast as parent and child a lot of times and a lot of people won't even notice until someone says something.
3. Tim pushes the Michigan college angle in both Home Improvement and Last Man Standing.
In Home Improvement he wore different Michigan gear but it was still present, and in Last Man Standing he's constantly pushing the Michigan angle. He lived in Denver, Colorado until he was 11, then after his father passed away he and his mother moved to Michigan, which he now claims as his home state.
2. A lot of people thought the show got cancelled for political reasons.
It was said to be more about business and not at all about politics but a lot of people would disagree since the opinion is that thanks to Tim's political views some folks were looking to get the show taken off the air.
1. The reason the first Kristen was cut was to show that she and her son Boyd had aged a bit during the show.
This was actually a wise move as it allowed Boyd to become more of a character in the show and unlike many other kid actors he usually darts into the scene and then darts out just as quickly so as to keep the show moving and not stalling as he's given too much to do.
It's become something that people either like or don't care for but overall Last Man Standing is an interesting program to watch.