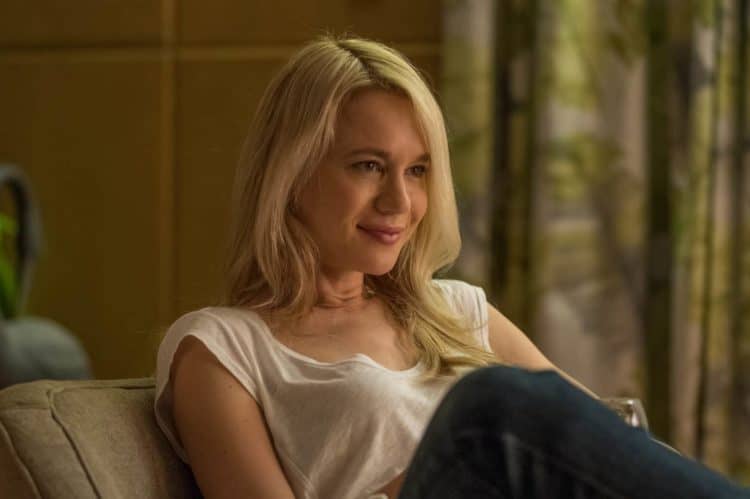 From an outsider's perspective, it's easy to look at acting as this glamerous job that is full of flashing lights and fun. In reality, though, getting into the entertainment industry is very difficult, and staying in is even harder. Fortunately for Kristen Hager, she's managed to do both and she's made it look easy. She has been acting professionally for more than 15 years and during that time she has graced the big and small screens. Her versatile abilities have allowed her to play a variety of roles, and she's brought something special to each one. Any time you see Kristen's name on the cast list you can bet she's going to put on a stellar performance. Here are 10 things you didn't know about Kristen Hager.
1. She's Canadian
Kristen has spent so much time in the American entertainment industry that many people have probably assumed that she is from the United States. In reality, however, Kristen is originally from Canada. She was born and raised in Ontario. These days, however, she does live in the United States.
2. She Fell In Love With The Script For Condor Immediately
Apparently the saying "when you know, you know" doens't just apply to relationships. When asked what sparked her interest in the TV series Condor, Kristen told Tell-Tale TV, "It was a really busy time of year when I was reading all of the scripts, pilot season, and this first episode script just stood out heads and tails above any other scripts that I've read in years. I read the first seven episodes immediately back to back, and there was no question."
3. She's Married
Kristen is one of the lucky people who has been fortuante to find something she loves to do with her life and someone she loves to spend her life with. Kristen married fellow actor Matt Jones in 2020. We know that Matt has a young son, but it doesn't appear that Kristen has any children of her own.
4. She Loves Traveling
The world is full of so many beautiful things to see, and Kristen is trying to see as many as she possibly can. Kristen is an avid traveler who loves exploring new places all over the world. Some of the countries she's been to include Italy and England. She has also traveled extensively across the United States.
5. She's A Dog Person
There are two kinds of people in this world: dog people and cat people. Sorry to all of the cat people out there, but Kristen appears to be a very proud member of team dog. She is a pet parent herself, and her dog, Fred, has become the stars of her Instagram profile. Unfortunately, Fred doesn't appear to have his own Instagram profile.
6. She Has Over 40 Acting Credits
Kristen has been working extremely hard since she came into the industry and her resume definitely reflects that. According to IMDB, she currently has 42 acting credits. Those credits include really popular shows such as Law & Order: Special Victims Unit, NCIS: Los Angeles, and NCIS: New Orleans.
7. She Enjoys Taking Pictures
You've seen what Kristen can do in front of the camera, but did you know she's also a natural behind it? Kristen may not think of herself as a photographer, but she might want to start because she has a great eye for taking pictures. She loves snapping photos when she's out exploring the world and she often shares them with her followers on Instagram.
8. She Likes Spending Time Outdoors
Sometimes it's the simple things in life that can truly be the most special, and it looks like that's a statement that Kristen would agree with. When Kristen gets time away from work, she loves to spend it enjoying the beauty of nature. She likes doing things like going hiking and hanging out at the beach.
9. She Supports Social Justice
Taking a stance isn't always an easy thing to do, but Kristen has no problem making her feelings known when it comes to certain subjects. Kristen has repeatedly used her social media presence to show her support for the fights to end racism and police brutality. She also hasn't shied away from sharing her political opinions.
10. She's Not Afraid Of A Challenge
There are plenty of actors who prefer to spend their careers in their comfort zone by playing characters they can easily connect to. That isn't Kristen's style, though. She doesn't mind playing roles that really put her skills to the test. So far, she has been able to rise to the occasion and deliver a good show every time.
Tell us what's wrong with this post? How could we improve it? :)
Let us improve this post!