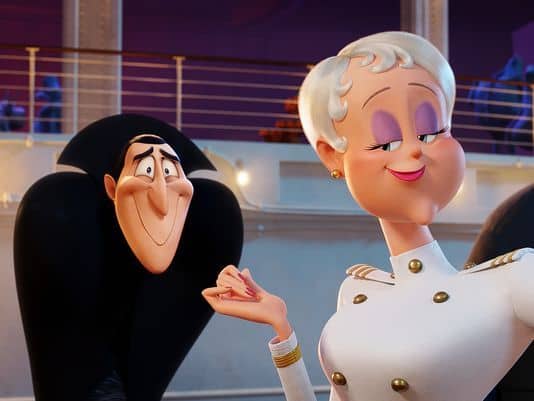 If you've been paying attention to first two Hotel Transylvania movies then you might want to forget them for this one since it's going to be quite a bit different. The characters will still be there, the idea of who they are and what they want will still be there, but for the most part they're being taken out of their element and put into a situation that is far different than the first two movies. The first one was more about the acceptance of a human by Drac, who's still voiced by Adam Sandler, while the second was the acceptance of the current situation by Drac's father, Vlad, and of course the always popular conflict of "bleh bleh-bleh" vs. "I don't do that!".
This time around the crew is going on a cruise with the whole gang and are out to have a little R&R, well away from the hustle and bustle of the hotel life. The only problem is that in this movie there are going to be a couple of new characters that are anything but accepting of Drac and his group. Ericka, the captain/cruise director the ship, is shown to be the great-granddaughter of the famed monster hunter Abraham Van Helsing, who is Drac's worst enemy and has been ever since the story was first written. While she puts on a good show and even gets Drac to fall head over heels for her, Ericka takes after her great-grandfather and is a diehard, monster-hating individual that is out to eradicate their kind just like Van Helsing. You can guess that she might be smitten by Drac sometime during the show, but until then she's going to be a charming customer with a very cool, hardened interior that will show up when it's time to get the job done.
In the meantime Van Helsing, who attributes his immortality to eating kale and will be voiced by Jim Gaffigan, will be seeking to take Drac and the others out to fulfill his lifelong mission. How he's going to go about this is still anyone's guess since the movie won't come out until July. But you can bet that the cruise ship is going to become a virtual battlefield that will pit both enemies against one another in a very big way. It's interesting to see how the old legends have been brought to life in the modern era and in some way it seems fitting that Dracula would be a hotel owner and operator in the cartoon world. But it's also just as fitting that a Van Helsing descendant would be seeking to go after him after all this time. The two are linked in a way that has never been fully nullified as in just about every movie about vampires there's at least some small reference to Van Helsing, no matter how obscure.
One other thing that is known already is that Drac is looking to get back into the dating scene and that will set the stage in a big way since it will open up a lot of possibilities.