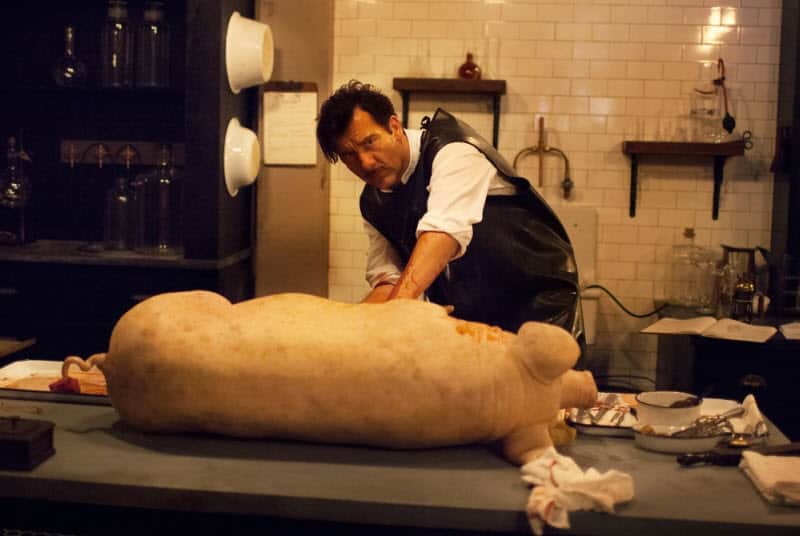 Tonight's episode of The Knick was a little strange for me. On the one hand, I know that it is a well-made show. From top to bottom, the performances and the technical aspects of the show are pretty much perfect. But on the other hand, I'm starting to get a little bored.
I said it last week, but it bears repeating: The Knick, as its currently going, is split into two different tv shows. One of them involves the struggles of the hospital and John Thackery, and the other involves Algernon Edwards. Right now, to be honest, I don't care too much about the Thackery side of the show. I've seen it all before; brilliant doctor tries to find his way through the work he does.
But I'm starting to wonder where that part of the show is going. I don't know, exactly, what the show wants to be in that regard. The episode opens with Thackery speaking with a former lover, who has lost her nose due to a bout of syphilis. During her talk with Thackery, she heaps praise after praise upon him, saying how much she loved him and that she would've been with him instead of her current husband (who gave her syphilis), but that the "chaos" of his life was too much. Now, it can be argued that she was just buttering him up so that he would do the surgery that she wanted, but even if that were true, it still felt like too much of an exposition dump. It didn't sit well with me.
And what was it for? Even if it was meant to be a clever exposition dump, what did we actually learn about Thackery? We already knew that he is both brilliant and warm when it comes to his work. We already know that he isn't as gruff and off-putting as he comes off, or at least that he does it for a good reason. So, why did we have to go through all of that again?
I have a theory.
An episode or so ago a little girl and her father came into the hospital with typhoid fever. Typhoid fever (as described in a very interesting and engaging conversation between Thackery and Cornelia Robertson) is a poor person's disease; it usually results from poor sanitation and the like. The little girl and her father are a part of a very wealthy family. Now, the father of the little girl has died. The little girl's intestines have perforated (bad news), and the surgery that she was going to have to go through would be pretty risky and would leave her with a "severely compromised life". He refuses Robertson's request to do the surgery.
Then, another wealthy family comes down with typhoid fever. Robertson, being as she is probably the smartest person on the show, brings in a health investigator to take a look at why rich people are being affected by this disease. She and the investigator are going to work together to get to the bottom of this.
This is how I think it ties in with Thackery: he has to come to the conclusion that all of these people are sick and dying and are going to need risky medical care. They're going to need him to be at his best and his most daring in order to save the city or something.
And let me say: I hope that I'm wrong. Just writing that out made me unhappy. Maybe it won't be terrible, maybe they'll even be able to save it, but that is just totally uninteresting to me. I hope that I end up wrong, either about the quality or about the direction of the story line.
The story part I actually liked was really strong this week. Algernon is consistently proving his worth. His work at his secret clinic is really coming along well; he's hiring women to work with him and training them to do work as surgical nurses.
Quick tangent: There's a really revealing moment about the times in which Thackery is at the hospital late at night, hacking up pigs for Bertie and Gallinger to experiment on as they try to suss out the procedure that Algernon used in France. Thackery sees a black woman looking for the clinic, and doesn't even flinch; it's presumably late at night and someone is trying to get into the hospital and he doesn't even flinch. Now, this is speculative, but it seems to me that if a white woman had come around for the same thing, he would've been a little more inquisitive. Just a little moment that I thought was really interesting and well done by the show.
Algernon's maint client of this week was a man who had gotten a hernia from his job. Algernon has to do hernia surgery on the man, which is successful, and he sends the man home to rest for a few weeks. But the man doesn't rest, he goes back to work, and Algernon has to do surgery on him again. But he fails this time, and it seems to affect him.
Part of the reason he failed, though, is because he's working out of a basement with no resources with nurses who work in factories as their day jobs. He's trying to save lives and provide medical care in this godforsaken crap-hole of a basement and he can't. He runs out of thread to stick the man's bleeding stomach and he runs upstairs with hands covered in blood and he goes into the surgery room to get thread and Thackery is there. Thackery doesn't know, doesn't care why Algernon is here, and indirectly insults him again. Algernon rushes back downstairs and tries to save him, but he dies anyways.
And its heartbreaking, because he is stretching himself so thin trying to do good work. Algernon goes to a bar and gets in a fight and the fight scene is super duper hella bizarre. Really, really weird camera work. I'm not sure if I liked it.
Other stuff happened but I didn't find it that interesting. The name of the episode came from the superintendent of the hospital, Herman Barrow. He pays his favorite prostitute to pretend that a "busy flea" is in her clothing and he does his thing while she undresses. Super voyeuristic, gives depth to his character and his feelings of impotence, but I didn't really get any enjoyment from it. I'm waiting for Barrow's storyline to pick up along with the Sister Harriet/Tom Cleary abortion storyline.
Not as good as last weeks, but still beautifully made.
See you next week.
[Photo via Cinemax[