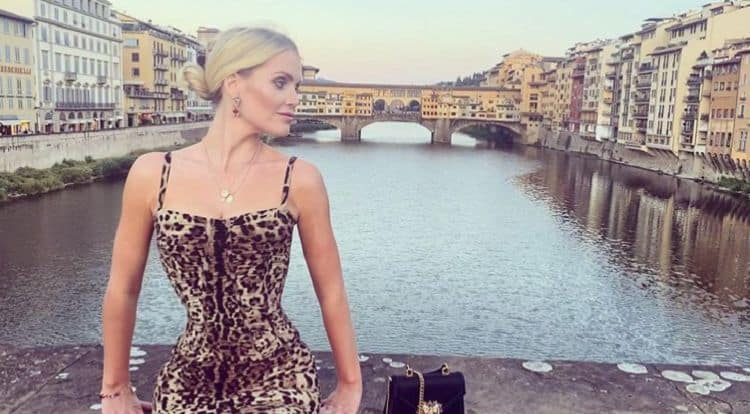 Born Katherine Eleanor Spencer to a distinguished British family, she is best known to the world as Lady Kitty Spencer. Despite being relatively private for most of her life, it's clear that Lady Kitty was born to be a star. Additionally, she has been spending a lot of time in the headlines lately, especially because of her recent marriage to successful businessman, Michael Lewis. The couple's wedding was incredibly lavish, and Lady Kitty sported five different wedding dresses throughout the night. Although most people simply think of her as being Princess Diana's niece, there is much more to Lady Kitty than a lot of people realize. Keep reading for 10 things you didn't know about Lady Kitty Spencer.
1. She Was Raised In South Africa
Lady Kitty was born in England, but she was raised primarily in Cape Town, South Africa. After her parents divorced in the late 1990s, she split her time between the UK and South Africa. She comes from a very large family that includes three younger siblings and four younger half-siblings.
2. She Has Shown Her Support For The LGBTQ+ Community
There are probably a lot of people out there who would assume that Lady Kitty is a very conservative person due to her connection to the royal family. However, that isn't exactly the case. Lady Kitty has been very open in her support of the LGBTQ+ community. She has also spoken on other human rights issues such as gender equality.
3. She Likes To Travel
From an early age, Kitty got the chance to experience what it was like to live in different parts of the world. This probably led to her developing an interest in traveling, something that has stuck with her throughout the years. She loves getting to visit new places, and she's fortunate that it's something she gets to do often.
4. Her Husband Is More Than 30 Years Older Than Her
Lady Kitty's marriage would've made headlines regardless of who she married. However, the fact that she married someone who is more than 30 years her senior has made the marriage especially noteworthy. Lady Kitty is 30 years old while her husband, Michael, is in his early 60s. The marriage has also made Lady Kitty a stepmother to Michael's three children from a previous marriage.
5. She Loves Fashion
Lady Kitty has had a successful modeling career over the years and fashion has always been one of her favorite things. Some people may argue that the fact that Lady Kitty can afford to wear anything she wants makes it easy for her to look good all of the time. While it's true that being able to buy certain things definitely helps, it takes a true sense of style to be able to know how to put things together.
6. She Has A Master's Degree
Just because Lady Kitty was born into a very privileged family doesn't take away from the fact that she's worked hard to accomplish things in her life. She attended the University of Cape Town where she studied English lit, politics, and psychology. She then went on to the European Business School London where she earned a master's degree in luxury brand management.
7. She Enjoys Giving Back To Others
Lady Kitty is very passionate about using her position to help those in need. She has become quite well known for her philanthropy and she has stood behind several causes. Some of the organizations she's worked with over the years include Centrepoint, Save the Children, and the Elton John AIDS Foundation.
8. She Thinks Of Herself As A Geek
Geeky is probably the last work that most people would use to describe Lady Kitty Spencer. However, it's a word that she has no problem using to describe herself. She acknowledges that she can be a bit of a geek, especially when it comes to learning. According to Standard, Lady Kitty said, "I was a proper geek. I used to wake at five in the morning and study".
9. She's All About Positivity
If there's one thing the world could use more of, it's positivity. Lady Kitty Spencer hopes to do her part to help spread that feeling to those she comes in contact with. She does her best to maintain a positive attitude and her online presence has been very positive throughout the years.
10. She Likes Spending Time Outdoors
Due to her love for high fashion and her wealthy upbringing, Lady Kitty Spencer it might be easy to assume that Lady Kitty is the type of person who hates being outdoors. That's not true, though. Lady Kitty Spencer likes spending time outside. She grew up doing things like riding horses and gardening and as an adult, she loves spending time by the water.
Tell us what's wrong with this post? How could we improve it? :)
Let us improve this post!