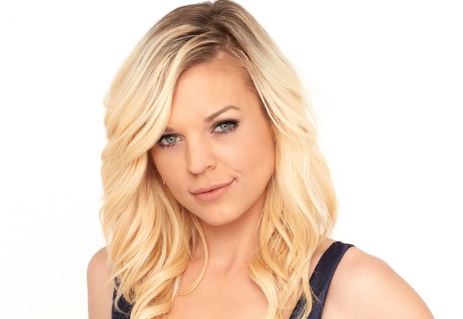 We all know that Maxie is going to be replaced shortly, and we don't know for how long Kirsten Storms will not appear as her long-time character. She's been gone before, but she's not be recast in her most recent absences. Her health issues have been written into her storyline as work trips and such, but this time she's being recast because her newest issue is so abrupt no one had time to come up with something for her to do in the meantime to explain her absence. Before she departs for an undetermined amount of time, we thought we might share 10 things you don't know about the soap actress.
She's A Florida Girl
She was born in Orlando, Florida, and she was raised alongside her brother by their mother and father. They spent a lot of their time growing up in the Sunshine State, though she did travel regularly to spend time with her family and to attend camps for her acting aspirations. Otherwise, she had a childhood like other kids.
She Knew She'd Be A Soap Star
She knew when she was only five she'd spend her life working as a soap star. She told her parents, her first agent, and anyone who would listen that she plans on spending her life working as a soap actress, and she was not wrong. She's been in these roles for almost two decades.
She Began Her Acting Career at 13
But it wasn't until she was 15 and began playing the role of Belle Black on the hit show "Days of Our Lives," that she became a soap star. Though we'd venture a guess to say that proclaiming you'd work on the soaps when you're five and achieving that goal within a decade is not a bad situation. She began playing Belle in 1999 and left the role in 2004.
She's Been on GH since 2005
She was really young when she took on her role as Maxie on General Hospital, but she managed to keep this role interesting and active for some time. She's hasn't, however, been Maxie alone over the course of the past 13 years. There was a year when she was off work because of her health problems in 2011 and another actress took over the role for her.
She Suffers from Endometriosis
Kirsten Storms suffers from endometriosis, for which she was diagnosed in 2011. It's a growth of noncancerous cells in her feminine organs, and it's something that brings her out of work on occasion. She's left the show several times as a result of her health issues, and it's believed that's what she's doing right now.
She's Good Friends with Kelly Monaco
Maxie and Sam might not spend much time together on the television screen, but the actresses who portray these women are great friends in real life. They spend time together outside of work, they spend time together while working, and they even spent some time filming a reality show together several years ago.
She's Divorced
Once upon a time, Kirsten Storms married her co-star Brandan Barash. They two wed in 2013 and then divorced less than three years later. They have one daughter together, and they are good about co-parenting. They spend time together with their daughter to set a good example, and they remain very friendly even though their marriage did not work out.
She's Got a DUI
It's not one of her finest moments, but she was pulled over and arrested on a DUI charge in 2007. She was pulled over when she threw a lit cigarette out her car window, and it was late revealed she had a blood alcohol level of .13. She was arrested, charged, and spent three years on probation and six months without a license.
She Married her Husband Secretly
When Brandon Barash and Kirsten Storms went public with their relationship, people were excited to see them together. That was in early 2013. By the time summer was over, it was discovered the couple had wed in secret months before, and they were happily expecting their little girl sometime in 2014. Her name is Harper Rose.
Her Dad is Famous
One thing you might not know about Kirsten Storms is that she's the daughter of a famous father. Her father is Mike Storms, CBS Sportscaster. She grew up knowing a thing or two about television life and being famous, and she's handled herself quite well as a result. She's been a child star, but she's not one that fell totally and completely apart when she hit adulthood.
Stay tuned for more General Hospital and be sure to check out TVOvermind daily for the latest General Hospital spoilers, news, and updates.
Tell us what's wrong with this post? How could we improve it? :)
Let us improve this post!