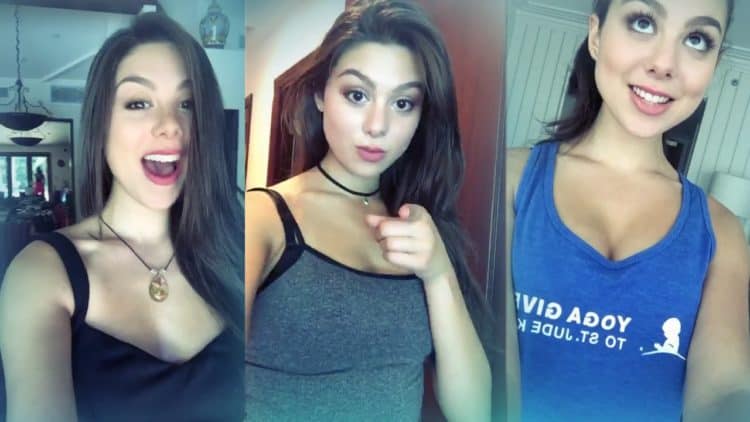 Unless you're a big fan of Nickelodeon there's a good chance you don't really know who Kira Kosarin is, but there's still hope since she's been getting busier and become more of a presence as time goes on. As a child actor she was likely the favorite of a few people and it shows since she does have quite a few fans that were teary-eyed when her show The Thunderman's went off the air. But she did have to move on since playing a kid role isn't all that possible once a person starts getting older. So far she's been a rather patient person as she continues to take on one role after another, seeking out that elusive part that will either kick her career up a notch or possibly keep her busy enough to maintain the career that she's got. Whatever happens she's made it clear that she's already a star and is doing what she can to make people notice.
Here are a few things you might not know about her.
10. She has her own YouTube Channel.
She does have her own channel that she uses to talk to her fans and posts music covers and original songs. Perhaps one of these days she'll be able to put singer/songwriter on her resume if she hasn't already since it would appear that she's pretty good.
9. She grew up acting and singing.
With both of her parents being in show business it's not much of a surprise that she would take to it eventually. So far she's done pretty well and has managed to shine on screen in a way that has to make her parents proud.
8. She was into gymnastics when she was younger.
Kira is quite the skilled young woman and she's very flexible still it would seem since gymnastics never fully leaves a person unless they abuse their body to point of no return. Thankfully she keeps in great shape and no doubt can still bust out a few moves here and there.
7. She's been nominated for a couple of Kids' Choice awards.
Obviously people like her since they vote for her. She didn't win either time but nominations are at least a nod in the right direction since it means that she's being noticed for her on screen contributions and talent.
6. Her career started in 2011.
She's not completely new but she does still have a few years until she can really say that she's a seasoned veteran of TV. Even with that however she's shown an amazing amount of aptitude and definitely belongs where she's at.
5. Her first main role was on The Thundermans.
The Thundermans was a show about family that of course had superpowers, every last one of them. They tried to live a good life but one of their number wanted to be a supervillain while the others struggled with using or not using their powers and living a fairly normal life. The show was pretty well liked by most people and received a very heartfelt goodbye when all was said and done.
4. She moved to LA to become an actress.
A lot of people move to LA to become actors as it's just the place to be. Hollywood has a very strong pull on many people and is hard to resist since the promise of a lifestyle among the rich and famous is quite difficult to pass up. The only problem with this is that for every one person that makes it about a hundred more don't and have to learn the lesson the hard way. Thankfully Kira was one of the few that made it, but it's always a hope that stardom will come, never a guarantee.
3. Her filmography still isn't that big yet.
So she started less than a decade ago, she's got a lot of time to start building it up as she goes. Rome wasn't built in a day right? She'll have plenty of time to keep working to reach that level of stardom that so many people want and only a handful ever seem to achieve. She's got everything she needs to make it happen.
2. She's got a healthy following on social media.
It's not so much an age thing as it is who wants to take the time and effort to keep up with fans on social media and who wants to let their reps hire people to handle it. Some celebs seem to enjoy social media and answering fans now and again and Kira might be one of those since her followers are in the millions but not yet so many that she can't keep an eye on some of them now and again.
1. She's explained to her fans how she's growing up.
Remember when Miley Cyrus started getting a little more mature with her pictures? Kira did the same thing and had to start explaining to her fans that she's not 15 anymore.
Everyone's got to grow up sometime.