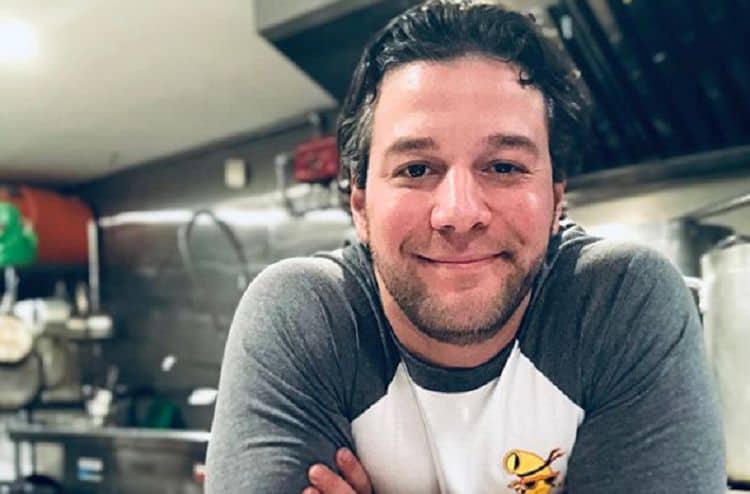 Dom Tesoriero is a popular chef who appears on the Food Network. Fans enjoy following him on his many adventures. He's taken meal preparation to an entirely new level and foodies across the world look forward to what he's going to bring to their worlds next. He's a unique celebrity personality and he's always up to something entertaining. If you haven't heard of him yet, here are 10 things you didn't know about Dom Tesoriero that might influence your decision to follow him on his challenging and fun food adventures.
1. He has a web series called "Dom Eats Local."
Audiences have been thrilled by the multiple locations that Dom has traveled to for the filming of his web series "Dom Eats Local." He's seen on the East Bank of the Flats sampling the fare at the Alley Cat Oyster Bar, and he's challenged the expert flippers in making sliders in New Jersey. His United States Food Tour has taken him to some remarkable yet out of the way places including Portland, Detroit, Birmingham and more. He joins in helping to prepare specialty foods and pits his skills against some of the best in the business but it's all in good fun and the only real prize to winning is the satisfaction of being good at what you do and then getting to eat it."Dom Eats Local" is available on his YouTube channel.
2. He founded Mac Truck NYC
Mac Truck NYC offers a play on words that's a bit on the whimsical side, but there is one hard and fast fact about it that stands firm. The best macaroni and cheese comes out of this truck. The business is the creation of Dom Tesoriero. It's his baby and it was featured on the 11th episode of the Food Network show "Rewrapped." It was this amazing business that gave Dom his introduction to celebrity status as a reality television personality.
3. Dom is a jack of all trades
Dom serves in a variety of different positions in his business. It's mobile and on wheels and in a typical day, he's not only a driver, but he's also a chef, a plumber, an electrician and anything else that is required when you sell food to customers out of a truck. He has an entrepreneurial spirit and he's an innovative guy who isn't afraid of a little, or a lot of hard work.
4. He expanded his MacTruck NYC business
The food truck business is something that Dom is good at. His venture was so successful that he was able to expand his fleet of trucks. Now he has a reach that covers the entire state of New York, attending a variety of events. He even added a new item to the business with a barbecue catering menu that even includes the use of a smoker.
5. Dom is a formally trained chef
Tesoriero put in the time and effort to attend the Institute of Culinary Education. He successfully completed his education and training at the school while learning the finer points of culinary preparation, employing proven methods. This hasn't stopped him from taking the foundational principles that he learned and expanding upon them with his own experimentations. He spent time working at Il Corile in Little Italy for an externship after graduation. The hands-on experience helped him to further master his culinary skills. He traveled the world with the Framboise catering company, attending prestigious events and building his reputation as a chef.
6. He's traveled throughout Italy to become a better chef
Dom knows that when it comes to a profession in the culinary arts, there is always room for improvement. He took the time to travel throughout Italy so he could pick up some useful tips on cooking and meal preparation. He was hungry for the knowledge and he didn't mind spending the time and effort that it takes to research and identify eateries that offered special dishes and unique preparation methods.
7. Dom has catered some of the most prestigious events in New York
We were intrigued by the huge success that Dom has achieved with his Mac Truck NYC business. He's been called upon to prepare food for some very major and prestigious events. These include the Governors Ball, New York Comic Con, Afro-Punk, the Hudson Valley Hot Air Balloon Festival, NRF 2019 Retail's Big Show, the Belmont Stakes, Saratoga, and many more.
8. He was runner up for Food Network Star
Dom appeared on Season 11 of the Food Network show "Rewrapped" and he quickly became a favorite of viewers. Dom brings his Italian roots and a no-nonsense attitude to his profession. In an interview with Dom, he was courteous and accommodating. He impressed the interviewer for Livewell and even provided their readers with two exclusive recipes.
9. He's had an interest in cooking since he was a child
Dom Tesoriero developed a passion for cooking when he was still a little boy. He liked to be involved with the cooking at home and when we started middle school he really enjoyed the home economics class. His passion for cooking was strong and he knew from an early age that he was destined to become a chef.
10. We went on the Food Network Star during the 11th season to boost business
The reason that Dom decided to try out for the FNSS was that he wanted an opportunity to boost his business. He wasn't looking forward to being on camera. He's not one to go after fame or glory, he just wanted his business to get a jump start. He was thrilled that he made it to a runner up position. Dom's a fairly humble guy and definitely not an attention seeker but he is a businessman who knows the value of promotion.