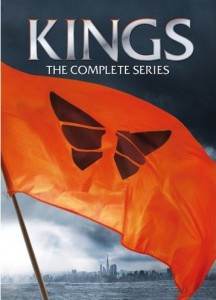 As a television show, Kings was grandiose. It was more akin to a 12 episode feature film than a scripted drama. After all, how many other shows could have created a universe with so much depth in only half of a season?
Unfortunately, Kings couldn't find a large enough audience. Perhaps because it was too different. Perhaps because the language (a mixture of modern speech and Shakespearean language) was confusing. The cancellation of the series was unfortunate, because I don't know the next time we'll see a show filled with so many talented actors and rich storylines.
Fortunately, NBC Universal has put out the complete series on DVD and if you were a fan of this show, you should buy this set.
Kings was originally billed as a modern-day David and Goliath story. As a matter of fact, one of its main characters was named David Shepherd (Chris Egan). David is a lowly soldier who faced down the enemy and rescued the king's son (Jack Benjamin, played by Sebastian Stan). Brought to the capital as a hero, he meets the king, Silas Benjamin (played by the incomparable Ian McShane), his wife, Rose (Susanna Thompson), various other members of court and eventually falls in love with the king's daughter, Michelle (Allison Miller).
One of my favorite actors (besides McShane) was Eamonn Walker, who played Reverand Ephram Samuels. Walker delivered his lines with such a presence and gravitas that you occasionally felt as if he was an ancient prophet. And speaking of McShane….I kind of want to reinstate the monarchy in Canada and make him our king. I don't care that he's a paranoid adulterer who will do anything to hold onto power….the man can deliver a speech like no one's business.
Kings expands what is essentially a biblical story into an epic tale of intrigue, royalty, love, betrayal, adultery, greed and power. The performances by all were spectacular. Stan (currently appearing on Gossip Girl) showed amazing acting range and even Macaulay Culkin, who played the king's nephew, showed that he can play a devious son recently returning from exile.
The DVD is admittedly light on bonus features, but that isn't surprising. A show that was cancelled likely won't result in too many featurettes. There are, however, deleted scenes for several episodes, and a commentary of the pilot episode from the creator and director of the show, who are joined by McShane.
If you were a fan of this show, this set is worth your money. You may only get 12 episodes spread over 3 discs, but I doubt you will ever find a comparable show on broadcast television again. For those of you who didn't know what to make of this series, give it a chance. I don't think you'll be disappointed.
Email me at clarissa @ tvovermind.com
Follow me at twitter.com/clarissa373
[Image belongs to NBC Universal]