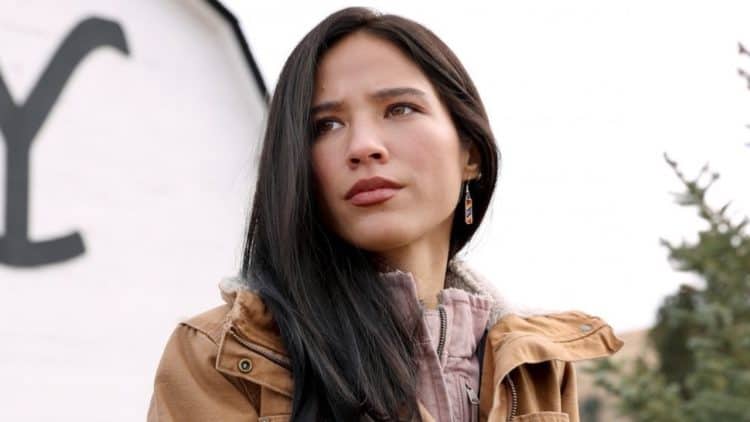 Kelsey Asbille isn't even 30 year and she already has nearly two dozen acting credits. Her career has spanned the course of three decades and in a lot of ways, she's just getting started. Most people will recognize Kelsey most from her role as Gigi Silveri in One Tree Hill and Mikayla Makoola in Pair of Kings. Most recently, she has been getting a lot of attention for her role as Monica Dutton in Yellowstone. Not only has the show been a chance for her to share her talent with a large audience, but it's also shown once and for all that Kelsey is officially all grown up and she's ready to take on the world. Continue reading for 10 things you didn't know about Kelsey Asbille.
1. She Is A South Carolina Native
Kelsey was born and raised in the Columbia, South Carolina area. It was there where she initially developed an interest in acting and became involved with community theater groups. Kelsey comes from a diverse background, her father is Chinese and her mother is white. Once Kelsey became serious about her acting career, she relocated to the Los Angeles area.
2. She Claimed To Be Native American
In 2017, Kelsey found herself in the middle of some controversy when she was cast to play a Native American character in Yellowstone. At the time, Kelsey said that she had descended from the Cheeroke tribe, however, the Eastern Band of Cherokee Indians, disputed this claim and said there was absolutely no evidence of her having Native roots.
3. She Made Her On Screen Debut In The Suite Life of Zack & Cody
Getting the chance to work with Disney is something that many actors dream of, and it's something that Kelsey got the chance to do very early on in her career. Her very first TV appearance came in an episode of The Suite Life of Zack & Cody in which she played a character named Dakota.
4. She Studied At Columbia
Acting had made a lot of things about Kelsey's life untraditional, so after high school she decided to follow the traditional path by attending college. She enrolled at Columbia University where she studied human rights, however, she had to take several breaks from school in order to work on acting projects. It's unclear whether or not she earned her degree.
5. She Grew Up Dancing
Kelsey's love for performing developed at an early age and it was clear that she had a special talent for entertaining people. In addition to acting, she also grew up taking dance classes. We weren't able to find any information on the type of dance she studied, but hopefully one day she'll get the chance to incorporate her love of dance into acting.
6. She's Not Very Active On Social Media
The fact that Kelsey isn't super active on social media will come as a surprise to a lot of people. Although she does have an account on Instagram, she has only posted 32 times over the last five years. Almost all over her posts are related to projects she's worked on.
7. She's In A Relationship
There are probably a lot of people out there who have Kelsey on their list of celebrity crutches, but unfortunately for those folks she is off the market. She has been in a relationship with British actor William Moseley since 2012. The pair met when they worked together on 2013 film Run.
8. She's Been In Music Videos
TV and movie roles aren't the only times Kelsey has gotten to do her thing in front of the camera. She has also appeared in two music videos: one for the 2013 single "Sleepwalker" by Bonnie McKee and another for the 2015 song "Girls Like Girls" by Hayley Kiyoko.
9. She Was Only 13 When She Started On One Tree Hill
Landing the role of Gigi in One Tree Hill was Kelsey's first major opportunity. What many people don't know is that she was only 13-years-old when she started working on the show, making her the youngest person on set at the time. Although the rest of the cast was playing high school students, they were all well into their 20s. Despite the age gap between Kelsey and the rest of the cast,
10. She Loves Fashion
As a person who loves the arts, it's no surprise that Kelsey also loves to express herself creatively whenever she gets the chance. While acting is her primary way of doing that, she also likes to express herself through clothing. She loves fashion and has a natural talent for putting stylish outfits together.